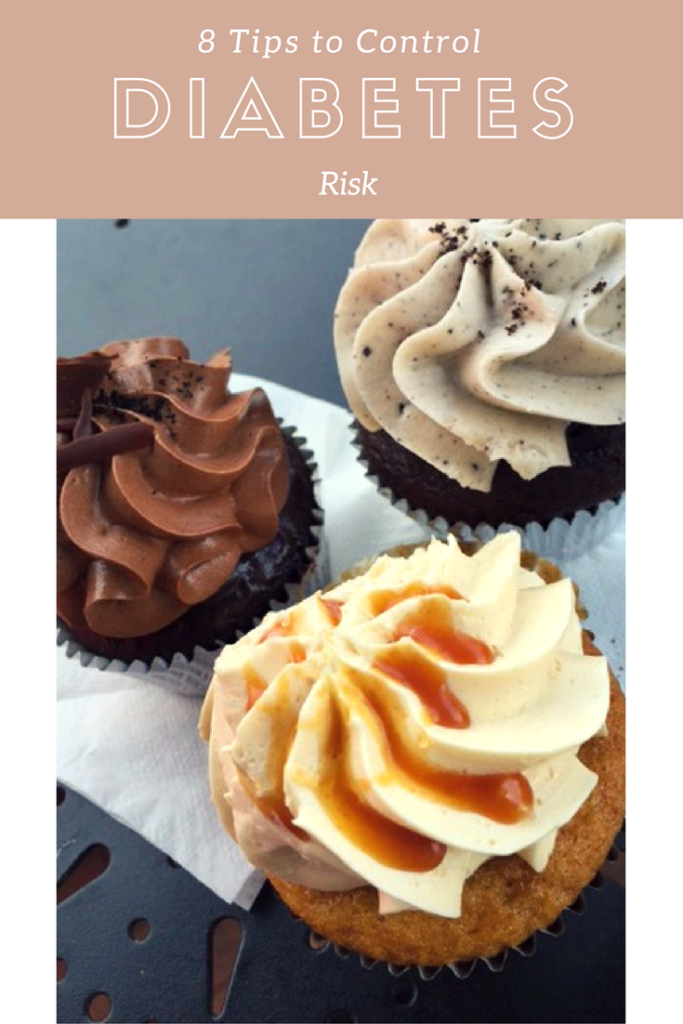 Did you know that diabetes causes more deaths than AIDS and breast cancer combined?  This disease is becoming ever more prevalent, between our processed high carbs foods and sedentary lifestyles.
Fear not, there are easy measures we can all take to prevent this serious illness.  The bonus being… they are also great overall fitness tips to follow for good health.  And even more critical when heading into that time of year where platters full of fattening treats are lurking around every corner.
(By the way, do you hate me for using that photo of cupcakes??  I know, how annoying.  And luscious.  Hey, per tips #1 & 7  – go for it!  Just wash it down with some water and fiber…)
8 Tips to Control Diabetes Risk
Increase Fiber and Water – Eat more fiber and drink more water during the holiday season as this will keep you feeling full and lessen the chances that you'll overeat on goodies!
Set an Alarm – While at home or work, set an alarm clock to sound every 45 minutes or an hour to remind you to stand, stretch or walk.
Walk the Aisles – When grocery shopping, especially during the holidays, walk down every aisle twice before you begin shopping.
Take the Stairs – If you work or live near stairs, walk up one flight every day, increasing the number of flights by one each week.
Get Moving During Commercials – During the first commercial, jog in place at your own pace. During the second commercial, stretch. Continue to alternate the exercises and repeat for the duration of the program.
Find a Purpose – Register and participate in one of the many charitable races and events that take place during the holidays.
Reward Yourself – Set health and fitness milestones and reward yourself with something special once you reach them. Eat the piece of cake or slice of pie, just try not to overindulge.
Have Fun – Exercise doesn't require a visit to the gym. Relax and have a good time by dancing in your living room, taking your dog for a walk or playing with your children or grandchildren.
Tips Author:  Lorraine Gantt, 64-year-old "Own Your Age" Founder
These tips were shared with me in Honor of American Diabetes Month, and were originally written by Lorraine Gantt.  This 64 year old founder of the exercise program "Own Your Age" specializes in helping the 40-plus disrupt aging through fitness.
"Overwhelmingly, physical activity is the number one recommendation for preventing diabetes, but working out can become monotonous," said Gantt. "By following my tips, people of all ages can prevent workout fatigue by making health and fitness interesting, convenient and manageable."
For more health and fitness information and to learn more about Lorraine Gantt, please visit www.ownyouragefitness.com.
*o*     *o*     *o*