Death by rollover.  Trapped upside down in my kayak, whoosing past head-smashing rocks, unable to release my lower body from its underwater tomb.  Yep, it's one of my worst nightmares.  Can you blame me?
Hence my hesitancy whenever I've had the opportunity to go kayaking.
And I almost passed up the opportunity yet again, on a recent media trip to Portugal.  We had a local guide from the fishing village of Sagres Portugal who was planning on taking our small group of three out for a kayak adventure.  Realizing I was there to report in the capacity of "OUTDOORSY" TravelingMom… I figured I better suck it up, Buttercup! And join them.
Lesson learned:  Never pass up a chance to kayak with a guide!
My First Time Kayaking – Walk in the Park
Turns out the only danger that day was if I had actually tipped over, my iPhone would have been trashed.  Other than that, it was so completely safe that they even take out children if the sea is calm.
"The Sea."  That's what they call the ocean here.  So European.  I love it.
The boats were actually open, and built for either one person or two.   Much less tippy than a canoe (which I'm not a fan of).  In a two person boat, the front person is just there for propulsion… rowing evenly, on alternating sides.  The back person makes all the decisions, and handles any steering or maneuvering needed.
I was the front person.  This greatly went against my bossy nature, and was a struggle at times.  But I figured I should defer to Jennifer Fontaine (Mommy Hiker and Outdoor Families), my kayak buddy, as she was not a newbie like I was.
I believe these are called "sit on top" kayaks.  So different and much less daunting than white-water kayaks you'd use rushing through canyons on the Colorado River.
All-in-all it was highly enjoyable.  Relaxing even.
I love water so much, I can't believe I've been resistant to trying this in the past.
Sagres Portugal – Where the Atlantic Meets the Mediterranean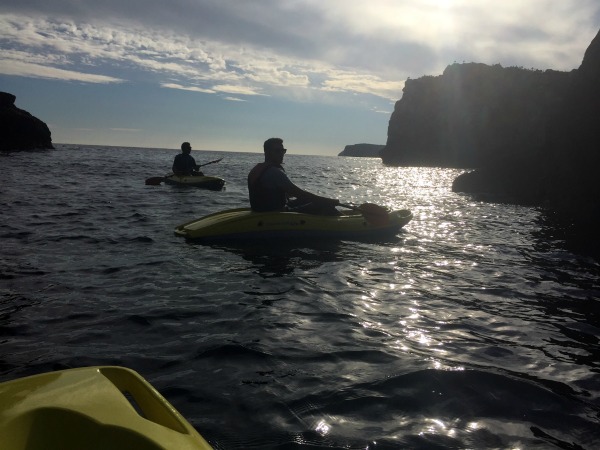 For years, Europeans have been taking their beach holidays at this remote location – Sagres Portugal.  With a population of 2,000 people, there's not much here besides a nature preserve and the Martinhal Family Beach Resort.
So it takes a bit of doing to get here.  But it's well worth it!  Surrounded by peaceful nature in the middle of the famous Algarve coast, you'll find many gorgeous rocky coastlines and beaches to explore in the area.
We paddled out with our local guide starting from Martinhal resort, which had arranged our kayaking adventure.  A rocky island emerges from the sea just a few hundred feet from the beach shoreline.  Our guide told us they were actually a cluster of five islands, which we couldn't discern until paddling closer.
Sure enough, with a shifting perspective we were able to see the individual islands, and even paddle between them.
Behold!  Once we were out a distance from shore, our guide announced to us, "This is where the Atlantic meets the Mediterranean!"   It's extremely rich in diverse sea life, which explained all the amazing fresh seafood we'd been served during our visit.
Kayak out from Sagres, and you'll be at the Southwestern most point in Europe.  Head a little to the left, and you'll hit Africa.  What an incredible experience.
Portuguese Boys' Dangerous Rite of Passage – Harvesting Percebes (Barnacles)
After previously instructing us to not allow our kayaks to get within 6 feet of the rocky islands, once on the sea-side we took on a new mission:  "Turn your kayak around, and back up until you hit the rocky cliff."
Excuse me?
We balked a bit at this new strategy.  But our guide was insistent, and it was my larger 2-person kayak in particular that he wanted to ram the island… backwards.  After a couple of tries, Jenn and I finally pulled off our "tap and then row forward quickly" maneuver.
Quickly!  See those barnacles clinging to the rocky cliff, briefly exposed from the suction-induced lower water level?
They are Percebes, or goose barnacles.  Highly valued as a seafood delicacy and found only in this part of the world.  They must be harvested manually by local fisherman, pried from the rocks with a knife, an extremely dangerous job.  But a tempting one, at the rate of selling for 20 euros/kilo.
Fishing is a way of life to this village.  So as treacherous as it seems, being taught to harvest Percebes begins early for Sagres boys, at around age 10 or 11.  Rowing out to the rocky island, then chipping away at the goose barnacles can yield them 100 euros for 2-3 hours worth of work.
Getting a glimpse of Portuguese heritage in this way was a moving experience, that I'll not soon forget.
Don't Miss a Kayak Adventure
What a wonderful kayaking adventure we had that day in Sagres Portugal!  We wore regular clothes, and came away with soggy underwear.  It's the launching and docking at the beginning and end that most threaten to get you wet, otherwise you'll only experience a few drips from the paddle.
Temperatures were in the high 60's, and we never felt cold.  This was a very do-able, family friendly outdoor activity.
My new motto is always jump at the chance to go kayaking.  And if you can make it to Portugal and the little fishing village of Sagres… even better.
*o*     *o*     *o*