It's been another year of trying out all kinds of outdoor, travel, and fashion gear for the Colorado Mountain Mom site.  I'm an outdoor gal with a wide range of tastes, but at our core we all love some of the same basic things.
Here are a few of my absolute favorites I've found for this season.  There's a nice range of prices, so hopefully this may help you find the perfect gift for that outdoor gal in your life!
Ultimate "Outdoor Woman" Gift Guide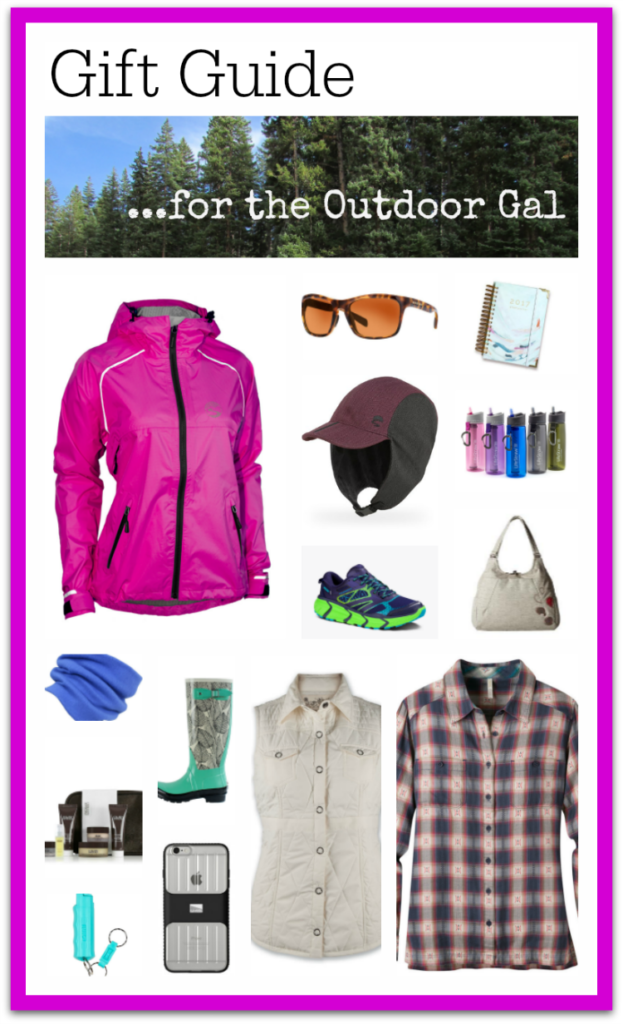 Sunday Afternoons ~ Shasta Trapper Hat, $48
I knew they made great sun hats, but didn't realize the awesome variety in styles that Sunday Afternoon designs.  This company knows hats, and I feel you'll not find a better fitting, more comfortable option for your head.

I'm loving the cute yet practical Shasta Trapper Hat, new this season.  Furry warmth of the fold down flaps will keep your neck and ears cozy, while a handy brim shades the eyes.  Perfect for winter adventures!
Native Eyewear ~ Penrose Sunglasses, $149
I may be partial to this Colorado-based eyewear brand, but boy do they make an awesome pair of sunglasses!  Check out the new Penrose style, designed specifically for women.  Be aware these are a slightly narrow frame, but seem to fit my average sized head/nose bridge just fine.

The Bronze reflex lens add beauty while protecting your eyes with the most innovative and advanced polarized lens on the market, blocking 4x more infrared light than regular polarized lenses.

Time to hit the slopes!  Native eyewear is backed by a lifetime warranty (I told you they were awesome).
STARTplanner ~ "Hustle" Organizer, $55-68
As much as we love to play outside, we outdoor gals also live very busy "real" lives!  I'm a sucker for a good planner, and the new 2017 STARTplanner blew my mind.  Available as a Hustle Daily, Hustle Weekly, or Hustle Weekly Business, the designers have thoroughly thought these through.

An aesthetically pleasing framework is provided to assist you in laying out your goals, calendar reminders, and even self-care tracking such as exercise and daily water intake.  Whether you just need an overview to keep your life on track, or wish to fully embrace those organization details… the STARTplanner provides an enticing, helpful, and beautiful tool for the outdoor gal to use for getting her act together.
LifeStraw, $20-50
LifeStraw makes easily portable water filtration products, providing access to safe drinking water on-the-go.  Use them as a safety back-up system when hiking or camping.  They have the ability to filter out waterborne bacteria and waterborne protozoan parasites.   A Lifestraw Personal is only $19.95, and is exactly that:  a straw you can use to directly drink from a stream or other outdoor water source.

Personally I think the LifeStraw Go with 2-Stage Filtration bottle is the slickest option, which comes built right into a water bottle and has a carbon capsule that reduces chlorine, bad taste and odor.  Making this gift even more awesome?  Through Follow the Liters program, for each LifeStraw purchased, one school child in Africa receives safe drinking water for an entire school year.
Lander ~ Powell Phone Case for iPhone 7, $35
The ultimate case for the outdoorist, I was shocked at the slim footprint of this rugged iPhone case.  The Powell case for Apple is truly the least-bulky-while-still-protective case I've ever seen.  It's made by Lander, a brand specializing in "expedition inspired accessories for your journey".

With a sleek industrial look, the ridged edges make it very easy to grasp and hang on to.  It has military grade drop protection, and slips in and out of a pocket likka champ.  Your outdoor gal (or guy!) is going to love this case.  Available for iPhone 7, and 7 Plus (or iPhone 6).
Oakiwear ~ Women's Rain Boots, $45-50
Oakiwear makes adorable kids rain gear, and has now expanded in to a fun line for women, too.  I love their playful Women's rain boots that come in either knee-high or ankle height.

These 100% rubber boots are protective yet stylish, and come in both solid colors and unique prints.  They are sturdy and comfortable.  Be aware with the knee-high style, the top opening fits quite snug.  Size up a full size.

Great price point for a happy gift that's both useful and enjoyable to receive.
Colleen Rothschild Skincare ~ Discovery Collection, $95
We outdoor gals spend a lot of time in the sun and wind, where our skin definitely takes a beating.  One of my guilty pleasures is using a quality skin care product line, and Colleen Rothschild does not disappoint.

My recommendation is the Discovery Collection, which comes in a nice travel bag.  It gives you generous samples of all their signature products and a fabulous first taste of their pampering sensation, earthy scents, and impressive results.  Or if you want to select one full sized product as a gift she'll love, I recommend the Radiant Cleansing Balm.  Blissful!
Haiku Bags, $40-150
Oh, how I love a good Haiku Bag!  Well known among the outdoor gal scene, you'll score big brownie points when giving pretty much any bag from this hip Seattle bag company's lineup.  Haiku bags are made from recycled materials with nature inspired patterns and colors, and are cleverly built with incredibly optimized designs.  There's a nice selection of sizes and layouts, but they all include awesome organization compartments.

My personal recommendation:  the new-this-season Haiku Renaissance Bag.  Gym bag, tote bag, overnight bag, everyday bag, Her-New-Favorite bag!  For outdoor gals with wee ones, make sure to order the "Renaissance Mama" version that comes with a handy Diaper Kit.
Showers Pass ~ Women's Syncline Jacket, $125
With gorgeous vibrant colors, generous sleeve length, well placed safety 3M reflective details and an ideal athletic fit designed perfectly for cycling or other outdoor endeavors – the Shower's Pass Syncline Jacket is a fantastic addition to any outdoor gal's technical lineup.

This fully seam tapered Artex™ Hardshell is waterproof and breathable.

It's the perfect outdoor jacket to keep a girl dry, comfortable, safe… and looking good while doing so.
Hoka One One ~ Women's Challenger ATR, $130
Hoka One One continues to expand their offerings, and is taking both the running and outdoor shoe market by storm.  My personal favorite is the Women's Challenger ATR, which can be worn hiking or trail running for ultimate comfort and support.

It comes with two sets of insoles, for which I'm eternally grateful (I doubled up and wear both for running).  I'm convinced my Hoka One One's helped me survive training for my first half marathon.  Plus, the purple looked awesome with my runDisney Rapunzel costume.  Bonus.
Aventura Clothing ~ Daria Vest, $90
Sometimes buying clothing as a gift can be tricky.  Sizes and taste vary widely amongst we girls.  But I don't know a single outdoor gal who wouldn't absolutely adore Aventura Clothing's Daria Vest.

Lusciously soft and extremely comfortable to wear, this quilted vest is not exactly an outdoor technical vest… but stylewise it's on-trend and offers a flattering fit.  Runs true to size, and it'll go with just about anything in her closet.   I've been an Aventura Ambassador for three years, and this is one of my absolutely favorite pieces!
Turtle Fur ~ The Turtle's Neck (fleece gaiter), $17
A classic "oldie but goodie" that any outdoor gal can never have too many of.  To my knowledge, no one has nicer, softer fleece than Turtle Fur.

A colorful fleece neck warmer is a fun, affordable gift that will be put to good use on many outdoor adventures.  The Turtle's Neck is their most classic style, but they also feature a nice assortment of balaclavas and tubular bandannas.
Sabre ~ Personal Safety Products, $10-15
Show you care with the gift of protection from Sabre, the #1 brand used by police forces.  This affordable line of pepper sprays and personal alarms are perfect for an outdoor gal to have along on any adventure (or even non-adventure daily life).

Whether she enjoys running alone, or occasionally hikes where there may be mountain lions or bears, if your outdoor gal doesn't already own and use a personal safety device like this – it's an extremely thoughtful item to get for her.
Mountain Khakis ~ Tavern Flannel Shirt, $75
In all honesty, your outdoor gal is going to love pretty much anything from Mountain Khakis.  This hip mountain lifestyle brand is headquartered out of Jackson Hole, Wyoming, and carefully crafts a rugged yet chic look.

Pieces are high quality and fairly practical for outdoor adventure.  My pick is the uber soft Women's Tavern Flannel Shirt.  Not fuzzy flannel.  But still oh-so-good.  Runs slightly small (as does all Mountain Khakis, in my experience.)
*o*     *o*      *o*
I received samples of some of the products mentioned here at no cost, for the purposes of review. All opinions are my own.