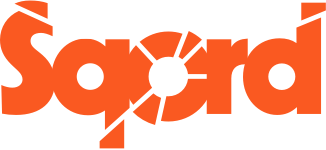 I'm excited to introduce you to Sqord, a family fitness platform that makes healthy, active play more fun for kids by allowing them to compete and earn points for everyday activities.   Sqord wrist bands are an accelerometer worn to record your activity level, and provide a visual reminder to encourage movement.
One part social community, one part fitness tracker, one part game.  The brand's first product:  the Sqord Pod and Game App that encourages kids to get out and play with others – building camaraderie and friendship through exercise-related activities.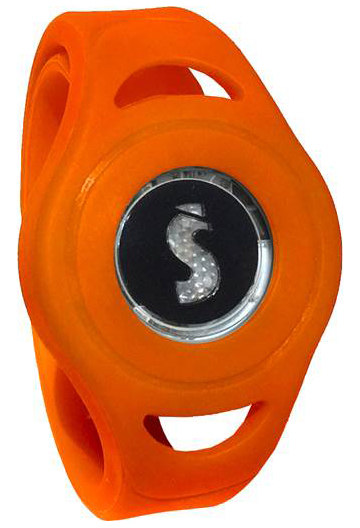 How does it work?  The Sqord Activity Pod tracks movement in the real world and converts it into Sqord Activity Points that kids can use in the Sqord App.
Available for Android and Apple, the Sqord game app enables players to wirelessly sync and upload their points, and increases engagement and interest from kids by adding an element of friendly competition.
The more Sqord Activity Points they earn, the more and more cool interactive game levels they unlock in the Sqord game app.
Kids can create and customize their very own PowerMe character inside our online world.
The Sqord Activity Pod inspires, motivates and tracks your play—converting that play into Activity Points. Use points to unlock cool new features such as messaging friends, upgrading your PowerMe, and much more.
Compete on the Sqord leaderboard and in head-to-head challenges with your friends – or the world. Parents can also set goals for their kids and create unique Awards to further incentivize active play.
Send quick High Fives or Squawks to your friends in a kid-safe, parent-approved environment. The Sqord App is specially designed to make sure all interactions are 100% safe, easy, and fun for kids of all ages.
Sqord is striving for stronger overall well being for kids.  Kids who wore the Sqord Activity band were shown to have a 55% increase in higher activity levels in previously less active kids.
You can purchase a family value pack of 4 Sqord fitness bands for just $114.95 retail, so everyone can join in the fun and play your way to better fitness.
How to Get Your Family to be Active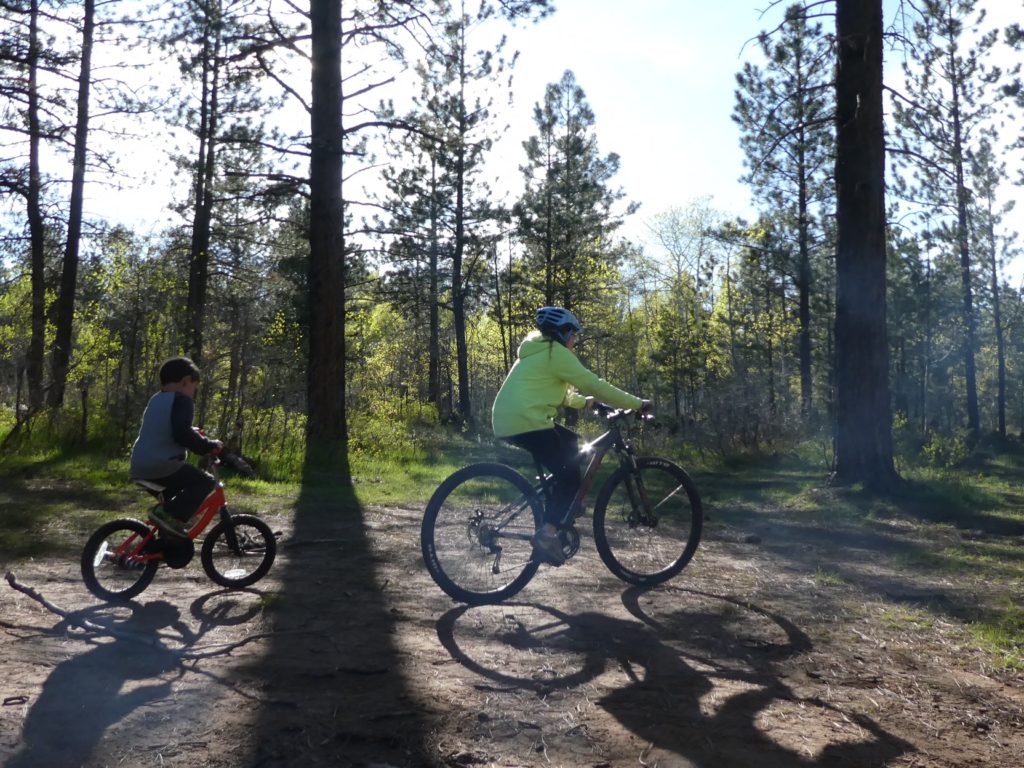 It's such a challenge to get kids away from those screens, and doing something active.  That challenge is compounded when after a long day of work… we parents just want to crash on the couch, too.
Personally, I feel it's ok to sometimes just direct them, "Go outside and play in the backyard for a half hour."  I try to give my kids some starter ideas, then let their creativity hopefully take it from there.
Find some flat rocks to paint with acrylics (my kids love doing this… we turn them into a rock garden)
Draw with sidewalk chalk
Build an obstacle course
Play catch
Sandboxes are cheap, and can be very entertaining
Make a nature list and send them on a mini-scavenger hunt.
But admittedly the best way is to get up and get moving with them.  On the weekends, I try to plan at least one outing where we go for a bike ride, hike, or other activity.  Turn it into a Family Adventure Day, if you have an entire Saturday to dedicate.  It may take a little effort and planning, but we absolutely never regret spending active time together.
Utilizing a tool like Sqord, and having each member of the family with their own, can also be a highly motivating factor.
Third party studies of 5th grade students using the Sqord band for a period of one year showed that it resulted in increased physical activity and motivation.  No wonder Sqord was recently chosen to partner with Michelle Obama and her "Let's Move" initiative.
As is true of all of us, Awareness motivates more physical activity in kids. Anything that fuels a healthy lifestyle and increases kids motivation to be active is a great idea, in my book.
Sqord "Family Playstakes" Vacation Sweepstakes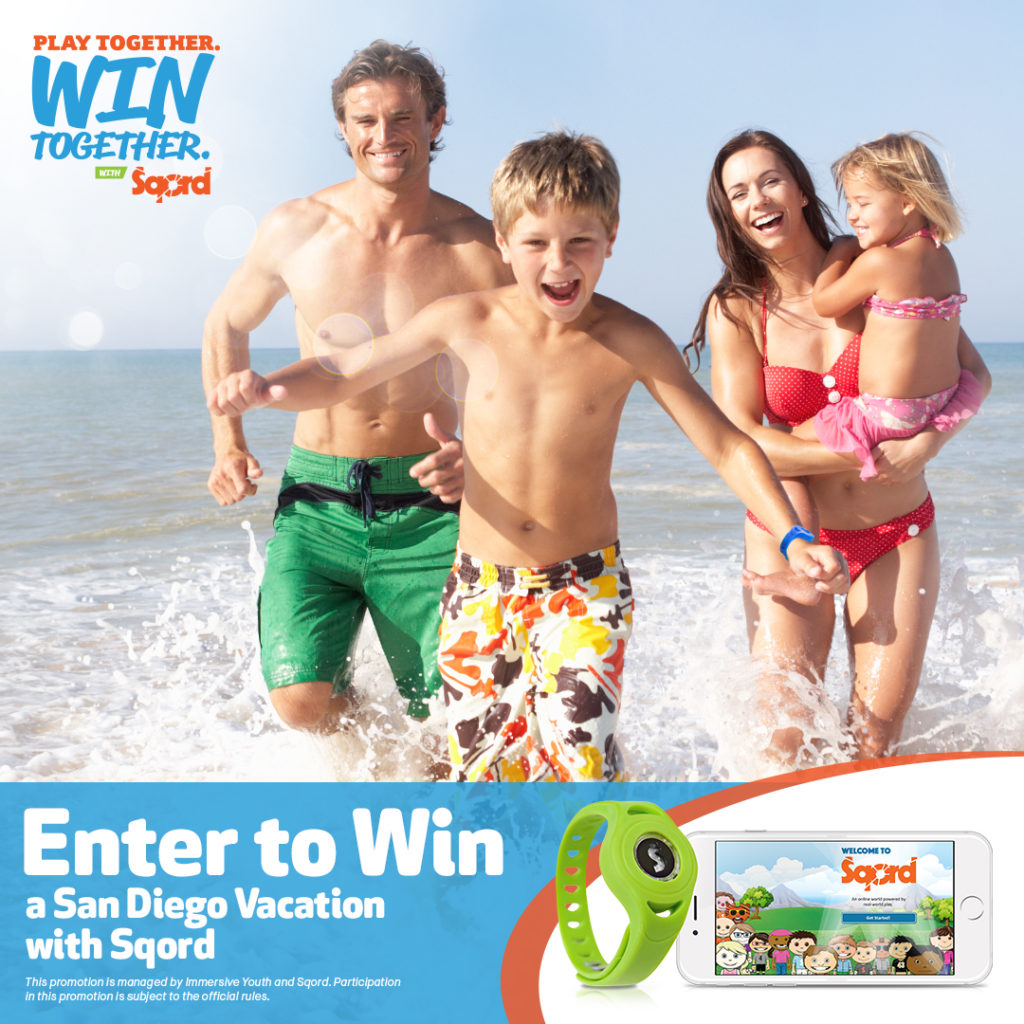 Sqord wants to celebrate all the ways your kids play with a Family Playstakes!  The winner of this sweepstakes will receive a family vacation for four to San Diego, California and includes:
Airfare, hotel (3 days/2 nights), transportation,
Tickets to your choice of LEGOLAND, SeaWorld or San Diego Zoo
Sqord prize pack (4 Sqord Activity Pods, Wrist Bands and Stickers).
You can enter the sweepstakes here.
(But keep reading ~ I also have a Sqord family 4-pack to giveaway…)

Sqord Activity Pod Set ~ The Giveaway
Great news!  I've got a Sqord Activity Pod Family Set of 4 to giveaway to one of my readers.  Retail value is $114.95.  Pod strap colors will vary, and may include black.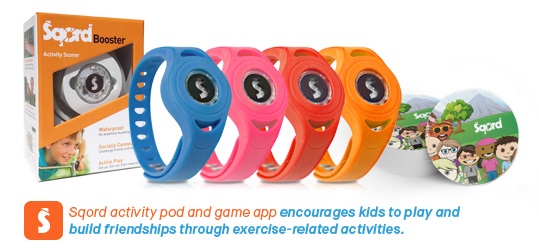 Open to US Residents, ages 18+.  Enter using the form below.  Void where prohibited.
*o*     *o*     *o*
This campaign is sponsored by Sqord.  All opinions are my own.