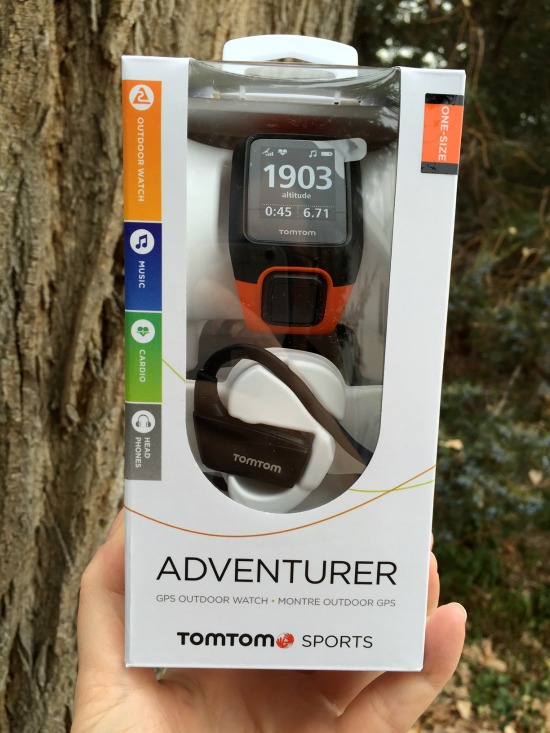 This is a sponsored conversation written by me on behalf of TomTom®.  The opinions and texts are all mine.
For those of you who've considered a fitness watch, GPS watch, or any other type of sports tracker, or maybe you're just ready to upgrade your watch tech, and would love to see a product that offers more than ever before, you're going to be very excited to see the new TomTom® Adventurer GPS Outdoor Watch.
Just released this fall, the TomTom® Adventurer packs a powerful punch of functionality and convenience.  Plus, it's perfect for the outdoor enthusiast.
TomTom® Adventurer as a Fitness Watch
I've personally never worn a step tracker or fitness watch of any kind.  But I've always been curious if it would motivate me to be more active in my daily life.  Since I work in an office full time, I spend way too many sedentary hours at the computer, and have become lax about taking some ergonomic breaks and taking a walk.
Wearing the TomTom® Adventurer the past two weeks has really helped me form some better habits in this regard.  With a default daily goal of 10,000 steps pre-programmed into the watch, it's an admittedly silly incentive to take numerous walks throughout my day.  I'm grateful, and hoping the trend continues.
When you initially set up your watch, it will ask for your stats such as age, weight, height.  This assists in calories burned estimates, which can also be useful in your fitness endeavors.
When I'm lifting weights or working on a cardio machine, I select "gym" mode.  This display shows me my total time, and current heart rate.  Very useful, and again… highly motivating.
I find myself checking in with my TomTom® Adventure "total steps" numerous time throughout the day.  It's proved enlightening as to which of my days are more active.  My days off from work, I actually get more steps/activity by default.  Our Golden Retriever Daisy loves my new TomTom® as much as I do, since we now duck out to take an extra walk if I notice my day has been too sedentary.
TomTom® Adventurer for Sports and Outdoor Play
Here's one of the coolest features of the TomTom® Adventurer.  It's ideal for outdoor play!  Just select your activity, so it can customize your tracking.  Choose from activities such as skiing, snowboarding, running, hiking, or swimming (it's water resistant up to 40 meters).
Skiers will love the "lift detect" feature.  When in skiing or snowboarding mode, the innovative TomTom® Adventurer literally feels when you get on the chair lift.  Oh, taking a breather after that last run?  Here are your stats to peruse during your ride back up, such as run count, max speed, descent, and max gradient.
New Best Friend on the Trail
With the power of TomTom® GPS tech on your side, you can get all kinds of cool, real time data from your TomTom® Adventurer.  Get assistance with your outdoor adventures such as:
GPS
Compass
Barometer
Altitude display
Mapping New Trails – Find a new trail to explore, upload it to your watch, and use it for mapping your route out on the trail.
The possibilities are endless!  I can't wait to use it in the backcountry for some family snowshoeing this winter.  We explore some amazing areas in winter, in Western Colorado.  We will have added peace of mind being able to use the TomTom® Adventurer trail exploration features, knowing GPS tracking will always help us find our way back to where we started.
Built In Heart Rate Monitor
Wanting to monitor your heart rate during activity, but not super excited to harness yourself in a chest strap monitor? Yeah, you can join my club.
It's for this reason I've long been wanting a TomTom® watch.  Their awesome built in heart rate monitor can detect this from your wrist, and displays conveniently on your TomTom® Adventurer.  This is very useful bit of info when training, or just trying to get the most out of your workout.
I've utilized this feature most during my gym workouts, and it works like a champ.
Easy MP3 Usage & Included Wireless Headphones
Your TomTom® Adventurer can also be used as an MP3 player, and comes with a pair of wireless headphones.  This may be my favorite feature, and TomTom® did a great job with ease of use and quality of the headphones.
I was highly impressed with the ease of loading songs onto the watch.  "Is this little task going to take me hours?", I pondered with a bit of dread.  How would I search to find compatible song files stored in my iTunes library, and transfer them to the TomTom®?
The TomTom® Connect software made this process slick and easy.  Plug your watch into your computer USB port, and the intuitive wizard walks you through syncing.  Get this:  it automatically located my iTunes playlists, and displayed them for me.  I selected my favorite lists with one click, and it instantly copied those songs to my watch.  Brilliant!  Stores up to 500 songs, with 3 GB of memory.
The wireless Bluetooth headphones included with the TomTom® Adventurer are well designed.  They fit securely into your ear canal, sound great, and stay put during a workout.  If you really crank them into your ear, the bass is even decent.  Additional ear bud cushions are included.  How fantastic is it to head to the gym with just your watch and headphones?  No wires, no separate music player.  Love it.
TomTom® Adventurer Watch: Final Thoughts
I was impressed with the TomTom® Adventurer watch's user friendliness, and robust capabilities.  It's a bit chunky on a female wrist, but its motivating stats have made it worth wearing even to the office.  Note that you can replace the strap with another strap from TomTom®, which may be a better fit.
It fits nicely as an addition to any lifestyle interested in outdoor and/or fitness pursuits.  I can't wait to test out some of the more savvy features, such as lift detect and ski run tracking on the slopes this winter.
The TomTom® Adventurer watch retails for $349, and is available online now.
*o*     *o*     *o*
This is a sponsored conversation written by me on behalf of TomTom. The opinions and text are all mine.