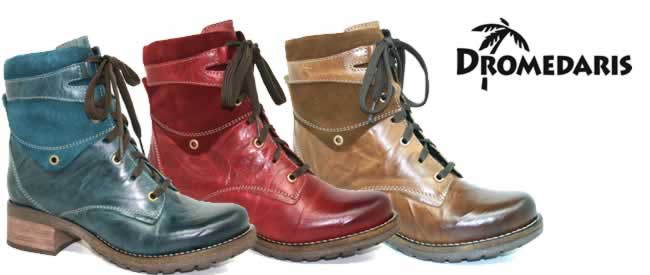 Mid-height boots are hugely popular, but finding just the right pair can be a challenge.  Comfort is at the top of my list, followed by my penchant for rich looking leather.
I'd heard great things about Dromedaris, known for their high quality leather boots made in Portugal.  The pair I happily chose to review is one of their original, most famous styles:  the Dromedaris Kara Boot.
Dromedaris ~ Creative & Comfortable
If you are unfamiliar with them, Dromedaris is a premium leather boot, shoe, and sandal maker.
Dromedaris features such creative and funky styles, prints, and colors that if you'd planned on buying a neutral pair (which they do offer)… you're going to have a hard time sticking to your guns.  Whimsy is the order of the day with many of their new patterns including embroidered flowers and denim patches with lace overlays.
Their 3D Technology results in a soft cushioned insole, and serves as the foundation of their women's collections.  This delivers big on comfort, and they combine this great tech with the latest in European fashion.
It's noteworthy that part of their mission statement includes using highly ecological materials and manufacturing process in their shoes.
Dromedaris Kara Boot Review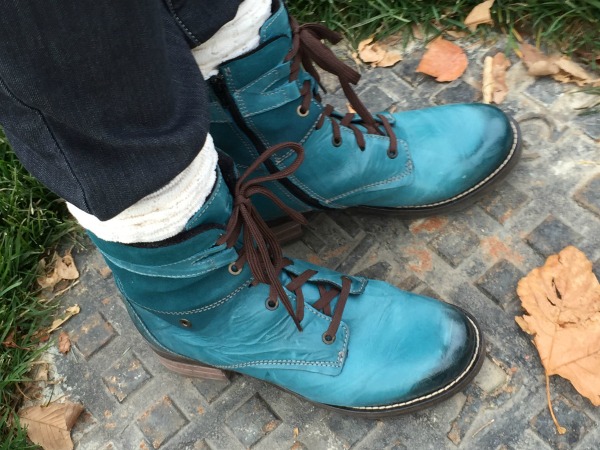 First off, the Dromemaris Kara Boot is flat out gorgeous.  I decided to get all crazy and forgo my first instinct to get a brown or black pair.  Instead I chose teal, and boy are they fun to wear.
These boots are definitely made for walking!  SO many women stop to complement me when I wear them, it's almost comical.   I just love the rich looking, creased, and oiled leather with tanned toes.
The Kara Boot is soft yet sturdy and extremely well made.  They come in literally a rainbow of fantastic colors, metallics, and even prints.  The insole is nice and cushy, as advertised.  The laces offer you a little bit of additional adjustment, which can be helpful in reducing heal slippage, or giving your instep a bit more girth.
Now I'll confess and say that my flat feet can be tricky to fit a boot or shoe comfortably.  And although my foot is somewhat narrow, I've got bunions.  So *most* of the time shoes don't fit properly on me.  That being said, I did struggle with finding the correct size of Kara's.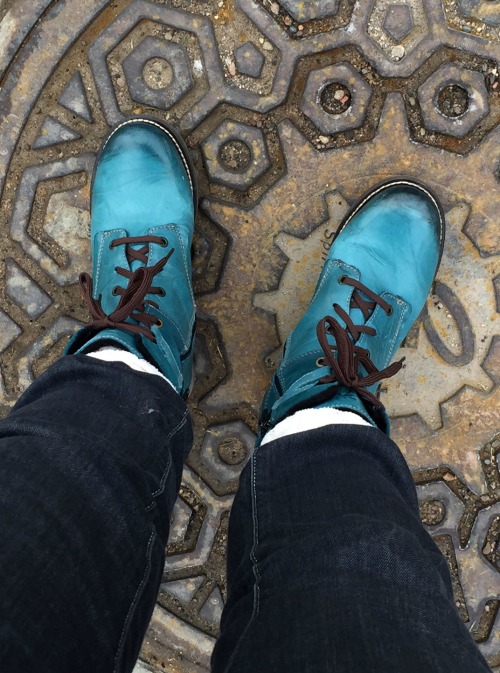 Kara Boot Sizing
Personally, I feel this particular style runs a bit narrow, and a little on the small side.  I wear a size 9 or 9 1/2, and usually wear a European size 40.  The Kara Boot in size 40 felt way too tight to me; just plain too small all over.
So I went up to size 41.  That size is admittedly too large for me, and leaves my heel slipping in a somewhat oversized boot.  BUT… at least I can wear them comfortably for a full day, which I could not do in the size 40 .
Again, I feel this is due to my unusual foot shape – not a fault of the Karas.  If you have bunions, I've read that the Kikka Boot is a roomier fit across the foot width.
Overall, I highly recommend Dromedaris and the lovely Kara Boot.  They are such a fun style, and look adorable with leggings, jeans, or even a skirt.  You'll be very happy with the quality materials and construction, and they have lots of fabulous styles to select from.
Spring is right around the corner… be sure to check out their sandals, too!
*o*     *o*     *o*
I received a pair of Dromedaris Kara Boots for review at no cost.  All opinions are my own.