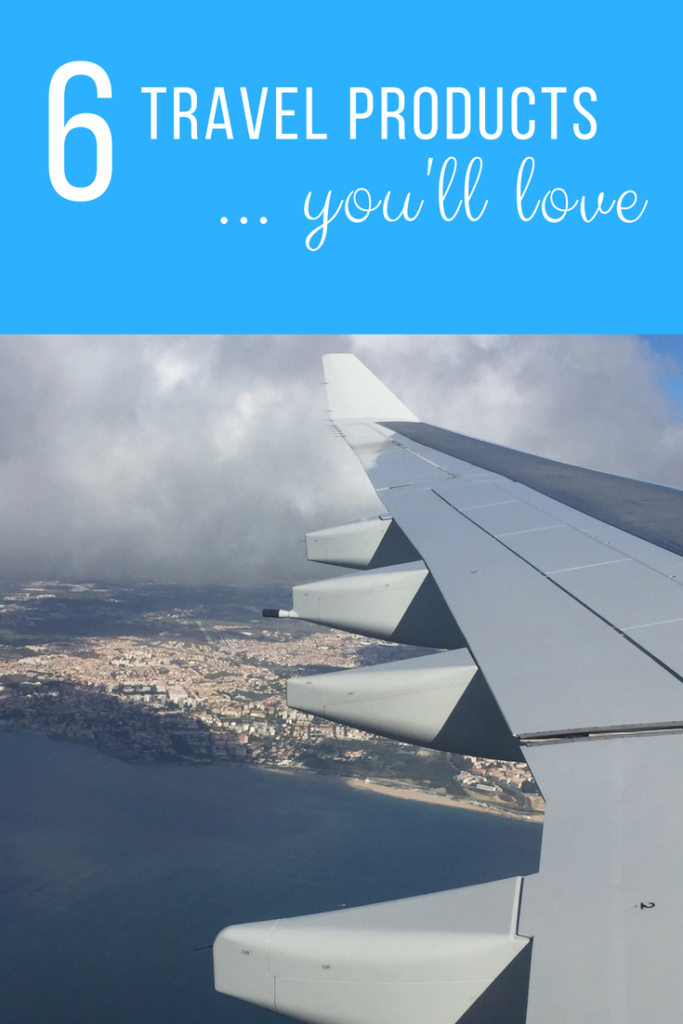 The thing about a really great bag, is it just gets better with use.  It softens, and molds to the way you lug it.  You instinctively know exactly where to find things, after repeatedly storing and digging for them.  It becomes an extension of you on your adventures, as it accumulates all sorts of great memories.
That's why I feel it's so essential to choose quality travel products, with well thought out designs.  When you find an entire brand that consistently makes this type of gear, it's nice to be able to rely on them for your hiking and travel luggage needs.
6 Awesome Eagle Creek Travel Products
Eagle Creek has been making durable travel outfitter goods since the 1970's.  They offer a great assortment of luggage, backpacks, and even packing organizers.  They offer a "No Matter What" Warranty, which is lifetime coverage of their products.  They will either repair or replace, depending on the product failure.
Here are some of what I think are their best products to check out.
Packing Cubes: Pack-It Specter™ sets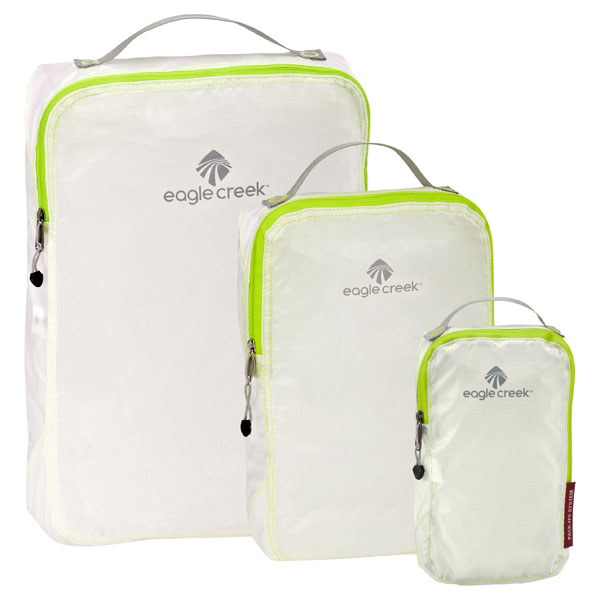 I've owned a set of Eagle Creek Pack-It Specter™ packing cubes for a few years now.  Nothing beats their lightweight ripstop nylon material they are made of, which is strong but ultra light.  Mine are white, which I love.  But all the colors are lightly translucent, allowing you the ability to see the contents.
Packing cubes are really slick when you are trying to pack light.  Increased checked baggage fees have driven me to becoming a light packer.  Now I love traveling light, and my packing cubes add greatly to compact use of space and keeping things organized.  They come in several lovely colors (or even a multi-colored set).  I recommend the cube set of 3 – XS/S/M.
Toiletry Kit: Pack-It Original™ Wallaby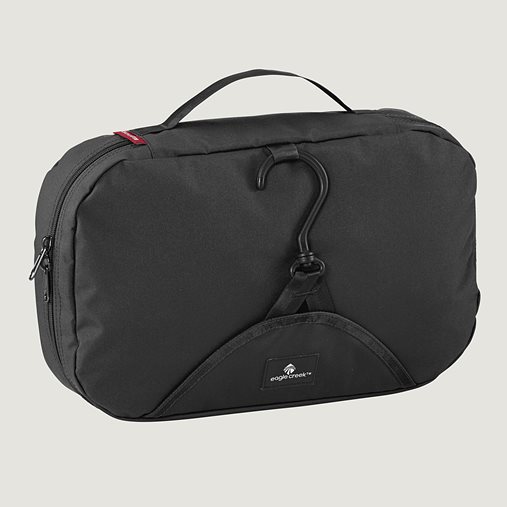 The nifty little Pack-It Original™ Wallaby has many of my favorite features in a toiletry kit.  A hanger to keep your items super handy at your destination, be it camper or posh hotel.  And a removable 3-1-1 pouch for TSA checkpoints.  This helps in keeping your liquid toiletry items separate for easier passage through security.  It also assists you when packing for carry-on, to know how much you can bring.  Also comes in the lightweight, translucent Specter fabric.
Great size.  Hip colors.  Affordable price.  Winner, winner chicken dinner!
Duffel bag: Cargo Hauler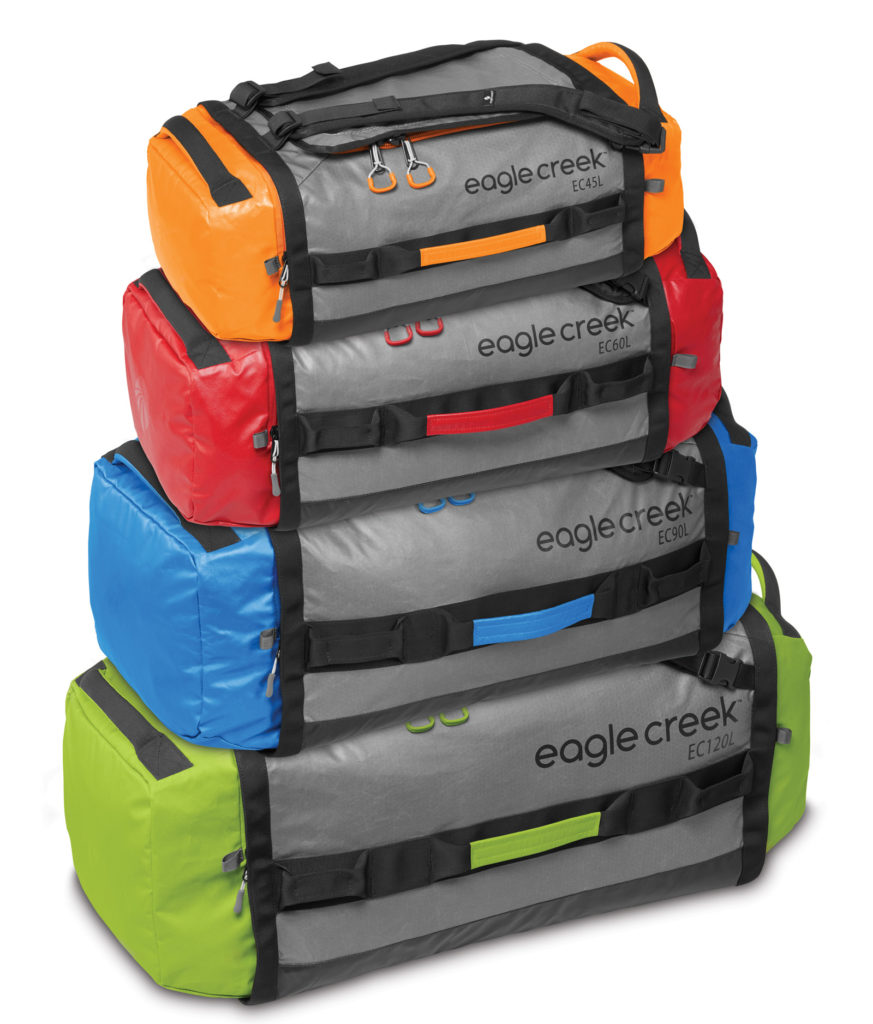 With multiple sporty colors, a variety of sizes, and both wheeled and un-wheeled options… look no farther than the Eagle Creek Cargo Hauler for your duffel needs.  This uber resilient bag is constructed with leading-edge Bi-Tech™ Armor Lite material.  Features include gear pockets, grab handles, and tie-down daisy chains.  Some models convert to a backpack for an alternative carrying method.
These Cargo Hauler duffel bags are ideal for both travel and outdoor adventure.
Spinner carry on: Gear Warrior™ AWD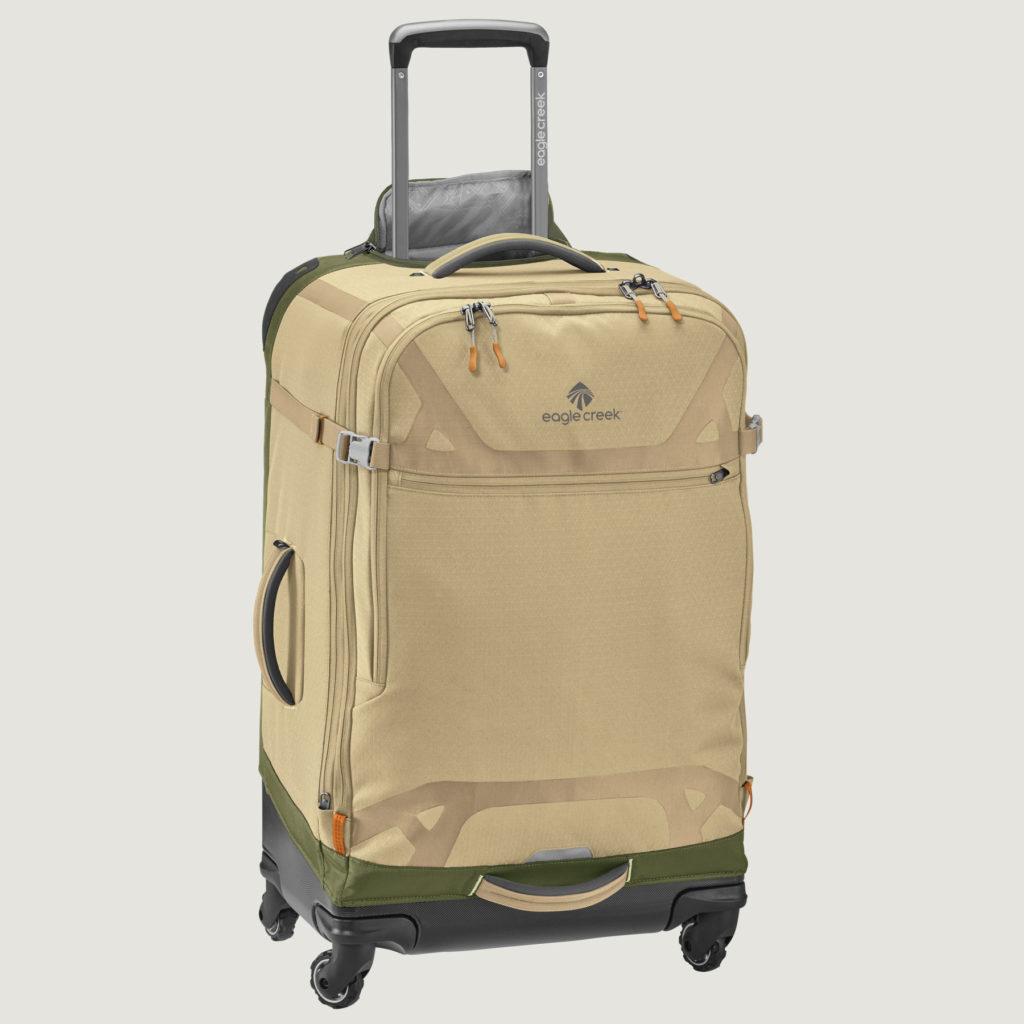 Once you've gone spinner, you won't go back.  The Eagle Creek Gear Warrior™ AWD 29 is the ultimate spinner gear bag.  This ultra light, 4-wheeled suitcase with a retractable pull handle is carry-on size compatible.  It comes with Equipment Keeper™ external straps to tie on that bulky jacket once you shed it in the airport.   Wheels boast AWD capability to make pulling the Gear Warrior a breeze.  Has multiple grab handles for easy use, internal compression straps, lockable zippers, and expandable main compartment, and organization pockets.
One and done!
RFID Cross Body: Guide Pro Courier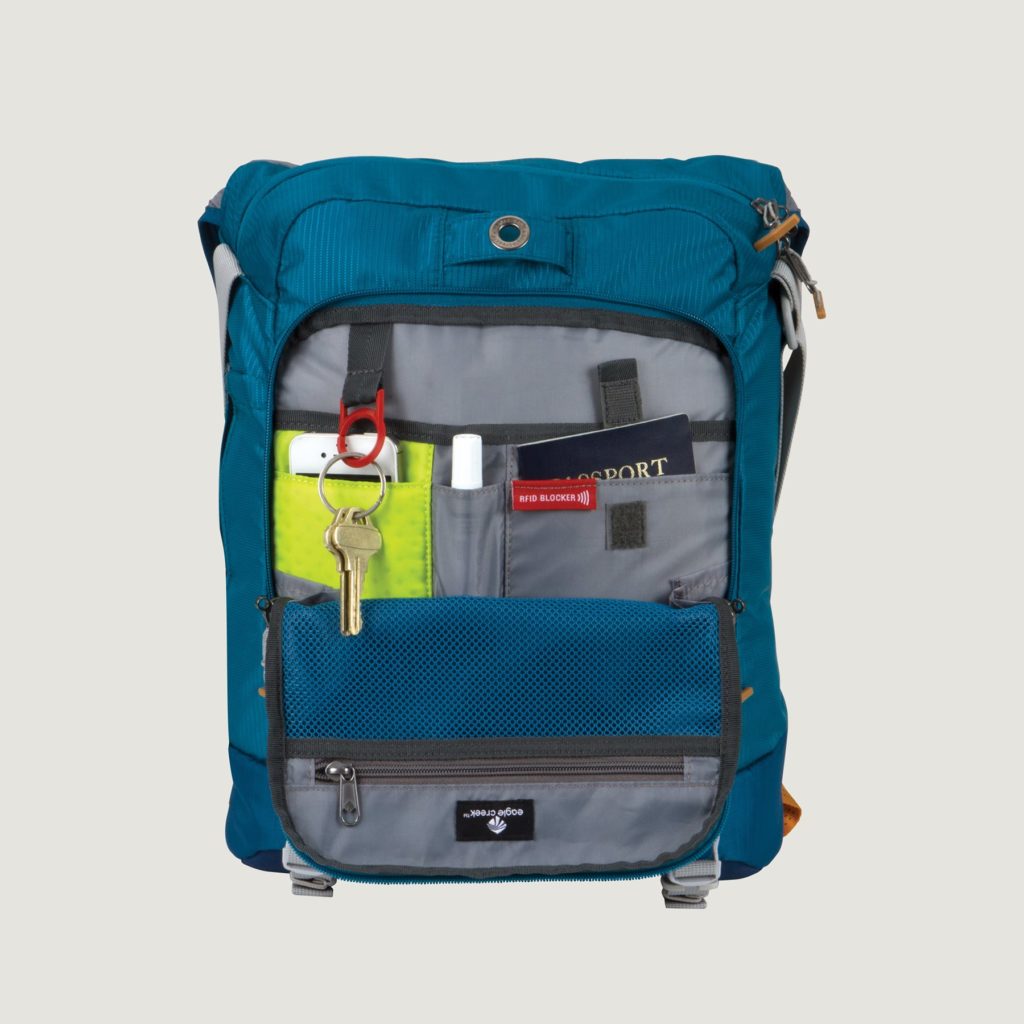 The ultimate travel companion, the Guide Pro Courier RFID can handle storing everything you need, and keep it ready-at-the-helm.  I'm a sucker for an excellent cross body travel bag, and this one meets all my criteria.  Three earthy colors and a gender neutral design make it perfect for guys or gals.
There's an awesome front organization pocket to safely store your passport, phone, cords, and any odds and ends.  Padded tablet sleeve.  Lockable zippers.  And it's all wrapped up in an RFID package to give you peace of mind on your journey.
Tote Bag: No Matter What™ Gear Totes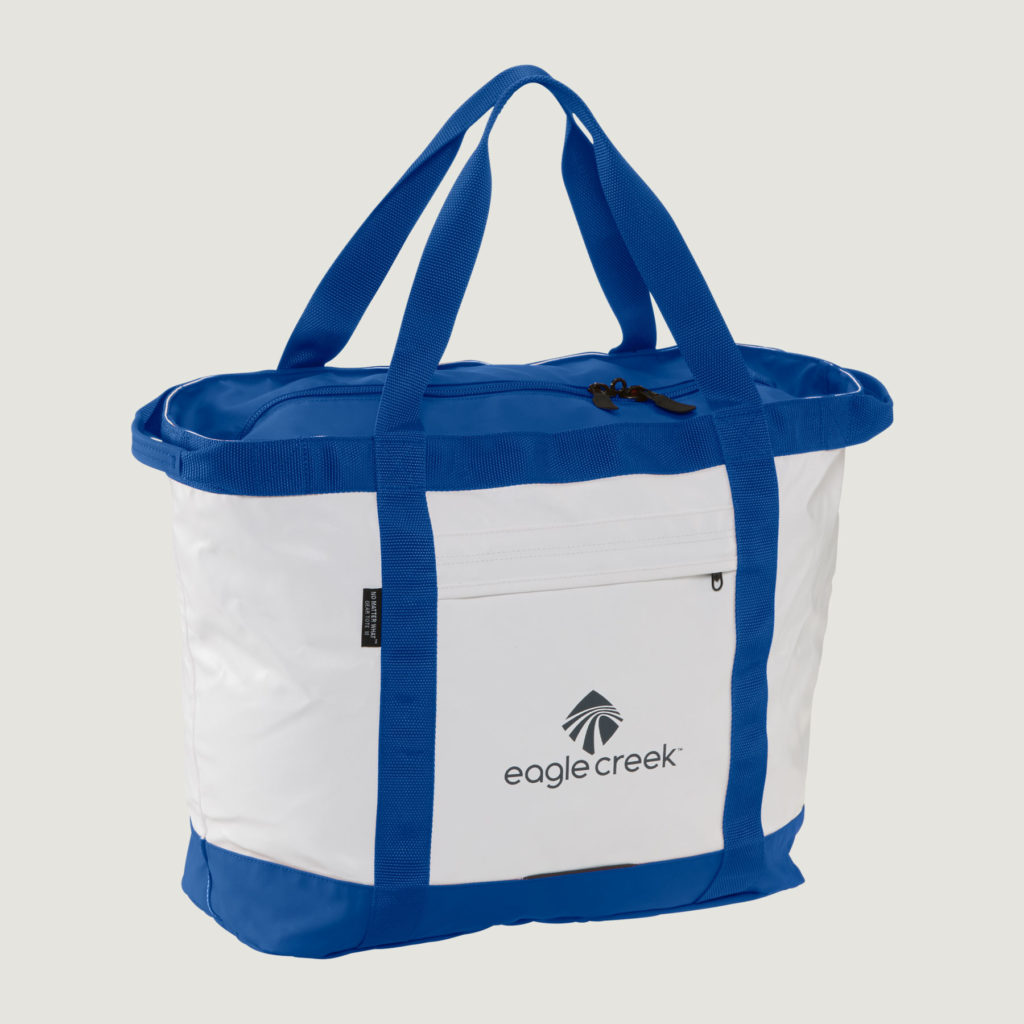 Covered by Eagle Creek's "no matter what" (lifetime) warranty, this is the go-to rugged tote you've been searching for.  Whether it's a day adventure in the mountains, or one spent at the beach… what a fabulous catch all for all those odds and ends mom needs to TOTE along for the family.
The No Matter What™ gear totes are built super sturdy, using a high tech fabric that is water repellant and tough, yet still very lightweight.  Folds compactly in to a small pouch, with an interior organizer.  Love the three sizing options – small, medium, and large (even the small is a generous size).  Great price point, too.
*o*     *o*     *o*
Product photo credit Eagle Creek.  Consideration provided by brands mentioned in this post.  All opinions are my own.