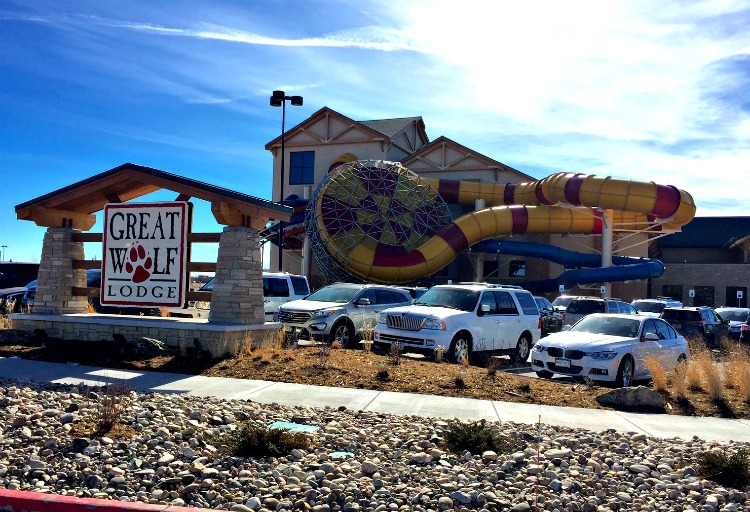 Good news for Coloradans, and other fun-loving families in the region.  You've heard of the legendary indoor water park resorts: Great Wolf Lodge.  Well, now is your chance to visit one!  Last weekend marked the official Grand Opening Celebration at their newest location: Great Wolf Lodge Colorado Springs, Colorado.
Although we live in Western Colorado, it was well worth the journey last weekend for my family to go check it out.  Suffice it to say… my kids didn't want to come home.  Here's an inside peek at the new Great Wolf Lodge Colorado Springs , and what to expect with your stay.
Slow Beginnings… Colorado's First Great Wolf Lodge
Around 3 years ago, a developer with big dreams selected a prime location.  With fabulous views of the Rocky Mountains, sitting just to the north of Colorado Springs, ground was broken on a large hotel and convention center.  Alas, it never fully came to fruition.
Locals tell a sad tale of a half completed hotel and convention center, sitting unfinished and abandoned for nearly 2 years.  Looking to possibly expand their chain in Colorado, Great Wolf Lodge saw the potential.  They purchased the unfinished property, and took over from there.  Adding the signature indoor water park took 18 months.  During that time, they also completed the hotel portion interior, added multiple restaurants, and polished it all off with their brand's wilderness style decor.
It became Colorado's first Great Wolf Lodge, and our first indoor water park.
First "Dry" Adventure Park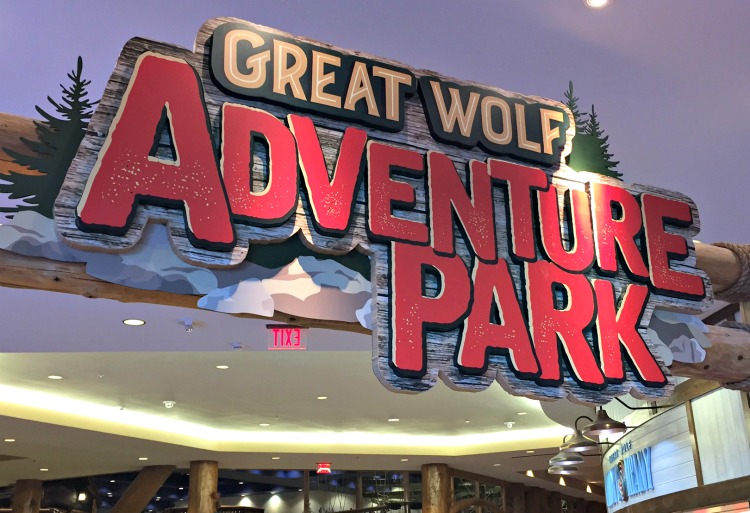 This is also the first Great Wolf Lodge with a "dry" Adventure Park, partly in thanks to that empty convention center space.  And it's a huge hit.
Individual attractions such as a climbing wall and mini golf are found at other Great Wolf locations.  But never before had the franchise found themselves with a large available space to dedicate to having a dry park, incorporating multiple attractions together.
The idea stemmed from customer feedback, with multiple families asking for additional non-water activities to fill some of their fun time together.  I think this balance is pure genius.  We loved all of the attractions found at the Adventure Park, and actually spent as much time there (possibly more!) as we did at the water park.
An additional draw for locals?  The Adventure Park is open to the public, unlike the water park which requires a hotel stay for entry.  Packages can be purchased for multiple attractions, or individually selected.
My kids absolute favorite attraction was the high ropes course.  There's no time limit, but if you are spectating…  you may want to bring a book to read.  My kids didn't want to come down!  It was a little nerve wracking when they first got up there, but got easier as they built confidence.  My 6 year son yelled down to me, with a huge grin on his face, "I'm scared mom!  But I'm ok!"
Other available attractions include:
Oliver's Mining Co – Mining for gems (SUPER fun, and our 2nd favorite attraction of all)
Arcade
Small-sized bowling alley, perfect little little tykes
Howl in One, miniature golf course
Creation Station, make your own stuffed animal, then go on a scavenger hunt
MagiQuest
Climbing wall
Truly Top Notch Eats
I appreciated the diversity of restaurants on site, from the morning and evening Loose Moose buffet, to delicious pizza and salads at Hungry as a Wolf, to the snack bar Buckets, to the farm-to-fork specialty restaurant and bar Barnwood.
Everything we tried was delicious, with flavors and quality far surpassing the typical amusement park fare or even hotel restaurant food.
As part of my media tour, we were treated to visiting with Great Wolf Lodge Executive Chef Chris Hammond.  Although we do not have allergies in my family, I came away from this discussion highly impressed with the strides Great Wolf Lodge has made in this regard.  They want to offer families lots of yummy gluten free and GMO-free options.
By focusing attention on consolidating their food offerings across all 14 properties, they've been able to greatly improve the food quality.  "We'd rather do 12 items really, really well on a menu, than 30 just ok", said Chef Hammond.
Taste matters.  Healthy ingredients matter.  And they've carefully worked through the details to try and assure anything you order at a Great Wolf Lodge will be delicious.  That includes clean food selections, preferably with less than 5 ingredients.
No junky kids chicken nuggets served here!  Instead they serve a delectable, healthier, gluten free chicken strips option.  My daughter ordered some from Buckets, served with a side of sweet potato fries, and she raved about them.
I had some of the most delicious melt-in-your-mouth salmon of my life at the Loose Moose, from the dinner buffet one evening.  My only letdown was the small basket of dry brownie chunks which was served as dessert at the Loose Moose.  Other than that, all of the food very impressive.
Ice Cream & Kids Spa
Another exciting Great Wolf Lodge (and Colorado Springs) first is the onsite Ben & Jerry's ice cream shop.  They've been careful to keep this area nut free, which is reflected in the scoop flavors available.
You walk past "the treat strip" to get from the lodge room area to the parks, and have ample opportunity to raise your sugar level.  In addition to the Ben & Jerry's, you'll find a Dunkin Donuts and even the first Great Wolf Lodge candy company where you can fill a souvenir cup from the candy dispenser bins.
After you've got your sugar fix, you can swing in for a little pampering.  Scooops is the Great Wolf Lodge signature very pink, very sweet smelling kids spa.  My daughter enjoyed a quick visit for a "Sprinkled in Scooops" treatment.
If we had more time, we would have opted for the Mom and Daughter pedicure together, which gives you a chance to try out the special ice cream sundae seat.  The theming in here is charming, and their yummy smelling products are also for sale.
Just a Few Hiccups
There were a few down sides to the Great Wolf Lodge Colorado Springs, some of which unfortunately were part of this particular structure itself and may not have a remedy.  There are three elevators.  Total.  This proved insufficient on more than one occasion, and we often found ourselves literally standing in line to use it.  Taking the stairs meant an obscure route, which ended by popping out at the back of the Barnwood restaurant, then weaving through the tables.  Not ideal.
At the time of our visit, our private balcony was empty, completely sans outdoor furniture.  With such amazing views, and a great patio… it's still nice to stand there for a bit, taking in the fresh air.  But I do think they should add some sitting chairs.
And my last complaint is no hot tub.  Granted, the indoor water park is a fairly warm room (the claim is 84 degrees, although at times we felt it was colder).  When we talked to the Great Wolf Lodge representatives, they reported that this decision choice was to "better" use that potential space to include an additional attraction, instead of a hot tub.
Alas, I'm one of those grownups whose primary consolation in going swimming with my kids… is getting to ease some aches and pains in a hot tub with some massaging jets!  I'll just throw that out there, and maybe it will tip the scales one day.  Great Wolf Lodge definitely listens to their visitors input on what they want to see.
So Much to Play at Great Wolf Lodge Colorado Springs!
Every evening when the festivities start to wind down, families are welcomed in their PJ's to the Grand Lobby area for story time.  With a kick-off show that reminded me of Disney's Country Bear Jamboree (big complement, in my book), animatronic critters on stage warm things up by sing a couple of tunes.  Staff then follows this act up by reading from a giant story picture book, which also seemed to hold little one's attention fairly well.
The whole affair takes place nightly at 8 pm, and although it primarily attracted younger ones, it was adorable and very fun.  My 6 year old son sat in the front row both nights we were there, and thoroughly enjoyed it.
We've been home for a week now.  My kids ask daily to return to Great Wolf Lodge.  They had an amazing time, and we never ran out of things to do.  Whether we opted for wet or dry activities, there was plenty of entertainment to fill our weekend.   And having such delicious food available right at Great Wolf Lodge meant we didn't have any reason to leave the resort. That earns "relaxing vacation" bonus points in my book.
Do be prepared for a bit of noise and chaos.  While my husband and I didn't enjoy it quite to the extent that my kids did, I can see why families return repeatedly to Great Wolf Lodge.  It's exciting to finally have one in Colorado, and we can't wait to go back.
*o*     *o*     *o*
My family was hosted for a complementary weekend at Great Wolf Lodge.  All opinions are my own.