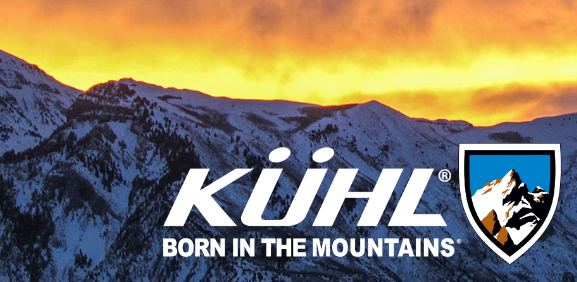 At KÜHL®, their passion is to get outdoors and have fun. Representative of their cool logo and mantras such as "Mountain Grown" and "Born in the Mountains"… having an outdoor lifestyle is expected of each contributor at the KÜHL® company. The result is this brand offers innovative styles, exclusive fabrics, and thoughtful features you're going to love.
Swing through any outdoor retailer for a glimpse of KÜHL® styles, and you'll quickly see why they're so popular. Their clothes are distinctive, technical, hip, and of high quality.
So what are some classic, core pieces to consider when shopping for KÜHL®? I been trying out two of their best-selling women's styles: Splash Roll Up Pant and Spyfire Jacket, and have some insight to share on the fabric, fit, and features.
KÜHL® Splash Roll Up Pant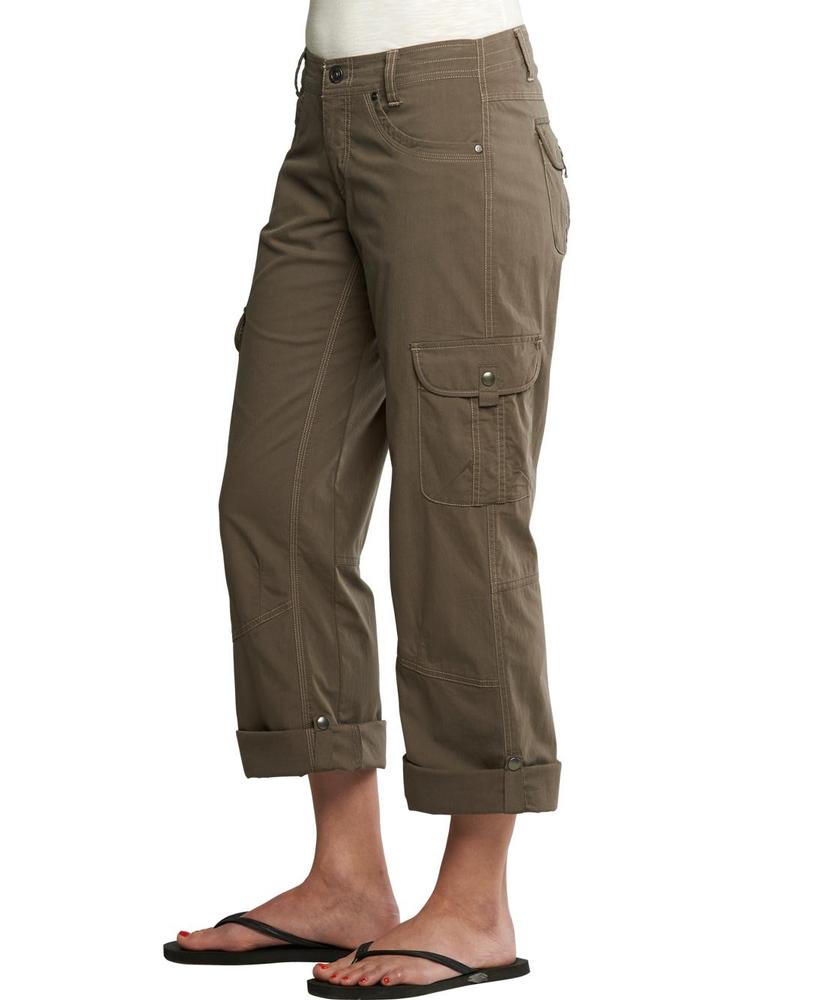 With so many enticing options, it can be challenging to decide on which pair of Kuhl Womens Pants to try.  I'm a tall, curvy girl and I can highly recommend the KÜHL® Splash Roll Up Pants. I chose them for their versatility (they roll up to capris), fabric with a bit of stretch, and 34" inseam sizing option.
I've been jealous of my husband's KÜHL® pants for over a year now.  So I was thrilled it was finally my turn to own an awesome pair of KÜHL® outdoor adventuring pants!
I wore these recently on a muddy, early Spring hike in Little Bookcliffs, Colorado's Wild Horse area. We saw more wild mustangs that day than ever before, three separate groups. It was awesome, even when our Golden Retriever waded through the muddy creek and shook gooey, mukky silt all over me.  Although it was a cool day my Splash Roll Up pants dried very quickly, and they washed up beautifully the next day.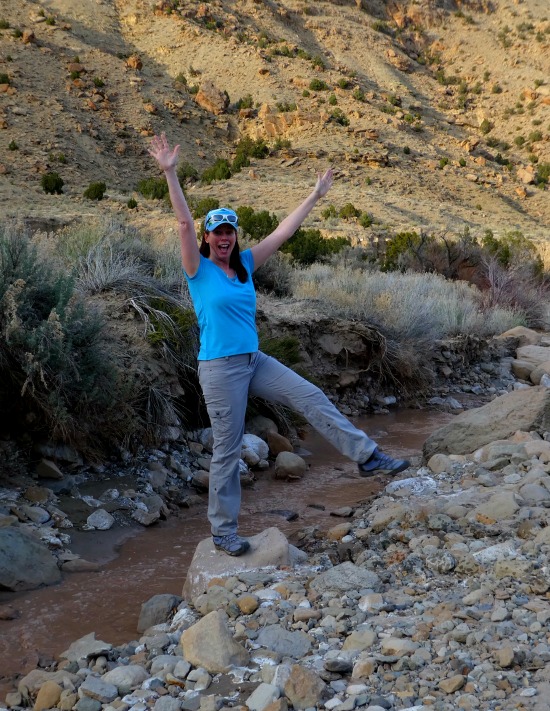 FABRIC:
One of their most popular women's pant styles, the KÜHL® Splash Roll up comes in three lengths and is currently offered in eleven colors. That array includes lots of great neutrals, as well as some fun bright colors for your wilder side. Made from ÜBERKÜHL STRETCH™ fabric, I find they are just the right amount of stretch for comfort and free movement while still being tough and durable for the outdoors.
FIT:
Curious what the KühlKURVE™ fit tag meant, I looked it up on their website. It's a special wasteband styling KÜHL® uses, with a higher rise in back and lower in front. Excellent. Very comfortable. The Splash Roll Up also has a relaxed fit, which personally I find more flattering.
FEATURES:
Splash Roll Up pants are quick dry for any stream or rain encounters, and roll up to capris when your hike turns sunny and warm. Four practical and handy snap-shut pockets. The pants wash well and are dryer friendly, no ironing needed (hah! I say that like I iron some things.) If you waver between two sizes depending on brand… I recommend going with the larger size in these.
Overall, I give the KÜHL® Splash Roll Up Pant an "A". I've got nothing but good things to say about them!
KÜHL® Spyfire Down Jacket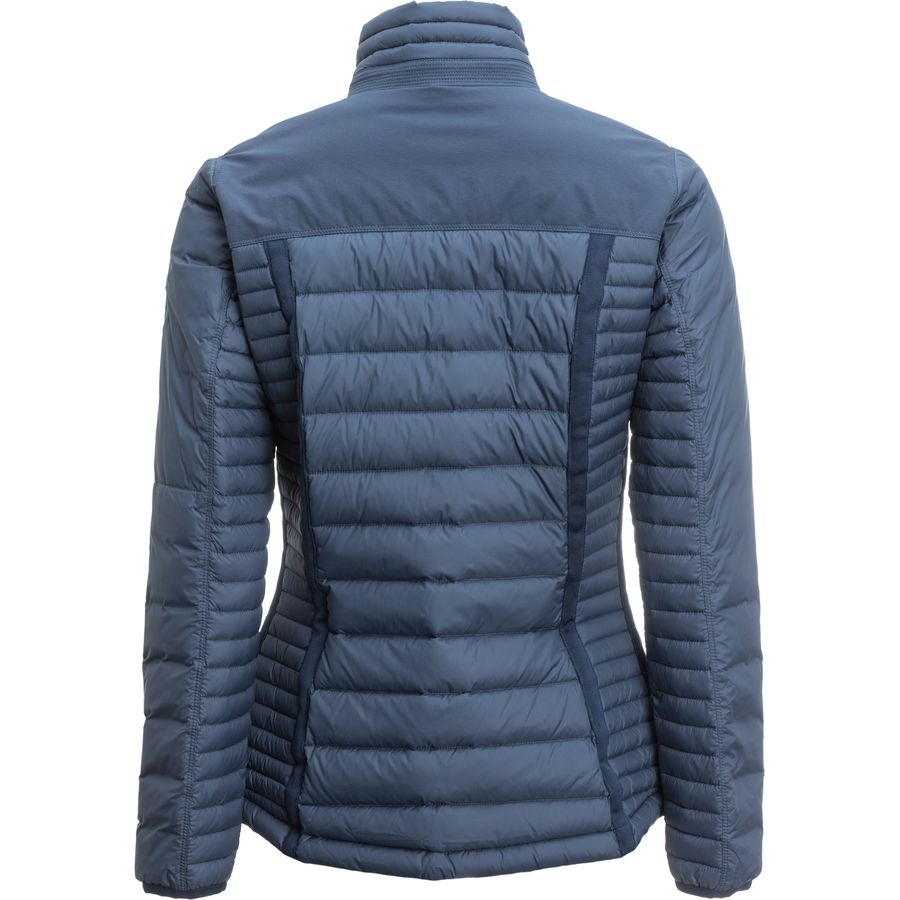 I received my KÜHL®  Spyfire Down Jacket as we headed into Spring, and it almost made me wish we could roll back time to Winter again. So many great features on this jacket, that I can't wait to test it out in some inclement weather conditions.
The fit and specialized styling make this jacket so attractive, I've been wearing it for both hiking and to the office. Had to wipe it clean a few times, but it still looks great.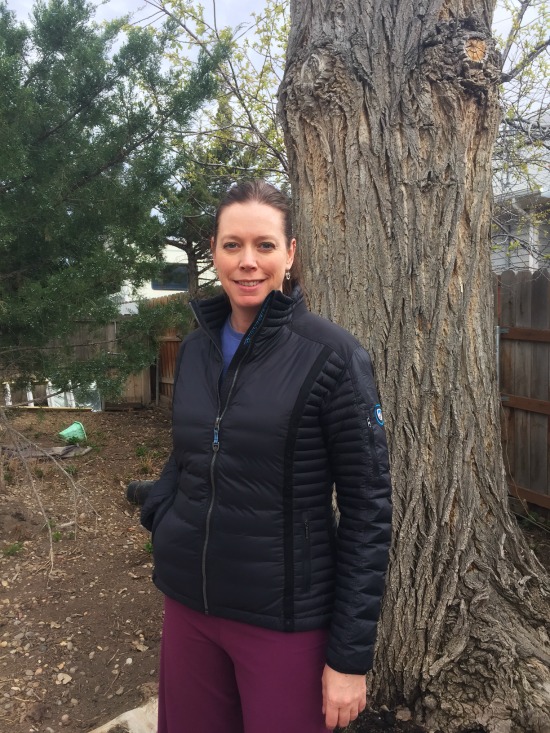 FABRIC:
The KÜHL® Spyfire Down Jacket has 800-fill goose ethically sourced down, eliminating bulk while still offering warmth. Underarms are made from a thick, stretchy nylon material that delivers excellent motion and outstanding climate control. And to wrap it all up with a final amazing touch, the front body and top of sleeves area are covered with a water resistant and windproof shell.
FIT:
The KÜHL® Spyfire Down Jacket has been crafted with a beautifully feminine shape. It's a relatively short jacket, but still allows for curves, with a nice flare hitting at the hip. Sleeve length is generous, and I feel the jacket runs true to size. The neckline tends to pull back slightly on me, but is not a big deal as it's primarily noticeable when I'm sitting down. Overall it's extremely comfortable, and provides cozy warmth while almost feeling like you aren't even wearing a coat.
FEATURES:
One of my favorite KÜHL® Spyfire Down Jacket features is the thermal body mapping. It's designed to trap more warmth at your core, while reducing bulk at your sides. The DWR Softshell yoke across the shoulders is AWESOME.  I've never seen another down sweater/jacket with this feature before.  And it's brilliant.
The KÜHL® Spyfire Down Jacket has everything you've always wanted in a down jacket, and nothing you don't. It's use of technical fabrics and carefully crafted design make this a fantastic option for the outdoor gal.
*o*    *o*    *o*
I received the KÜHL® clothing pieces described here at no cost, for the purposes of performing this review. All opinions are my own.  Stock photo credit KÜHL®.