Eleven years in, and the thrill of living in the state of Colorado has not worn off for me.  One of my absolute favorite Colorado road trips is east / west over the Rocky Mountains.  If you haven't traveled this stretch of I-70, you need to add it to your bucket road trip list.
Colorado Road Trip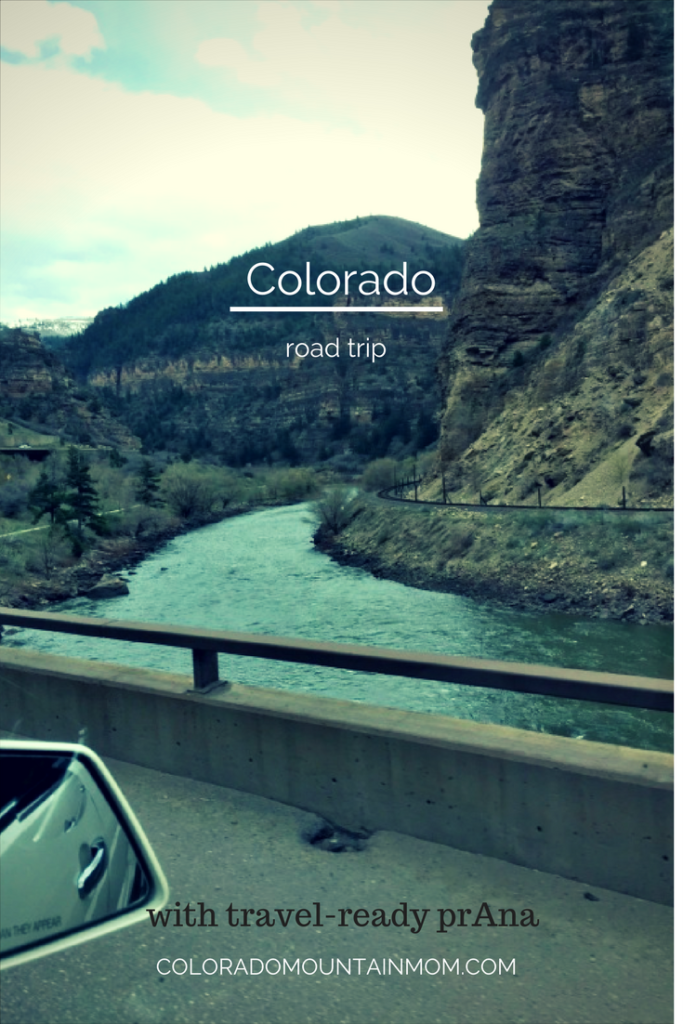 This is a frequent Colorado road trip route for my family, whenever we head to Denver for the weekend.  Love the scenery along Colorado's I-70, as it dodges and weaves along the Colorado River in many places.
The views obviously change with the seasons, both varying and beautiful.  My husband probably thinks I'm crazy, taking pictures with my phone on the journey.  Every. Single. Time.
Favorite rest area?  Grizzly Creek, just a few miles east of Glenwood Springs.  It offers hiking trails and an easy stroll down to take in the Colorado River.  Simply lovely, and an excellent place to take a short break and stretch your legs.  And take some more pictures.  Every.  Single.  Time.
Plus, you never know who you'll meet.  Take this friendly guy, for instance. He was tame enough to approach us hoping for food… but then he'd hiss at us.  Although my kindergartner was confused by this passive aggressive goose behavior, it was pretty entertaining to watch.
Perfect Travel Outfit
The second I received my prAna Mantra Pants… I knew they were destined to become legendary travel pants.  I was right.  The Parker Sweater kept up nicely, with it's uber soft organic cotton weave.  And I always add a scarf on travel day (this one just happens to also be a prAna purchase, it's their Arwen Scarf).
Scarfs are also versatile travel outfit additions that can be live savers, making up for unexpected chills, a need for a nap pillow, or even as a tourniquet.  Hopefully you won't need that last one.  But hey, it's the Wild West.  Hope for the best… plan for the worst.
Please Don't Make Me Shop
The older I get, the less I enjoy shopping.  It's tiring.  And often discouraging. Perhaps this is because I've become more picky?  At any rate, if I'm going to add something to my closet, it needs to be:
Soft, quality fabric
Comfortable
Flattering
Versatile
In recent years, I've added more and more items by prAna because they meet those requirements for me.  I love that prAna offers organic, hemp, sustainable, and fair trade items which are earth-friendly.  Bonus for the many pieces that are also luxuriously soft.
Here's the most recent prAna outfit I've been wearing around the house, to the office… and road tripping across Colorado!  It's breezy, casual, and extremely comfortable.
prAna Mantra Pant and Parker Sweater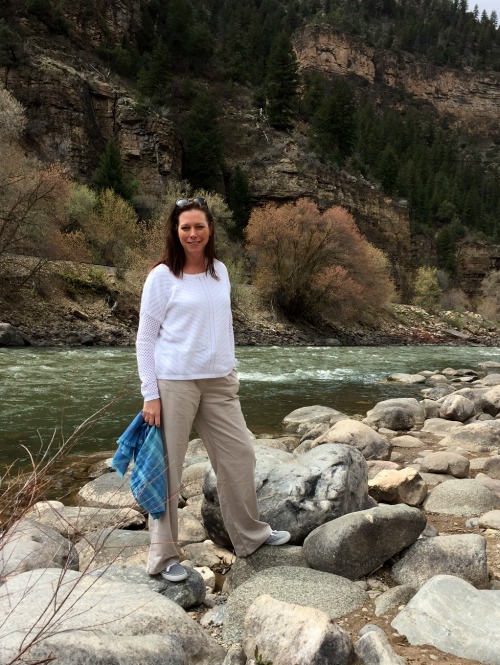 I have a prAna Parker Sweater from last year, but this season they have been updated, and are better than ever.  Made from organic cotton, it is crazy soft and cuddly.  I'ma lazy lounger, and will typically reach for a sweatshirt or fleece.  This sweater rivals that level of comfort, and looks a lot classier doing it.
Although in the past I've recommended sizing up in prAna, they seem to be adjusting their sizing somewhat.  This sweater is runs true to size with a nice, relaxed fit.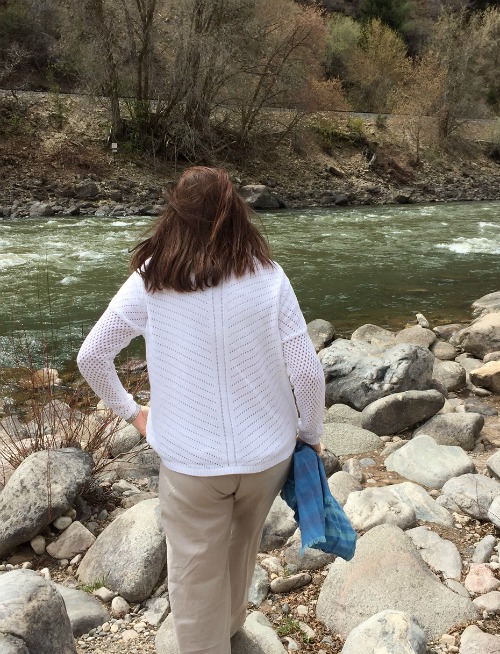 After reading so many rave reviews about the prAna Mantra Pants, I had to try them for myself.  One reviewer commented they work best for a more straight body type, not curvy.  That concerned me, as I'm in the curvy category.  So I sized up.
Well, they are extremely comfortable and I love them.  But in looking at the photos… I realize they look a bit too big.  They don't shrink, and are very long (I'm 5'10", and am wearing the XL in the photos).  The pockets add a useful and appealing design touch, and a drawstring cord waist allows you to customize your fit.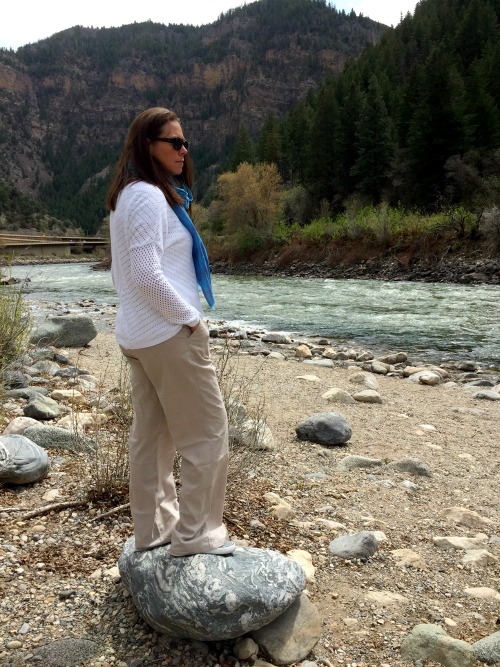 All of that being said, this hemp fabric is fantastic!  I  anticipated it would be somewhat like linen, but I like it much better than that.  It feels wonderful and cool against your skin.  It's very light weight, extremely breathable, and resists wrinkles better than linen.  If that interests you – check out the lovely go-to Mantra Pants.  They come in lots of great colors, both neutrals and spunky.
Wait… Isn't Hemp MARIJUANA?
Just a little side note about hemp.  Because I live in Colorado, the Marijuana State.  And all I really knew about hemp was that it came from a marijuana plant.  So when I hear about hemp being used for sustainable, eco-friendly clothing, I keep wondering… "what's the difference between hemp and marijuana?"
Well, turns out hemp refers to strains of Cannabis that have been bred specifically for fiber used for clothing, and other purposes that don't involve intoxication.  Now we know.
Why is it considered so eco-friendly?  See why prAna offers many pieces made from hemp (including the Mantra Pant I mentioned) in this interesting clip "Why Hemp Matters":
prAna Discount Code
I've been very happy with each comfortable, versatile prAna piece I've added to my wardrobe.  It's one of my favorite brands.
If you'd like to try some PrAna yourself, they have provided this discount code for Colorado Mountain Mom readers to receive 15% off your order:  MHMS17TM
Valid until May 19, 2017.
Happy shopping!
*o*     *o*     *o*
prAna provided me with some products to sample.  All opinions are my own.