One gander at the almost comical expressions of relief people display when trying the MyoBuddy® Massager, and you'll be dying to give this a try.  At least that's the reaction my husband and I both had when we watched this.  Filmed at what appears to be a trade show booth, it's pretty convincing.  I've now tried it myself… here's my honest MyoBuddy Massager review.
October 2017 UPDATE:  My husband recently took a physically demanding job, and now uses the MyoBuddy Massager DAILY.  He's commented several times how well it works, reduces his pain, and is a lifesaver!
Though professional grade, this nifty handheld massager is a soothing and helpful tool you can own and use right in your own home.  It can assist in boosting workout recovery.  Or simply aid in relieving those painful knots from tension and stress that we so often hold in our shoulders and upper back.
Between my husband and I, we work long hours at an office computer job, lift weights, work out, and train for marathons.  Here's our experience – an honest MyoBuddy Massager Review.
MyoBuddy Massager Review ~ What You Receive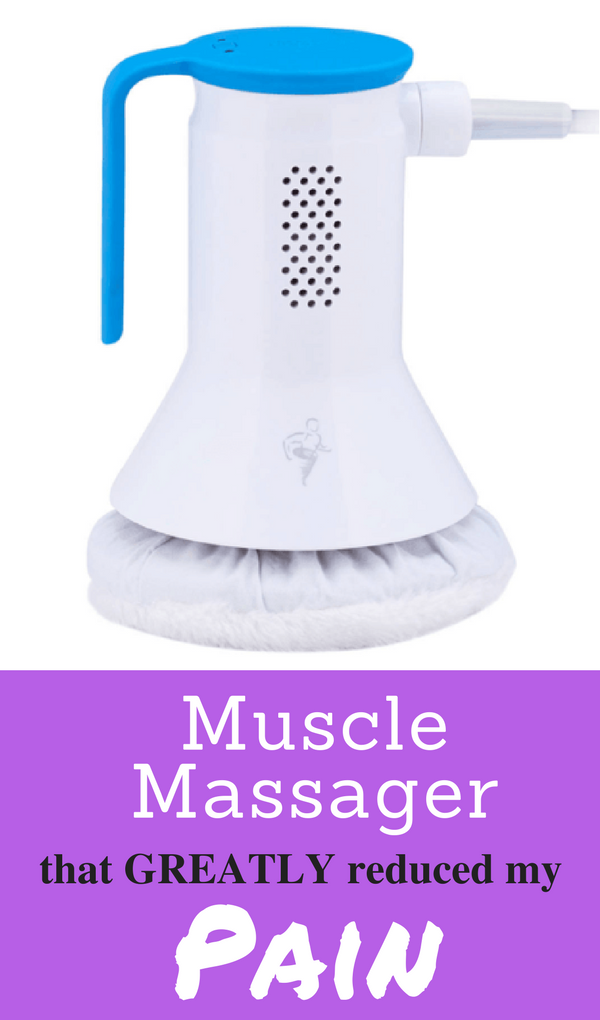 When you order a MyoBuddy® Massager Pro, it arrives in a compact box.  This is not a flimsy, lightweight tool. It's nice quality, quite powerful, and has some heft to it.
Probably because my husband does auto detailing, we chuckled to see the MyoBuddy® initially reminded us of a car buffer.  It is of similar shape, and uses a swirling motion.  It's also a percussive massager.  That means that while spinning, it also includes vibration at 3 different levels of speed and intensity, based on which level you have it set on.
The massager comes with two pads, or bonnets:  one for use on top of clothing, one for use with lotion against your skin.  Pads are washable, and fit quite snugly. I struggled to get the 'dry' white pad on initially, but I'm sure that's by design so you don't have loose material or movement.  Additional bonnets are available for sale.  This seems particularly useful for the blue lotion bonnets, so you have a supply handy in between washing.
"Day at the Office" Stress Reliever
Yes, I try to workout regularly.  But I'm mentioning this "day at the office" use of the MyoBuddy®  first, because I've been loving the relief I get just from the daily grind!
The one thing I find myself doing pretty much every day is sitting at a computer and type, type, typing.  As a result, I always have tight, sore trapezius muscles (upper back).  This is not uncommon, and if you suffer from it – the MyoBuddy® may be a great option for you to try.
My favorite setting is at Level 2 for my upper back. I love that I can actually do this myself.  Although it's even better when someone can help, and give you a little massage with the MyoBuddy® at the end of your stressful day.
Runner's Recovery Dream
I don't currently run as often as I did when I was training for my runDisney half marathon.  But boy, would this have provided some amazing relief if I'd had it back then.
I've tried rods, rollers, and bumpy hand-held magnet devices on my tight, sore leg muscles.  But the MyoBuddy® covers way more ground, more thoroughly, and with deeper percussive sensations than you can possibly get from those other self massaging devices.
Suffering from tight IT band pain?  Here's a great solution, that will help loosen and release the tension.
Once I scheduled a special sports massage at a Colorado University to relieve my leg soreness, when I was marathon training.  If you've not had one, they use a hand chopping, percussive technique very similar to the MyoBuddy®.  How awesome to be able to get this same help with muscle soreness anytime, right at home.
You know it's working to also increase circulation, when afterwards you can feel a slightly itchy sensation (not uncomfortable… just proof it's accomplishing something!)
Ideally, take turns with your massaging buddy, giving them a break and chance to enjoy the soothing relief themselves.  Holding that powerful, vibrating massager can get a bit tiring after a few minutes.
Warning:  Not For Kids
My entire family was greatly anticipating its arrival and then chance to perform our MyoBuddy Massager review.  Everyone was excited to try it out.
Lesson learned:  Be aware that the MyoBuddy® is extremely powerful.  There are three settings, which helps customize your experience.  But it's not intended for kids use.
We let my 6 and 12 year olds play giving each other a back massage with the MyoBuddy®.  What we didn't realize was that the pressure was too intense for their young muscles.  The next day they both had tender backs.  No more minors using the MyoBuddy® at our house, unless it's with a parent assisting and using the level 1 setting.
Where to Find a MyoBuddy Massager Pro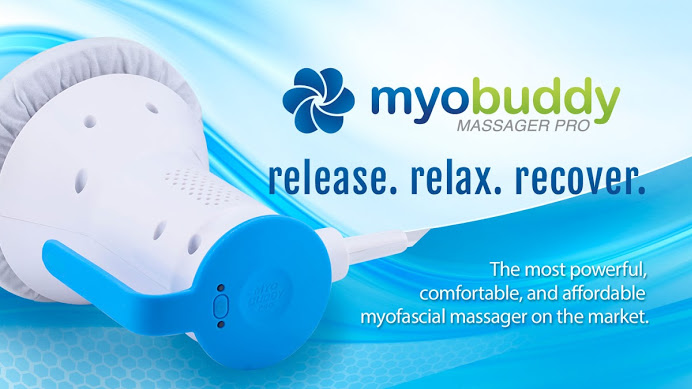 You can find MyoBuddy Massager Pro for sale online. At $399.99 they are not cheap, but I'd describe it as a quality investment in your health.  If you are an athlete or training for something in particular, consider it a valid equipment and/or supplies expense.
With your MyoBuddy Massager Pro you'll receive:
Free Shipping
30-day Money Back Guarantee
1-Year Warranty
Check out the MyoBuddy site for more details.
*o*     *o*     *o*
I received this item at no cost, for the purpose of performing a MyoBuddy Massager review.  All opinions are my own.