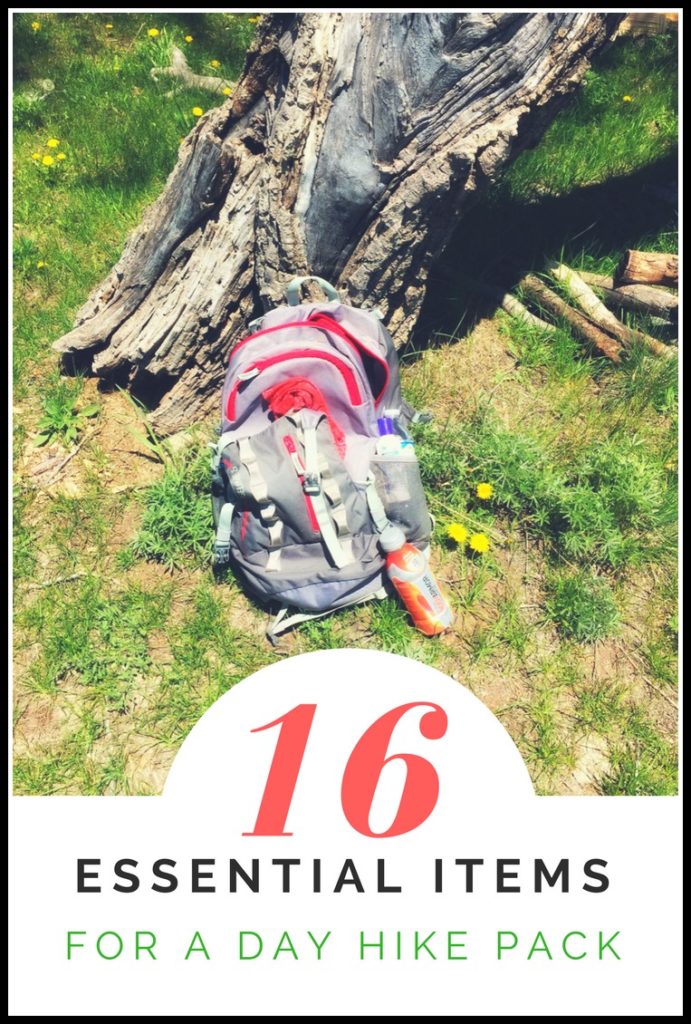 Prime hiking season has arrived!  Not yet in the overnight backpacker game, my husband and I typically only tackle day hiking with kids.  It's one of our favorite pastimes, and the best part is… it's free!  There are definitely a few items that I've learned to always bring along when hiking in the mountains.
This month I was participating in a sponsored campaign for BODYARMOR LYTE, and my husband and I both have really been enjoying this sports drink after hiking.  It got me thinking about my core go-to hiking list.  Those baseline things I always take in my backpack, no matter what.
Day Hiking Gear List – 16 Essential Items
As a result of this outdoorsy soul searching, I've gathered together my day hiking gear list.  I literally store these items in my backpack at all times, so they are ready to go whenever we want to take a hike.  That way I don't have to worry about forgetting anything I may need.
The beauty is most of these items are small, light weight, and don't cost much.  So much safer and more enjoyable to be prepared!
 #1 – Garbage Bag
No, this is not a tree-hugger plea to pick up stray garbage while you hike. But it is an interesting tactic I learned from a Colorado Search & Rescue Team member.  They included it as an essential piece of gear, as part of the Hug-A-Tree survival program presented to kids (which is super cool).
In short, if you find yourself lost in the woods for the night, wearing a large, thick garbage bag can keep you dry and conserve your body heat.  Just tear a hole in the bottom for your head, and wear it poncho style.  It also provides a dry surface to sit or sleep on. My kids each have one in their backpacks now, along with item #2…
#2 – Whistle
Again, a safety tip from Colorado Search & Rescue. Especially vital for kids, but relevant for even the adult hiker.  If you get lost, blowing on a whistle to notify others of your location will last much longer than your calling out with your voice.
#3 – Sports Drink for Hydration
I'm good about hydration, but have finally learned this is not just about drinking plenty of water. Especially after being active, you need to replenish what your body is depleting.  BODYARMOR LYTE delivers sports nutrition & super hydration. This is truly the newer, smarter sports drink to try.  Compared to other sports drinks, it has more electrolytes, is higher in vitamins and potassium, lower in sodium, contains coconut water, is naturally sweetened and contains no artificial colors.
Plus it's incredibly delicious, and BODYARMOR Lyte has only 20 calories per serving (with all the same nutrients as BODYARMOR).  Perfect to replenish your body after hiking.  You can get a BODYARMOR Coupon HERE.
#4 – Bandana
You can pick up a bandana for $1. Keep one in your backpack as a general purpose "just in case".  Dip it in the stream, and drape across your neck for a cool down.  It can also help out in an emergency, serving as a bandage or tourniquet.
#5 – Sun hat
Ahhh, skin cancer on your face. Sooo not fun! I've finally got my family to the point where they will all wear a sun hat when hiking.  Fun Fact:  It's a lot cooler when you are wearing a hat to shade you while you hike!  No, they don't look dorky.  They look smart.
#6 – Wind/Rain Shell
They make technical wind/rain shell pullovers now that are incredibly lightweight. Often they fold up into their own pocket, and are a brilliant piece of gear to keep on hand in your backpack.  Weather can change on a dime when you are hiking.  Even though they are thin, blocking the wind or rain can make a surprising difference in preserving your body temperature.
#7 – Bug Spray
I don't often think of bug spray. Until I really need it.  It's that moment you discover a gorgeous, heavily wooded trail you desperately want to hike.  But it's so thick with pesky insects that it threatens to make you turn around.  Another bonus:  bug spray can deter ticks.  Nasty little buggers.  Nobody wants to take THEM home.
#8 – Sunscreen
We have sunscreen all over the house. Yet it's still often the "emergency" one I have in my backpack that gets used most.  When we arrive at the trail.  And realize we've forgotten sunscreen.  Or for that other purpose I'm horrible about remembering to do – reapplying every couple of hours.
#9 First Aid Kit
These don't have to be huge, and it's the smart play to always have one on hand. From bug stings to scraped knees… you'll be happy you can ease these discomforts right away.  Especially if you still have a few miles to go on the trail.
#10 – Water Bottle with Filtration
Did you know they now make water bottles with a filtration core built right in? These filters are strong enough to handle you filling your bottle directly from a stream or lake, and making it instantly safe to drink.  Impressive.  I obviously bring water along on a hike.  But what if something happens, and you are left outdoors longer than you planned?  This is an excellent hydration safety net to have on hand for those unexpected situations.
#11 – Knife and/or Utility tool
I'll be honest, I often rely on my husband having a knife available when I need one. Which is surprisingly often.  I finally got a utility knife tool of my own to just keep in my pack.
#12 – Energy bars
Really anything you like to snack on, but items with quality whole grain carbs and protein are best. I bring snacks even if I think we are just on a very short hike.  Always good to have a back up when things don't go as planned.  Or a bribe, when children are whiny.
#13 – Preditor Spray
The most obvious application of this item would be if bears, mountain lions, or other animals who may try and eat you are in the area of your hike.  But sadly, I also have a healthy fear of other humans I may encounter out in the middle of nowhere.  Especially if I'm hiking alone, or just me and my kids.
I know some people hike with weapons… but personally, that's not something I could pull off. So I prefer to carry bear spray or mace.  It's like taking that self-defense course.  Not a pleasant topic to address.  But better safe than sorry.
#14 – Head Lamp or Flashlight
Super handy to have, light weight to carry. Head lamps are my personal favorite, as they are small and offer hands-free use.
I know, I know… you plan to hike during the day.  Just trust me.  Bring one (or two, or three) along.  We've had occasions when we hiked farther than we knew we should, because we were *this close* to reaching a beautiful lake.  It can make for an unexpectedly dark stretch back to the trailhead, at the end of the day.
#15 – Camera
Ever kicked yourself for not bringing a camera, when you reach a breathtaking destination? Yep, me too.  Now I try to make sure I bring my camera on every hike.  Just in case.
#16 – Flint
Yep, this is a thing.  A little Old School, but often a more reliable method than that worn, soggy box of matches at the bottom of your pack. Matches get wet, old, and can go bad. You can get a small fire starter flint stone rod for just a few dollars.  It's a smart thing to put in your backpack, and leave in your backpack.  Have I ever needed to use mine?  No.  But I have greater peace of mind knowing I have the option.
There you have it.  My best Colorado hiker advice. Be safe, and happy trails!  🙂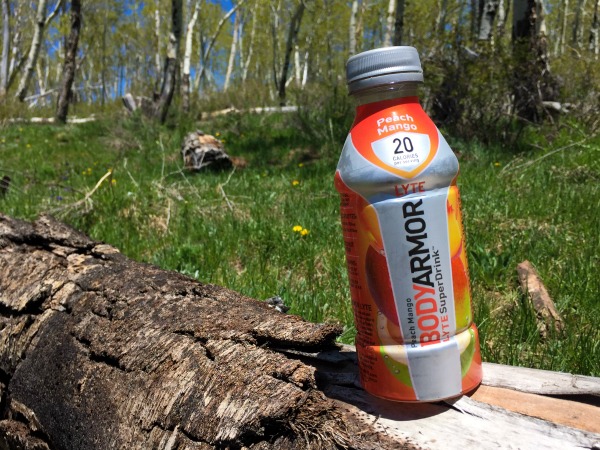 *o*     *o*     *o*
This is a sponsored post, as part of a BODYARMOR campaign with the Mom It Forward Influencer Network.  All opinions are my own.