Let's talk about the elephant in the room first.  I almost always advocate for staying at a Disney World resort.  However, after two visits now to the Wyndham Lake Buena Vista property, I've now decided this is my one exception.
They've got a  LOT to offer, and have gone to great efforts to make sure that families staying with them for a Disney World vacation still feel surrounded by that special Disney magic.
There are even a few hidden Mickeys on site!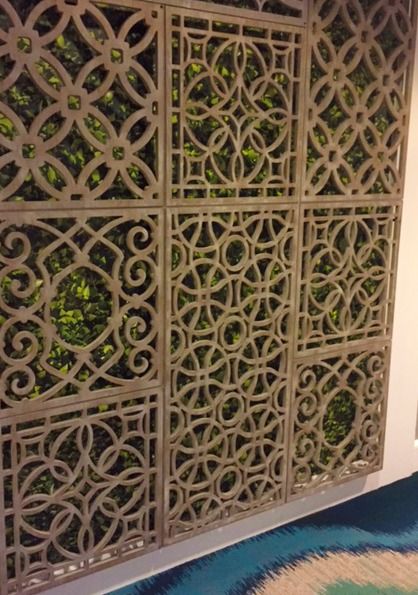 Take a look at these solid reasons to consider staying at Wyndham Lake Buena Vista during your next vacation to Walt Disney World.
#1 On Disney World Property Location
The Wyndham Lake Buena Vista is literally ON THE WALT DISNEY WORLD RESORT PROPERTY, across the street from Disney Springs!  If you want to save money but still stay as close to Disney World as possible, it's an absolutely perfect location.
Staying at this resort really adds no more travel-to-park time than staying at one of the other periphery Disney Resorts such as the All-Stars, Saratoga Springs, or the Animal Kingdom Lodge.
#2 Disney Character Breakfast
Love, love, LOVE me a Disney Character Breakfast complete with Mickey waffles!  Do *not* necessarily like the bill afterwards.  If you agree, you'll be interested in this much cheaper option.
Wyndham Lake Buena Vista is the only non-Disney hotel with an authentic Disney Character Breakfast 3 days per week!  All others are 1 day per week.  The handlers and characters are actual Disney World employees.  This is a perfect thing to add to your schedule while staying at Wyndham Lake Buena Vista, check off your to-do list, and once again… save some of that vacationing money.
The food buffet was fresh and delicious, my favorite part being the AMAZING juicy Florida oranges.  And the Mickey waffles, of course.
#3 Disney Pin Trading & Pixie Dusted Fun Director
With daily activities and even Disney inspired events like an epic pin trading session, Jill the Fun Director at Wyndham Lake Buena Vista is a real joy.  She's full of energy, and beloved by all.  Plus she's ready at the helm with her craft table, and amazing Disney pin trading bulletin board, where she's happy to get the Disney magic kicked off by swapping some designs!
Be sure to paint a tile, which you can either take home as a souvenir, or contribute to the awesome Wyndham Lake Buena Vista tile wall near the pool area.
#4 Disney Gift Shop
Hey, when I go to Disney World… I love my souvenir shops!  It may be silly, but if I stayed off property and didn't have access to purchasing an emergency Mickey Mouse plush in the lobby… I don't know how well I'd sleep.
I love that the Wyndham Lake Buena Vista has a whimsical Disney gift shop right on site, with authentic Disney merchandise.  It adds to the atmosphere, and is a solid contributor to why I'd consider staying here during my family's Disney World vacation.
# 5 Free Bus Transportation to Disney Parks
Many offsite Disney World hotels *say* they have free shuttle service to the Disney Parks. But at Wyndham Lake Buena Vista you'll find the most consistent schedule.   Shuttles run every 30 minutes continuously to the Parks, 1 hour before and after close.
Riding a bus to the Disney Parks will save you on Disney World's parking fee of $20 per day.
#6 Save Money
The Wyndham Lake Buena Vista Garden Rooms have been recently remodeled, are very nice, and could be compared to the same price category as Disney Value Resorts.  Or even a little less. Starting at $69 (varies with season), the advantage over a Value Resort room is slightly more space, and a COFFEE MAKER in your room.  Woot!  Yes, please.
Upgraded Tower Rooms with elevated views of Disney Springs start at $129, also a steal.
#7 Connecting, Affordable Rooms for Large Families
Got more than the standard 2 kid family, and find it a challenge to arrange affordable hotel options on vacation?  Get this:  80% of the Wydham Garden Rooms are connecting.  That's the $69 per night rooms.  And I think that's a FANTASTIC option for larger families to have!
Consider for your Disney World Vacation
I find it a little ironic that I'm writing about an off property Disney World hotel, as I've always been a vocal advocate of the opposite.  But the reality is, Disney vacations are expensive.  And as with all travel, hotels are one of the biggest portions of that expense.
So if this money saving option makes the difference in being able to afford your Disney World vacation… then this is a wonderful option to have.  They've set a whimsical, happy vacationing atmosphere at Wyndham Lake Buena Vista, that I feel very good about recommending.  My family and I may look at this option ourselves for a future trip!
Have you stayed off site at Disney World, or at Wyndham Lake Buena Vista?

*o*     *o*     *o*
Wyndham Lake Buena Vista hosted the TravelingMom conference for a day, during which I received a property tour.  All opinions are my own.