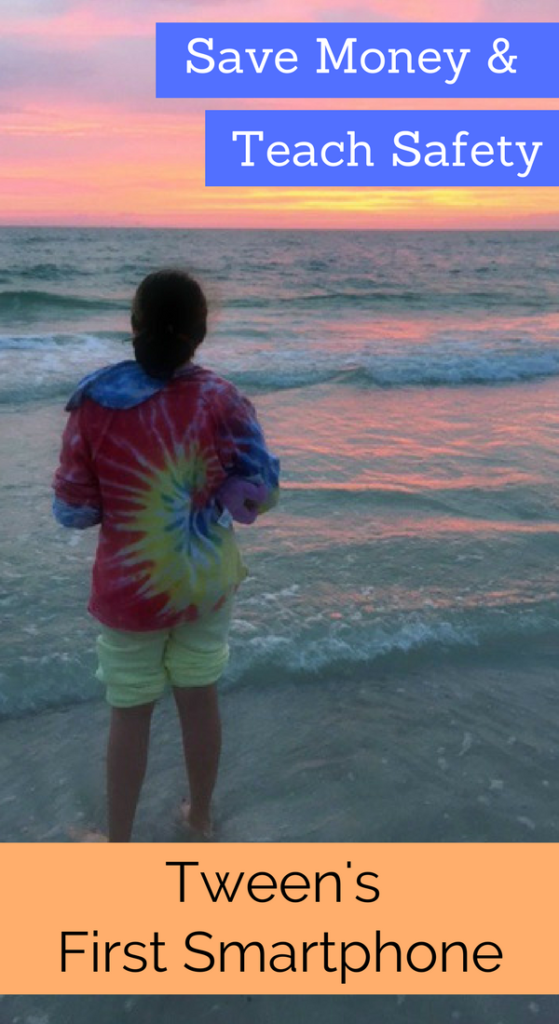 We've reached that stage in life where my oldest child is ready for a smartphone.  We waited as long as possible, putting it off at the thought of paying more each month for THREE smartphone users.  Phone plans are expensive… now we want to add another?  Yikes.
My daughter started middle school as a 6th grader this school year.  I was surprised to hear her teachers are literally having students use their smartphones for some interactive assignments in the classroom.
Then you add in the benefit of her being able to communicate with us during the day.  So yeah.  Let's do this.
One of her prime interests is being able to take photos with her phone.  But we knew this would also mean my sweet, innocent girl would now have access to social apps and the internet.  So we started with a chat about safety.
Equip Your Tween with Smartphone Smarts
My daughter is a such good, rule-following kinda girl.  She doesn't pretend to be, or want to be, a 16 year old yet.  Thankfully, she's quite content acting like, and living the age-appropriate life of, a 12 year old.
But alas, dangers still lurk.  In lieu of that, my husband and I gave her some tips and boundaries to go along with her new Smartphone freedom.
The call to use Snapchat is strong… (I really hate Snapchat).
Mind you, she didn't need any technical advice.  Kids are unnervingly savvy when it comes to tech.
Parent Tips for Tween / Teen Phone Use
Here are my best tips to get your tween started on their Smartphone.  Granted, additional freedoms can be slowly added as they move into teen years.
Smartphones open up a whole world of connectivity. Impress upon tweens that things they post are visible to all (and potentially dangerous).  Our rule we have for our daughter is absolutely no chatting/engagement with anyone that she doesn't know IRL (in real life).
Make them go through you for any new app downloads, so you can screen them first.
Be selective on the social platforms you allow them to use. Some are creative and exploratory in nature, others purely for social interactions.  Do they really need to meet tons of new strangers online?  In my opinion, no.
Set limits and control their phone usage.
Note that setting usage limits can be made easier when you use an AT&T GoPhone.  It allows you to choose a prepaid plan, thereby specifying a monthly amount of data usage.
Blossoming Tween Creativity
It's a very personal parenting choice we all have to make.  Which social media platforms will you allow your child to participate in?
I leaned towards those which would let my daughter express her creativity, and exploring the world a bit.  But have held off on those which were more exclusively social in nature.
That being said, we allow her to be on Pinterest and Instagram.
And I have to admit, it's been wonderful to see her creativity blossom on these platforms!
Instagram (and her mom's blogging and related pursuits) have actually inspired her to be a photographer.  I share tips with her occasionally, and watch her artistic side blossom within her Instagram gallery.
Her peers at school have more freedom than she does, on their Smartphones. We'll get there, at our own pace.   For now, I'm just really glad to have affordable and flexible options from AT&T GoPhone to help make this happen for her.
AT&T GoPhone ~ Flexible and Money Saving
I'm convinced the cheapest way to go for wireless phone service these days is a pay-as-you-go plan.  The general concept is you provide your own phone, and have no lengthy contract with high package rates.  My husband and I have been doing this now for the past couple of years, and we love it.
Recently we've been trying out AT&T GoPhone service, and there are many awesome benefits.  The first one that caught my eye (that our previous provider didn't offer) was the multiple line discount.
Multi-Line Discount – Brilliant! You can catch a break and save money with every additional phone you add.
No annual contract or credit check – Just choose a GoPhone plan that fits your needs. Change your plan whenever you choose.
Monthly plans – I love this low level of commitment and the flexibility it brings. Plus, if you set up AutoPay, you save $5 per month off your plan rate.
Uses the AT&T Network – Even though you aren't on a permanent contract… you are connected to the full service AT&T Network.
BYOD – Bring your own donuts. No, wait.  "Bring Your Own Device"!  GoPhone is compatible with most phones, and you can use one you already own.  They also offer affordable, premium phones for sale.
No, You Don't Need the Latest $700 iPhone
I have to chuckle (in annoyance) when my never-had-a-job tween whines to me about wishing she could get the latest iPhone.  Get in line, sister.
However, as soon as you place pretty much any smartphone in her hand… she's happy as a clam.
One thing I was pleased to learn about AT&T GoPhone was the affordable phone choices that were available.  You can use your own device you already own, since GoPhone is compatible with most phones (including iPhones).  Or they offer premium brands such as iPhone, Samsung, and LG at surprisingly affordable prices.
The GoPhone they sent us was a Samsung Galaxy Express 3.  An older model, yes.  But it seems like brand new, and my daughter absolutely loves it.  GoPhone sells these for only $49!  In other words, you can have your new smartphone toting tween up and running her first month, for less than $100.
How to Set Up a New GoPhone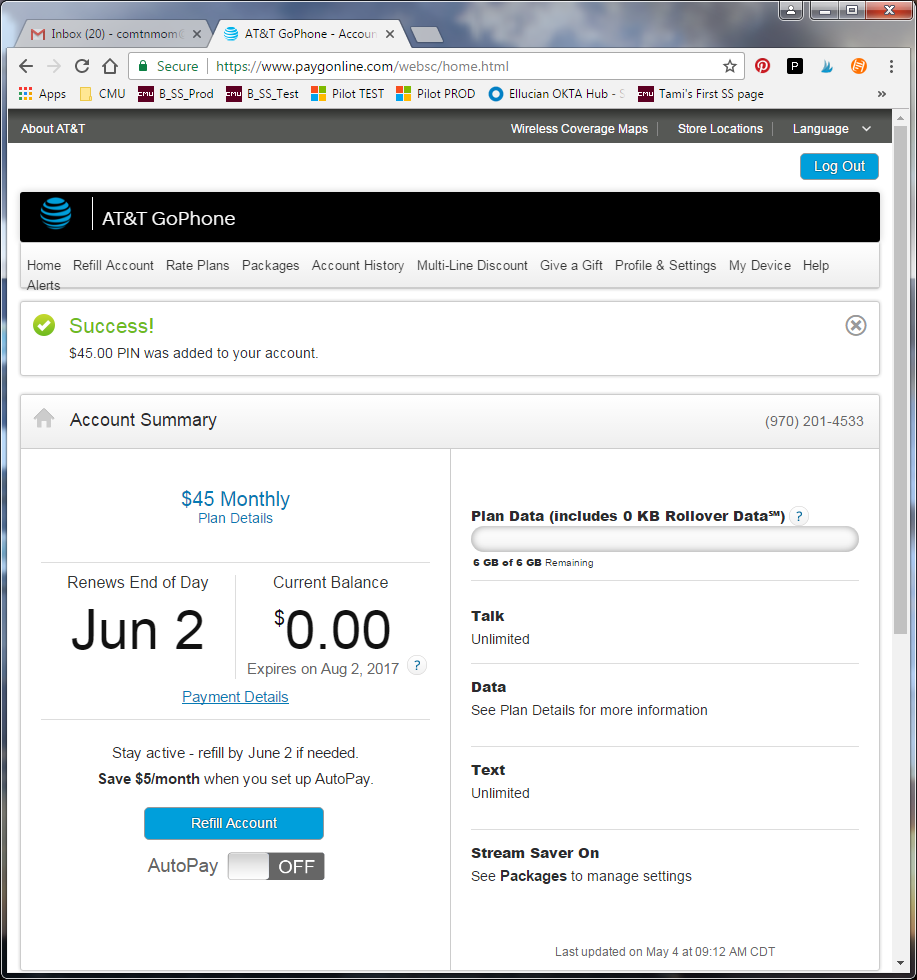 True confession:  I found this a bit daunting.  But it turns out, it's as easy as pie to set up a new GoPhone!
I received a lovely box with a Samsung Galaxy Express 3 phone, and a GoPhone "$45 refill" card.  Aaahh??!! How do I set up this totally new GoPhone?
Oh, hey! Once I actually looked at the handy dandy AT&T GOPHONE START HERE User Guide included with the phone, it was very quick and easy to set up my new AT&T GoPhone:
Go to att.com/goactivate
Remove the phone's SIM card (beneath the battery) and enter the number.
Enter the IMEI number on your new phone's box.
It assigns a new phone number for you (if desired… you can also transfer you existing phone number/service).
The last step, after setting up your new AT&T account, is adding a plan for the first month. This is where I entered my "$45 refill and go" GoPhone card PIN number.
I did have to power the phone down, than back on again before the connectivity kicked in.
Walla!  This got us up and running with a new smartphone for my tween.
AT&T GoPhone really fits the needs of families looking to approach phone service in a flexible and more affordable way.  Especially if you are faced with new smartphone users in your household, I encourage you to check out this option. AT&T GoPhone will have a booth at Denver Cinco De Mayo event this weekend, so make sure to stop by to check them out!
*o*     *o*     *o*
This post was brought to you by AT&T.