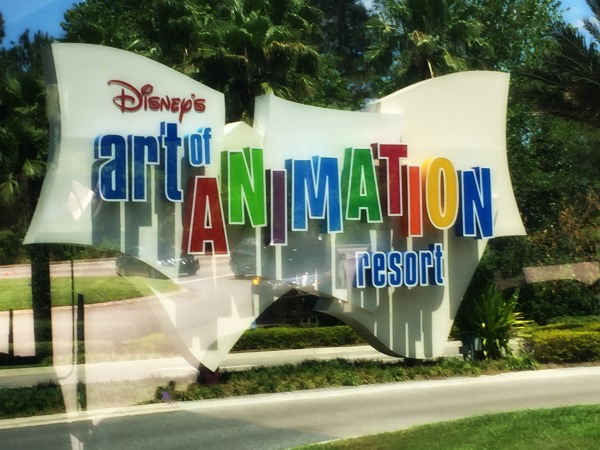 Is Art of Animation Resort the best choice for your Disney World Resort money?  Here's all the fun details of a stay at in the Little Mermaid Rooms. From the Awesome Cars and Finding Nemo pools, to the drawings and character design you'll find throughout this resort, it's a family Disney Vacation delight. Room Photos, the Food Court, and Disney Transportation… plus how far is it to Magic Kingdom from the Art of Animation Value Resort? 
I'm a pretty strong advocate for always staying at a Disney World Resort.  Between that and being a Value Resort fan, I was very excited when the newest addition Art of Animation opened in 2012.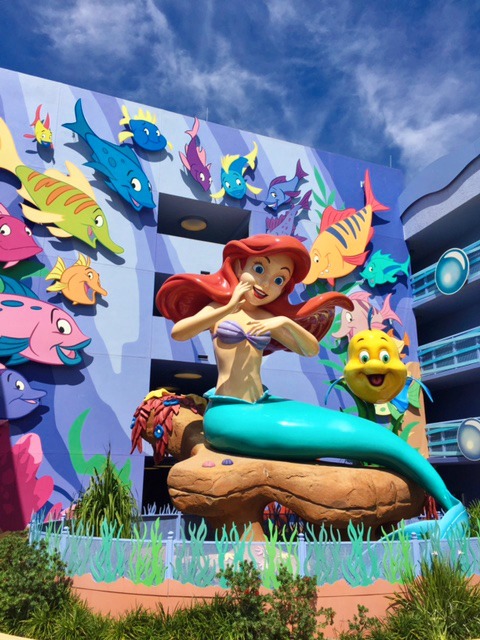 This whimsical, incredibly family-friendly resort has four Disney movie themed areas.  Three of them consist of family suites:  Cars, Finding Nemo, and The Lion King.  Although these rooms look spacious and awesome, alas – for my family of four, a suite is unnecessary.  And with a nightly suite rate that is comparable to staying at a Disney Moderate resort (or even Deluxe)… Art of Animation never made my Disney Trip Planning cut.
But I've really, really wanted to try out the one wing with standard value resort rooms:  The Little Mermaid! 
So on our recent Disney World trip, I booked our first two nights there.  The fabulous Art of Animation Resort has so much to offer.  We were thrilled to finally spend some time there.
Art of Animation Lobby and Arrival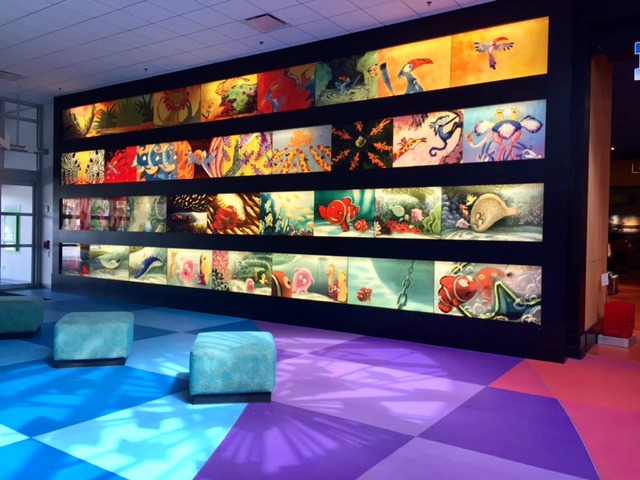 Oh, how we love the Magical Express!  We skipped having a rental car for this first portion of our trip, and opted for this free option… aka "our Disney Happiness bus".  Nothing beats the excitement of arriving at Orlando airport, and heading for your Magical Express bus.  Such an excellent beginning to a Disney World family vacation.
Art of Animation was the first drop off location for our Magical Express bus.  Total travel time was around 30 minutes.
Right off the bat, my son was distracted by a fun activity they have stationed for the kids.  At the main entrance, we found multiple Finding Nemo art drawing boards.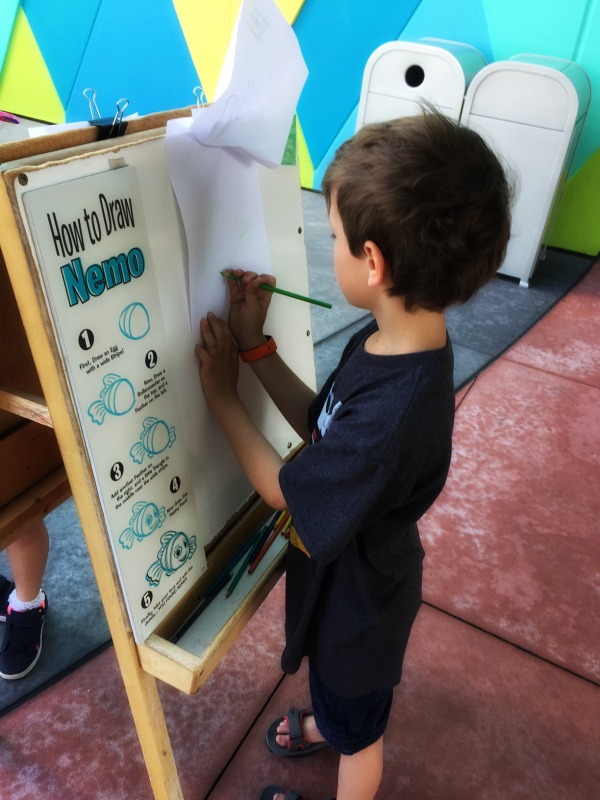 Next we entered the colorful lobby. Disney really hit it out of the park with this Value Resort lobby.  The animation artwork is breathtaking, and gawk worthy.  This child of the 70's and 80's rainbow lover found herself in decor heaven.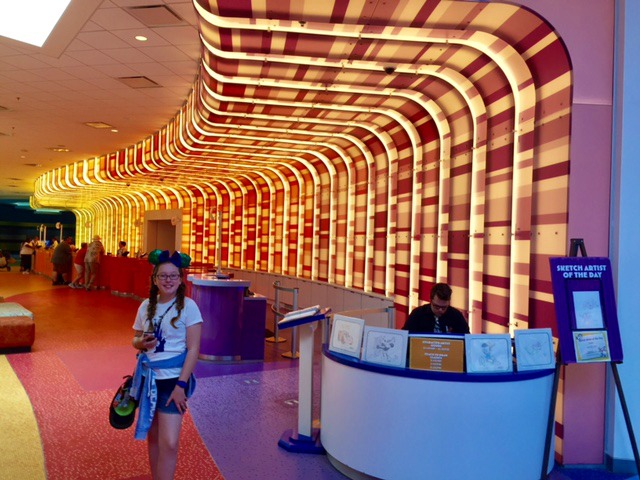 For the size of this resort, the gift shop isn't as gigantic as I expected. But it's still big enough to snag an Art of Animation specific souvenir, and do some other Disney shopping damage if you so desire.
Little Mermaid Room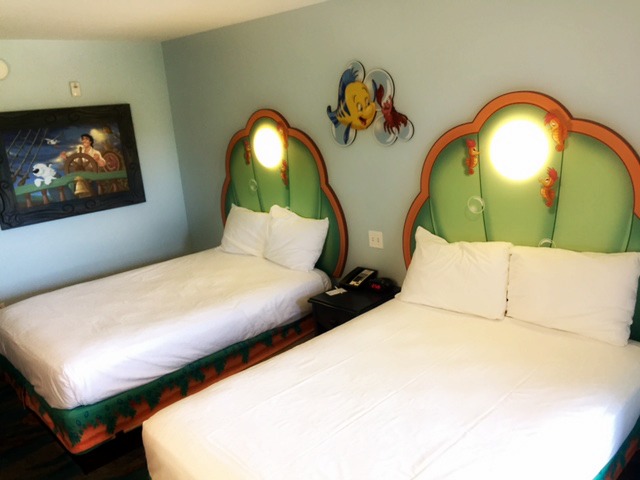 Although it's not fancy, and there's still no coffee maker in the room (which is typical of a Disney Value Resort)… the Little Mermaid Rooms are super fun.
Within their value resort budget, they've done an impressive job of theming.  My kids absolutely loved special touches like seashell chairs, baby seahorses hovering around a lighted bubble on the bed headboards, and an octopus wall hanger.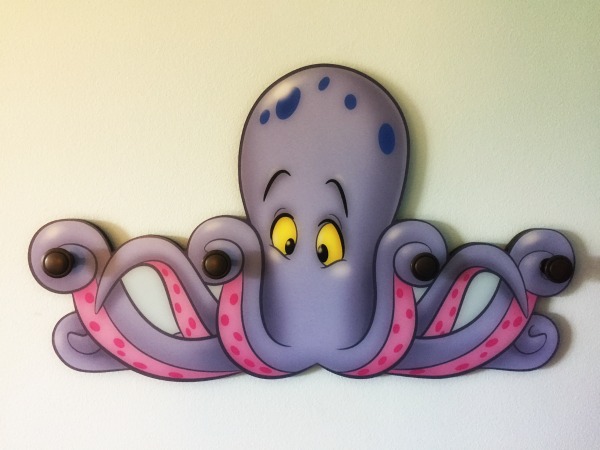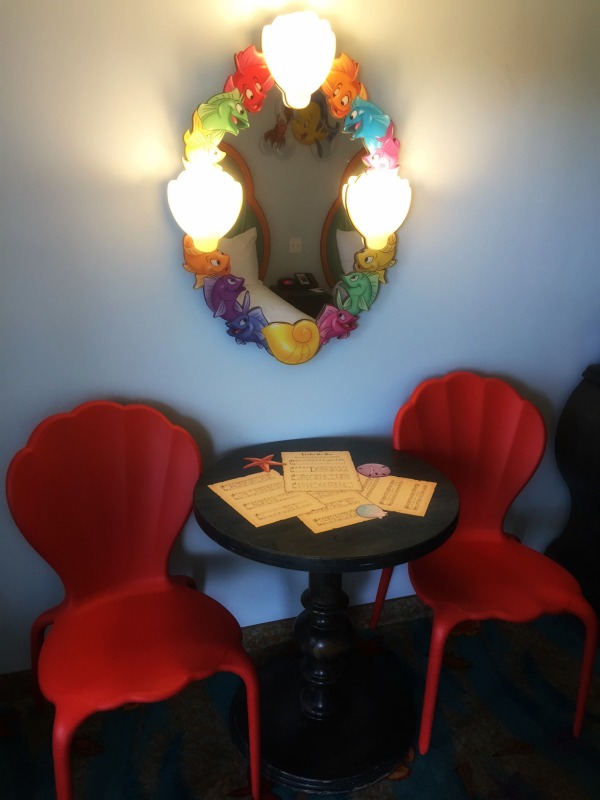 Our favorite part?  The bathroom is Ariel's special grotto!  When you take a shower, you'll discover her under-the-sea, hidden treasures she has stashed.  [I won't spoil it with a photo… you'll have to stay here to find out!]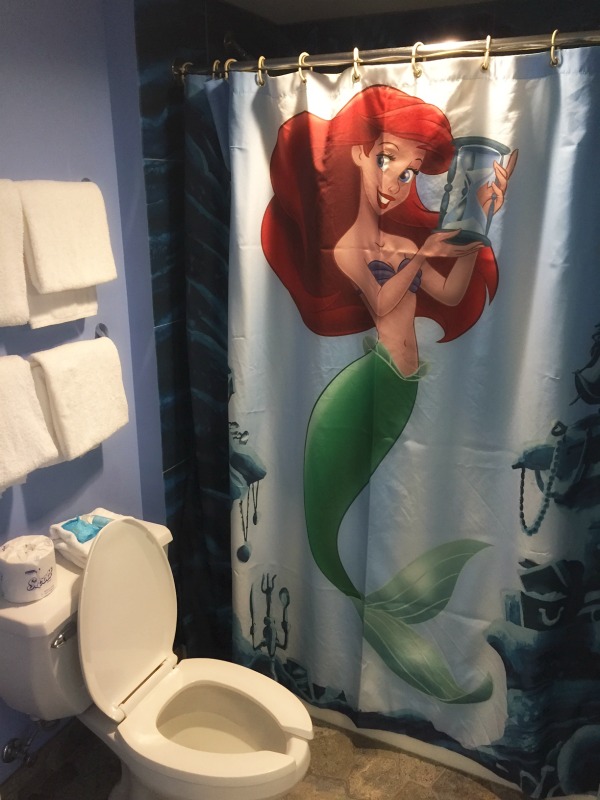 The giant, colorful characters found in the outdoor courtyard of the Little Mermaid wing are some of the best found in the entire resort.
This is a fairly quiet area.  We enjoyed wandering around to discover our favorite mementos from the film.  Yep, there's a dinglehopper…
The Little Mermaid rooms are located in the the farthest wing from the Art of Animation lobby, food court, and Disney bus transportation.  Most times you'll be trekking through the entire Lion King area to reach your destination.
We were mentally prepared for this as part of the price paid to stay in a Little Mermaid room.  Being the only wing featuring affordable standard family rooms (vs family suites), it was worth it to us.
There's an interactive playground of sorts in the Lion King area, which the kids loved climbing on as we journeyed through.  So the extra walk never really felt like a burden.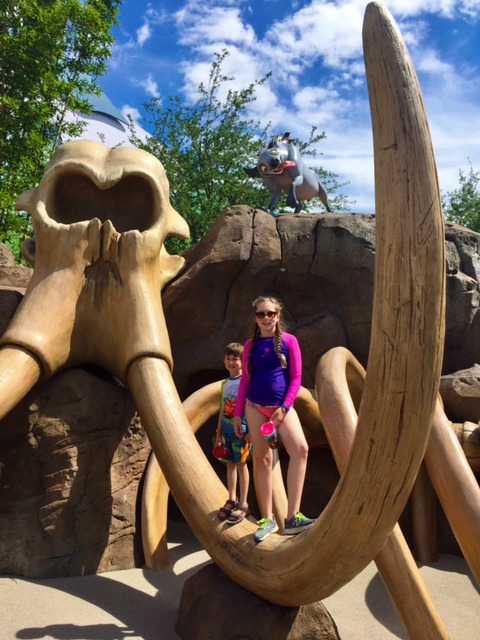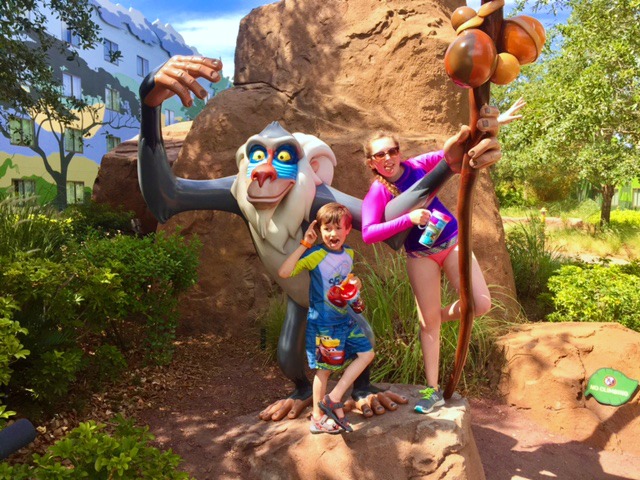 Food Court Dining Options
When you stay at a Disney Value Resort, that means no "table service" (waitress serving you) restaurant on site.  This is not a big loss, in my book.  We typically have made table service reservations (ADRs) at our favorite Disney restaurants ahead of time, such as 'Ohana and Chef Mickey's.
My family actually loves the Value Resorts because their "quick service" cafeteria style restaurants are larger than those found at Disney Moderate or Deluxe Resorts.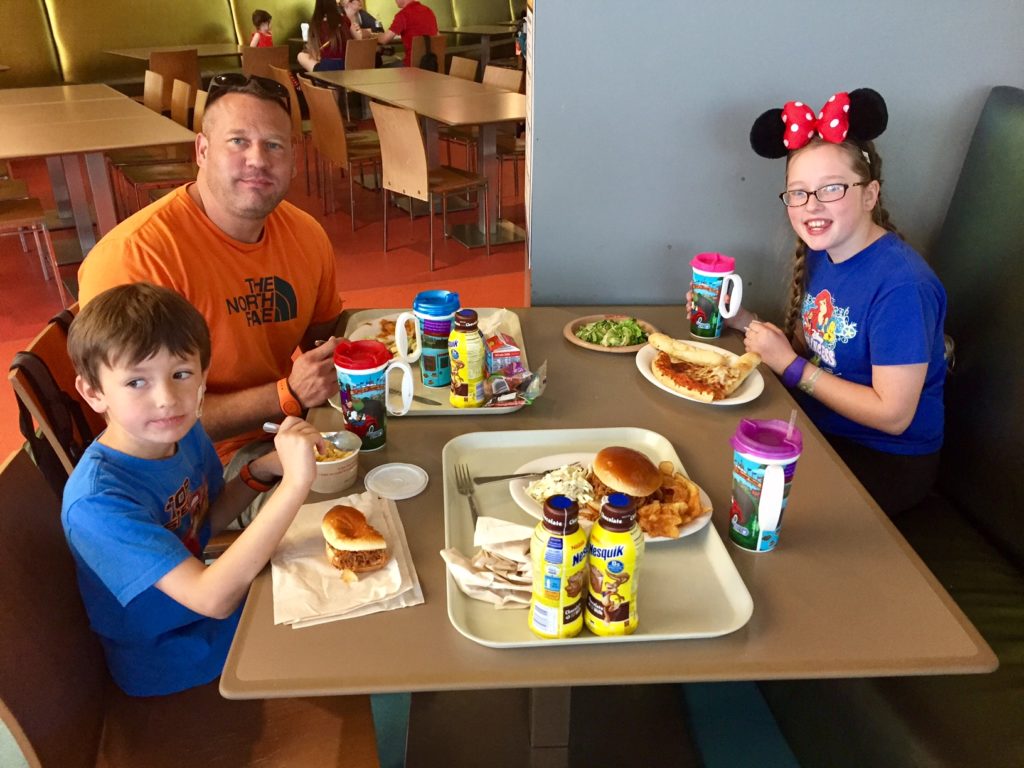 We ate two good meals at Art of Animation's food court, the Landscape of Flavors.  My top recommendation is the tasty pulled pork sandwich.  And save room for the fresh gelato!  Snacks and drinks are also served at the Drop Off Pool Bar, next to the Finding Nemo Big Blue pool.
NOTE:  You can also use your refillable mugs at the Drop Off Pool Bar, which is handy! We brought our mugs along to the pool for free drinks while we swam.
Art of Animation Swimming Pools
Having our first vacation day be no-tickets, no-Parks, was a Disney First on this trip.  It was surprisingly relaxing, and the kids were incredibly excited to do what they always want to do most… SWIM!
We arrived around lunchtime, so grabbed some food at the Landscape of Flavors cafeteria and then headed straight to check out the pools.
Finding Nemo "Big Blue Pool"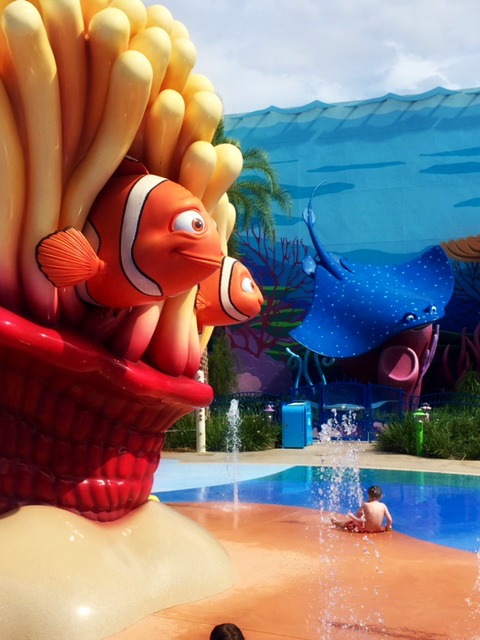 We spent the first 1-2 hours at the "Finding Nemo" Big Blue Pool.  This pool is the largest single water tank pool at Walt Disney World.  There's definitely plenty of space to hang out and enjoy a sunny Florida day.  The music playing underwater was a big hit.  My youngest also loved the splash pad water features.
Life jackets are on hand and free for kids to use, which I always appreciate.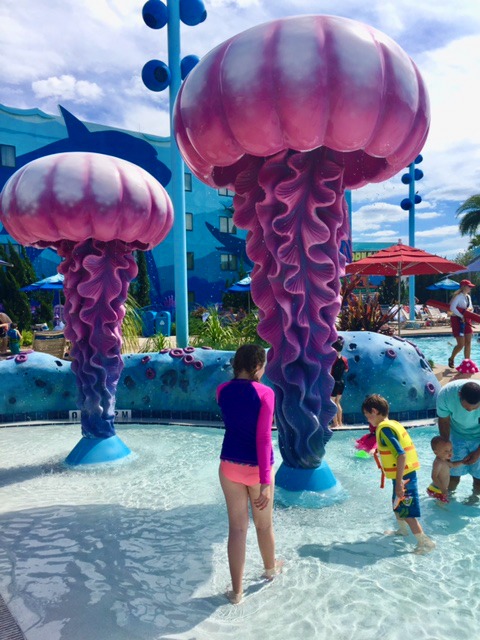 We brought our refillable mugs and filled them several times at the Drop Off Pool Bar.  This pool is the busiest of the three at Art of Animation.  Surprisingly, my kids tired of the chaos after a while… and asked to go check out the Cars Cozy Cone pool.  Fine by me.
Cars "Cozy Cone Pool"
Art of Animation's Cars wing is the next best thing to visiting Carsland at Disney's California Adventure!
It's all here… a mini Radiator Springs.  So it wasn't a surprise that this turned out to be our favorite pool at Art of Animation Resort.  It was much less crowded.
And get this:  the cones are actually cabanas available first-come-first-served and are FREE to use.  We visited during a moderately busy Disney World season (end of April), and had no trouble snagging a cabana in the middle of the afternoon.  Actually, there were several not being used.
So relaxing!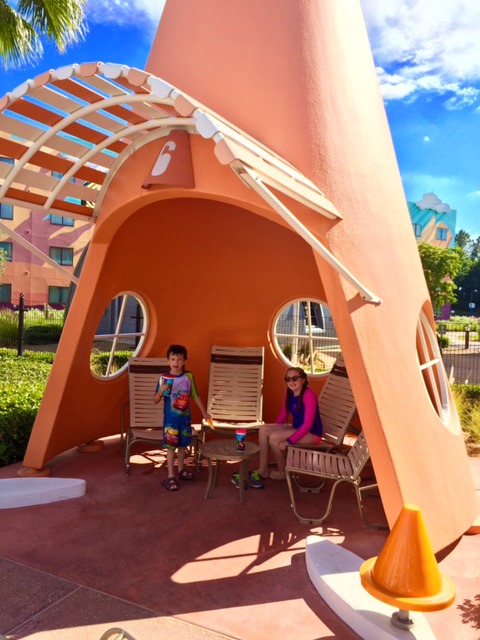 Disney Transportation – How Far to Magic Kingdom?
If you look at a map of the Walt Disney World resort, you'll quickly discern that the Magic Kingdom is waaaay at the top, and Art of Animation Resort is waaaaay down at the bottom.  It's located right next to another popular Disney Value Resort, Pop Century.  Like, right by Pop Century.  They share a lake.
Is it a hassle to be so far away from everyone's favorite park… Magic Kingdom?
Honestly, I feel like the distance is a non-issue.  Unless you can afford to stay in a Deluxe Resort right on the Magic Kingdom monorail loop… it's all pretty much a wash, as far as I'm concerned.
Will you notice the extra 5 minute driving distance from Art of Animation to Magic Kingdom, vs. Caribbean Beach Resort to Magic Kingdom?  Well, consider that the Disney bus shuttles around the entire Caribbean Beach Resort, stopping multiple times.  Whereas, the Art of Animation bus heads directly to the park.  Again… pretty neck & neck comparison.
I've always appreciated the bus service at Value Resorts.  They have more guests, so the buses just plain come more frequently.  I feel like we've never waited more than 10 minutes for a bus at a Value Resort.  Not always true of Moderate and Deluxe Resort!
In summary, don't let the Art of Animation Resort's distance away from Magic Kingdom be a deal breaker for you.
Expensive Value Resort… except for Little Mermaid Room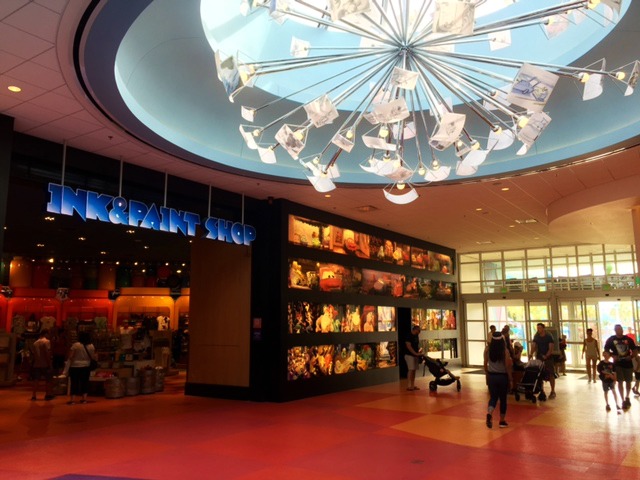 Yes, this beautiful new Disney World resort is in the Value Resort category.  As such, you'll notice some missing luxuries you'll find at the Moderate or Deluxe Resorts.  No coffee maker in the room, hot tubs, pool towel service, or water slide.  No "sit down" table service dining.
Totally worth it.
Seriously, if you are bringing kids to Disney… Value Resorts are absolutely the most fun places to stay!  That's my opinion.  Actually, my favorite combination has become splitting our Disney Resort stay between a Value Resort, then often moving to a little more comfortable Moderate or Deluxe Resort.
It's worth noting that if you only sleep 4, and don't need the larger room capacity… I don't know that I'd pay to stay in an Art of Animation family suite.  Honestly, you can stay in a Moderate and sometimes even Deluxe for the same price.  In that regard, this is an expensive Disney Value Resort, except for the Little Mermaid Rooms.
Art of Animation Little Mermaid Room Deals and Booking
If you are interested in a stay at the Art of Animation Little Mermaid standard rooms, there are two important things to note:
To date, this type of room has always been excluded from any money saving "Special Offers" that Disney runs.  The Art of Animation family suites are often included, but not the Little Mermaid rooms.  Be prepared to pay the quoted rack rate for your dates when you book.
As soon as you know your dates, reserve your Little Mermaid room! This is a new, extremely popular Disney Value Resort.  To stay here, you either have to pay either $161/night (regular room, lowest rate, varies with season) or $358/night (family suite).  Same pools, same dining, same resort amenities, same awesome atmosphere. Needless to say… in spite of #1, the Little Mermaid rooms are in high demand.
Have you stayed at Art of Animation?  How was your experience?
*o*     *o*     *o*

*o*     *o*     *o*