Ecuadane came about as the result of three well-traveled sisters deciding to share some of their favorite products they've discovered from across the globe.  The name Ecuadane was formed by combining the names of two countries: Ecuador and Denmark – home countries of their parents.
Their flagship product is the Everywhere Blanket. It's versatile, high quality, an down right gorgeous.  I love finding places to obtain such unique items online.
Hand Woven in Ecuador
One look at the gorgeous designs available on the Ecuadane site, and I was hooked.  I'll warn you, it was *not* easy to choose just one!  So many lovely designs and vibrant colors in these Inca inspired patterns.
The Ecuadane Everywhere Blanket is made in Ecuador, woven by Otavaleños from a blend of alpaca and synthetic materials.  The tag says "wool", which represents the alpaca fiber content.
It's soft and a little bit furry.  Maintenance instructions explain that brushing it occasionally will keep an optimal appearance.
Overall, this blanket is truly an heirloom piece you'll want to care for and use for years to come.
Everywhere Blanket Design & Size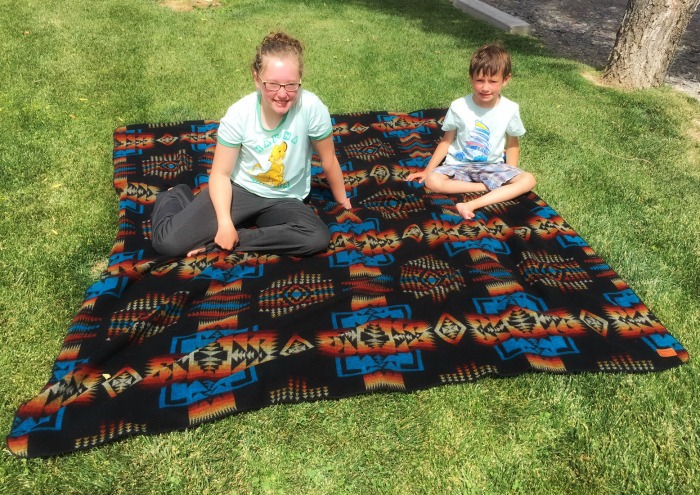 The Everywhere Blanket is fairly thin, yet ideal for cuddly warmth.  I've been using it on my couch, and find it's an excellent temperature regulating blanket.  I never get cold, or need to toss it off from being too warm.
And the best part?  It's HUGE.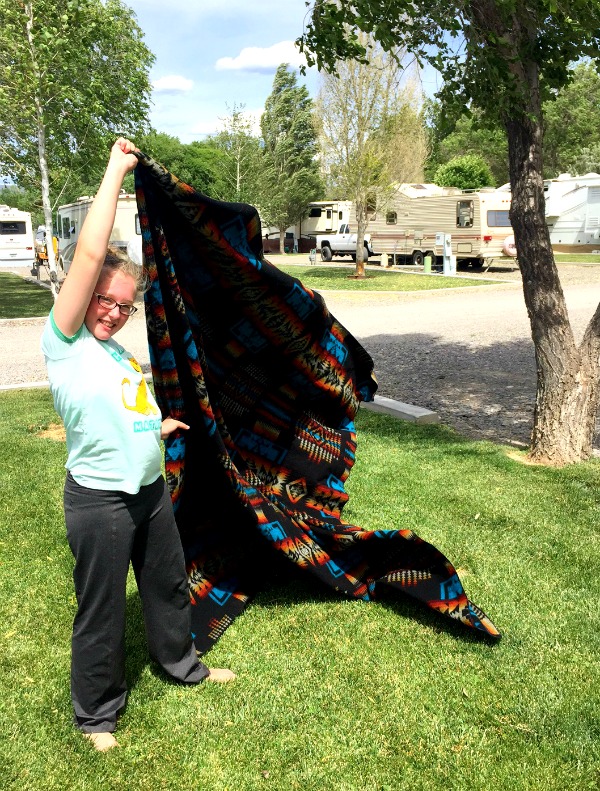 Love, love, love the generous sizing.  Suitable for even coverage on a king sized bed, yet lightweight and compact enough to easily fold and take along camping. Or even traveling as your "safety blanket".
This is truly a family blanket!  When my 6 year old son comes over to snuggle with me, he is easily added in the folds… without robbing mom of being covered up, too.  This had made it quickly win it a place in my heart.
Everywhere Blanket Daily Use
Because we have indoor pets, I'm always conscience of how a fabric will react to pet hair.  I was pleasantly surprised that dog and cat hair do not excessively cling to the Everywhere Blanket.
I chose the "Cayambe Blanket Sunset", but truly any of the designs would add an exotic, rich touch to a room. In addition to daily at-home use, we plan to take it along on our future adventures.  Such an easy thing to throw in the car, and have on hand for a picnic or just backup warmth.
It's just so incredibly beautiful!  Who knew you could love a blanket?  Plus, it would make an absolutely fabulous gift.  Anyone would be pleased by such a soft, high quality, alpaca blanket hand woven and imported from Ecuador.
The Everywhere Blanket is practical, yet feels indulgent.  Be sure to check out the fabulous nature inspired patterns on the Ecuadane site.
Ecuadane Everywhere Blanket Giveaway

Ecuadane has offered to send one of my winning readers an Everyday Blanket of their choice, retail value $125.  Woo hoo!
Enter using form below.  Void where prohibited.  Open to US Resident, ages 18+.
*o*     *o*     *o*
I received the product described here at no cost, for the purposes of performing this review.  All opinions are my own.