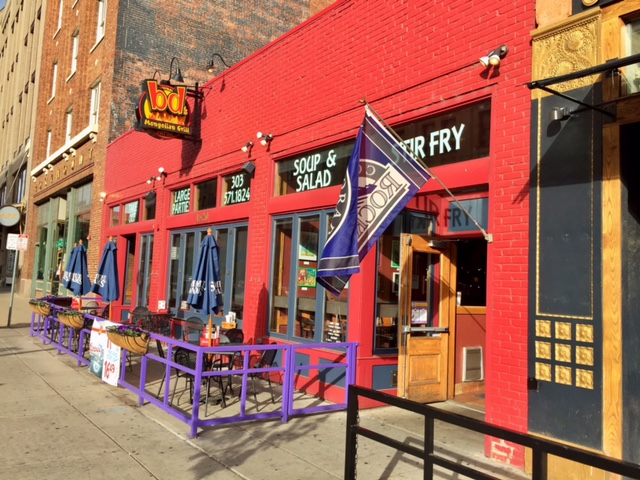 If you're looking for a fun and delicious place to eat in Denver, you should check out bd's Mongolian Grill.  Holding steady at it's location in LoDo (lower downtown) for 20 years now… there's a reason this place has stood the test of time.
Fresh ingredients are ready at the helm for you to build-your-own stir fry, then have it fried up "Mongolian" style by the resident chefs.
Make Your Own Stir Fry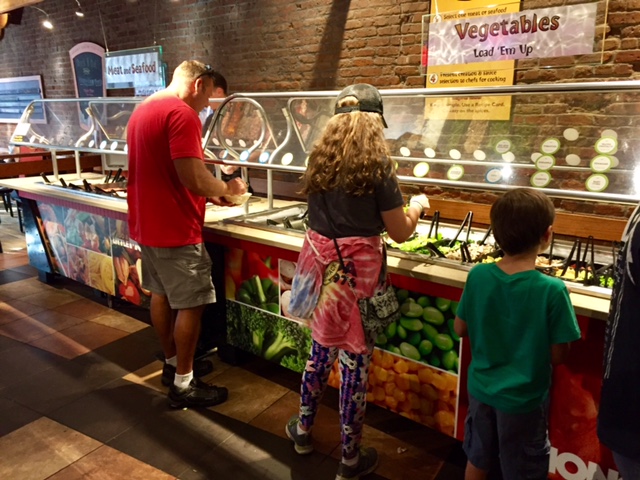 With so many amazing, fresh ingredients to choose from… you won't have trouble building your own stir fry.
Need help crafting a specific dish you love?  Not to fret, they've got you covered with the recipe wall.
Tip:  Peruse the recipes and grab a card before you start the buffet line.  Many people pass right by and don't realize they are available.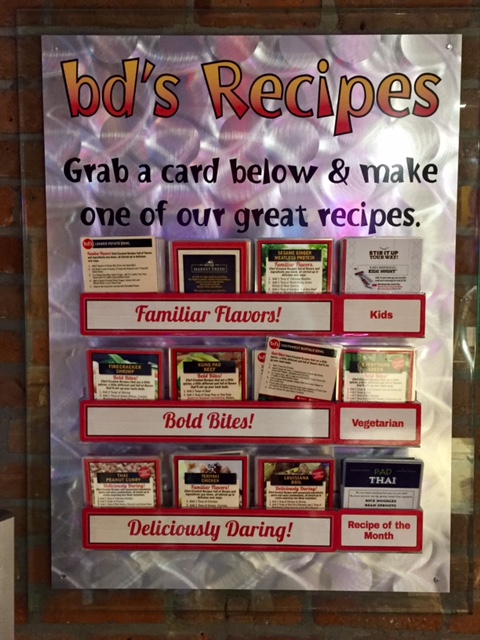 I used a recipe card for Kung Pao Beef (although I admittedly wimped out on the full level of spiciness, and only added half the recommended cayenne).
First, diners take their bowl up to the buffet of raw ingredients, adding meats and then veggies.
Or all meats.
Or all veggies.
Hey, however you roll!  There are no wrong answers here people.  That's what makes it so fun.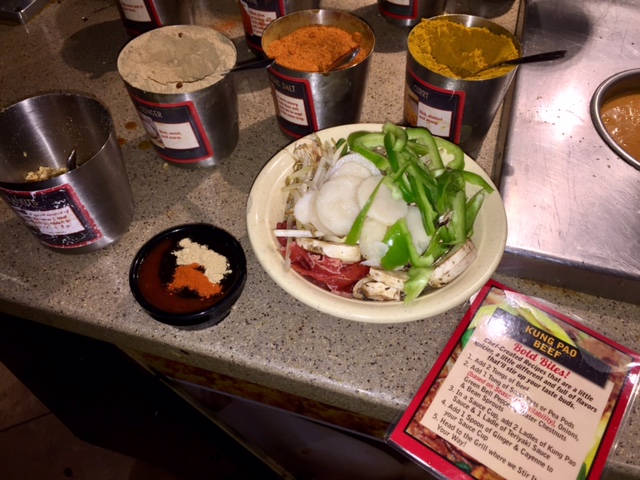 Next comes a vast array of available sauces and spices, which you pour into a small separate ramekan for the last-minute step in frying.
And last, grab a spot at the grill and watch the entertaining show!  The experts will take it from there.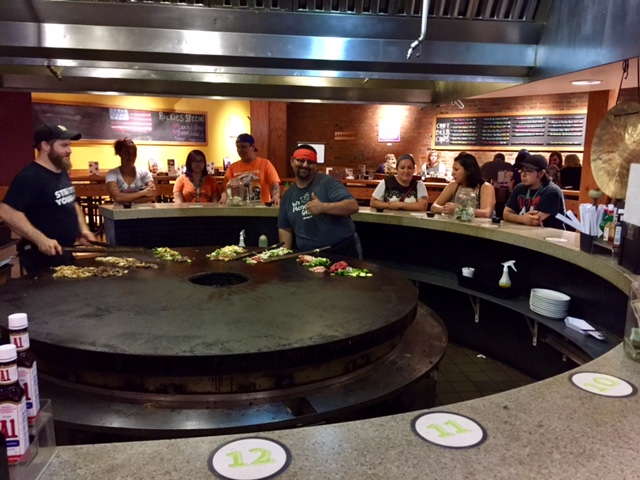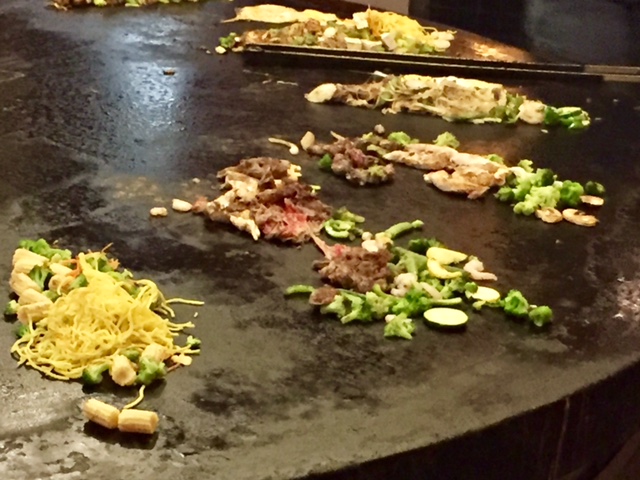 The results were very good, incredibly hot and fresh, and obviously completely custom to what I had selected for my bowl.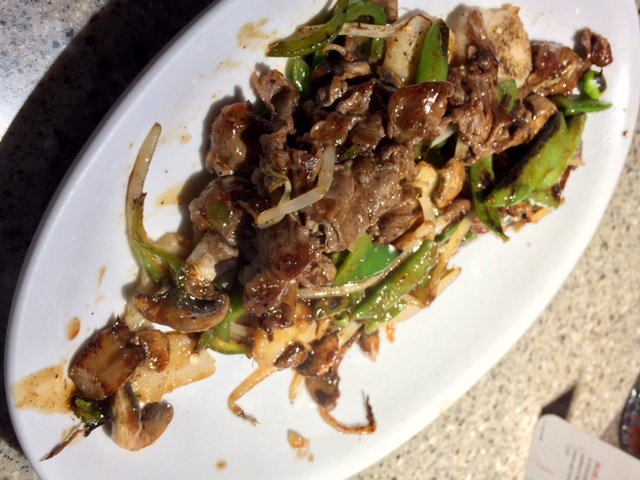 You take your steaming stir fry back to your table, and your server brings you your choice of white rice, brown rice, lettuce wraps, or tortillas to accompany it.
Solution for Picky Eaters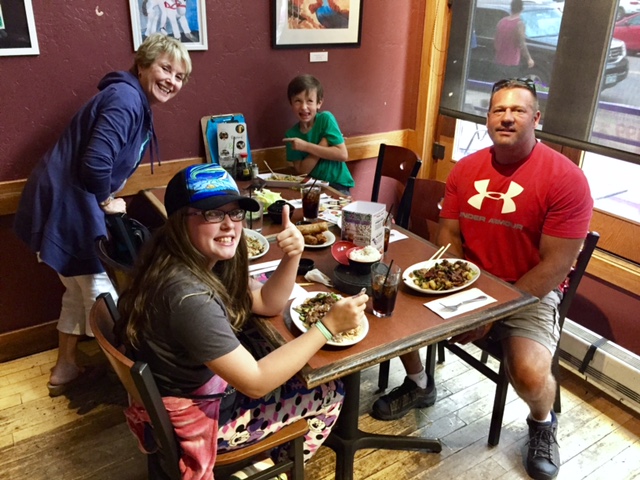 My children are picky eaters, so it can be a challenge to find a restaurant that everyone is happy about.  They both loved bd's Mongolian Grill.
The setup of allowing them to chose what they'd like included in their meal worked likka champ.  Both ate really well, and my son loved the special kids bowl they served his in.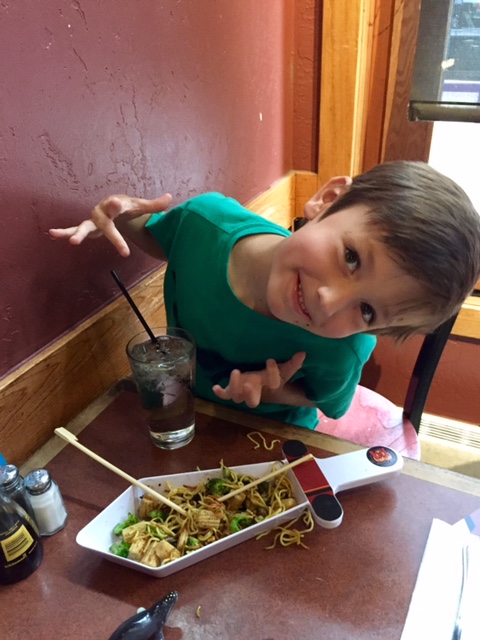 90's Comeback… and Desserts to Die For
Bd's Mongolian Grill is "going back to where it all started" with a summer throwback to their favorite menu items from the 90's.  For a limited time, they are offering some classic favorites… including this bad boy.
Behold the luscious Caramel Apple Cobbler.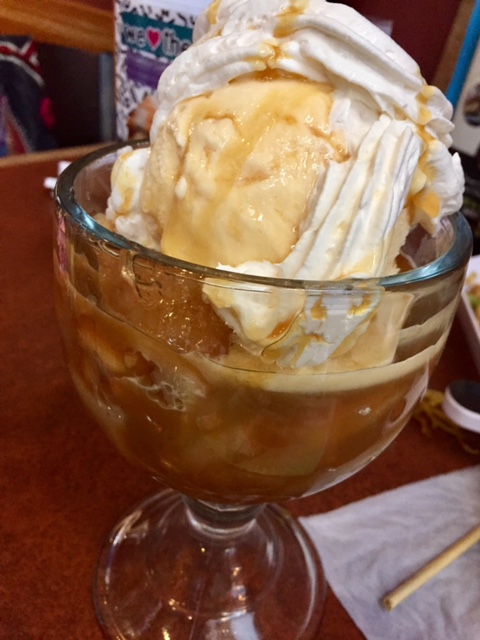 This desert was AMAZING!!  It can definitely be shared, and should not be missed.  All the various flavor elements contribute beautifully.  You can even taste the rich, decadent pasty.  So much Yum.
And if, for some inexplicable reason, you don't want a caramel apple cobbler… then this is your next best bet.  bd's is also famous for their fried oreos.  Served with vanilla ice cream and dipping fudge.  Which is also super tasty.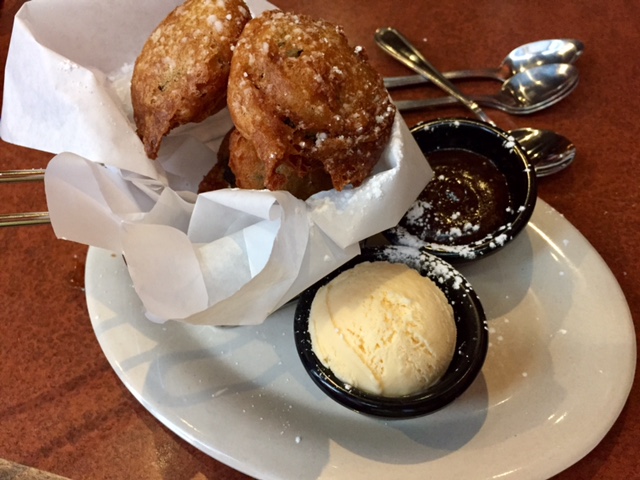 bd's Mongolian Grill Denver – Downtown Location
bd's Mongolian Grill is located in the downtown Denver area. Public parking is readily available, including a lot directly across the street.  We paid $15 for the evening rate.
We enjoyed our adventure, and will definitely visit again some time!
*o*     *o*     *o*
We were guests of bd's Mongolian Grill, and received a complimentary dinner. All opinions are my own.