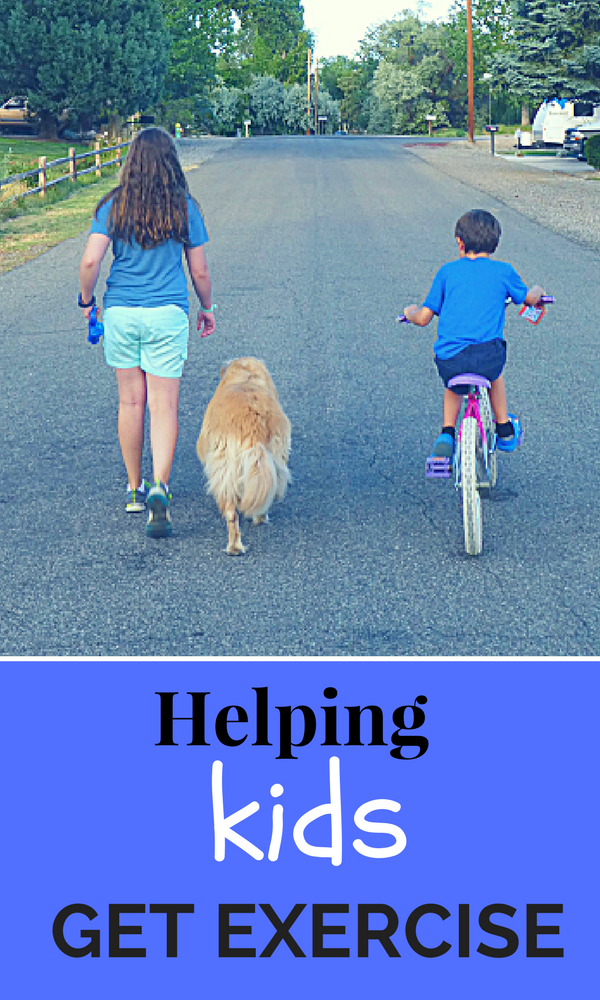 You've heard the debate before, and even pondered it yourself. "When we were kids… we used to play outside until dark!  And ride our bikes all over town!  And have dirt clod fights for hours!" Oh, wait.  Maybe the last one was just my little brother.
Sadly, times have changed.  And frankly, conditions aren't as safe for children as they once were.  Add in the fact that we now live in a much more sedentary society, one riddled with screens for entertainment.  So how do you keep kids active?
Personally, I find it very challenging to help my kids get badly needed exercise.  I look for opportunities to provide active play for them both.  But my tween daughter is at an age where I'd like her to start learning to be self-motivated, when it comes to fitness and a healthy lifestyle.  This past year she turned 12, which was an age which allowed her to be added to our family gym membership. She really enjoys this, and it's helped being able to take her along with us to go get some exercise.
Another option she's expressed interest in is a fitness tracker, or step counting device.  Fitness trackers are all the rage, and have proven to be motivating to many people.  They can help you be aware of your steps each day, even inciting you to try and increase your activity.
Did you know that Verizon and LG have developed a cool wrist-worn device designed just for kids, that combines a fitness watch with an easy-to-use phone?
GizmoGadget for Kids Combines Fitness Watch with Phone
The GizmoGadget™ for kids is a tech device that's a brilliant combination of things.  It's a fun, simplified version of a fitness tracker that can track steps.  Your child can set daily goals, and monitor progress.  Other activity games are included, such as a jumping rope counter.
Plus, it's also a phone!  But they wear it on their wrist as a watch, so it's easier to use and carry than a phone.
It can bring a parent peace of mind knowing their child has a phone with them, and can be contacted at any time. But that can be a big responsibility for kids, especially if they are younger.  The GizmoGadget for kids has full phone calling capabilities, but in a much easier to use package. Contacts are defined with names a child can easily identify.
Calls made from the GizmoGadget to my phone were crisp and clear. Having a young one wear a watch like this is so much easier for them to use and carry.
Again, you also get the additional benefit of fitness tracking and activity games.  This tech helps accomplish multiple goals…  yeah, that's what we call a parenting win.
Get-Active Games to Help Motivate
The GizmoGadget has some easy and fun games designed to help kids get moving. They tap into that motivating element of competition, even if it's just competing against themselves and their previous "best".
The distraction of playing a game also seems to work, as they find themselves jumping rope just a few minutes more to gain a new high score.
Games my daughter explored and enjoyed on the GizmoGadget™ include:
Jump Rope counting
Step Tracker
Stop watch
Compass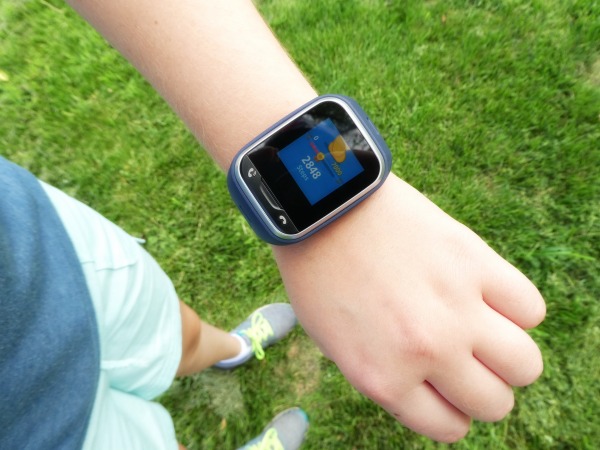 Even when she did not wear her watch all day, it was a fun incentive to put on for an evening walk with the dogs. We noted our starting steps and ending steps. The kids enjoyed seeing the comparison of our different walking routes, and wanted to walk the "longer loop"!
Parents App Can Assign Tasks
Have a tween at home on summer break? We downloaded the GizmoGadget app on a phone, and discovered a parent can create and assign tasks… then push them out to their child's device. It creates a sort of calendar notification, which vibrates and gives them the message at your set time.
What a cool way to nudge your child to clean their room!  This is a very slick tool for a working parent with school aged kids, to push out reminders. For our "clean your room" test, her GizmoGadget vibrated and displayed a message at the specific time.
Enjoy Your Summer Fitness!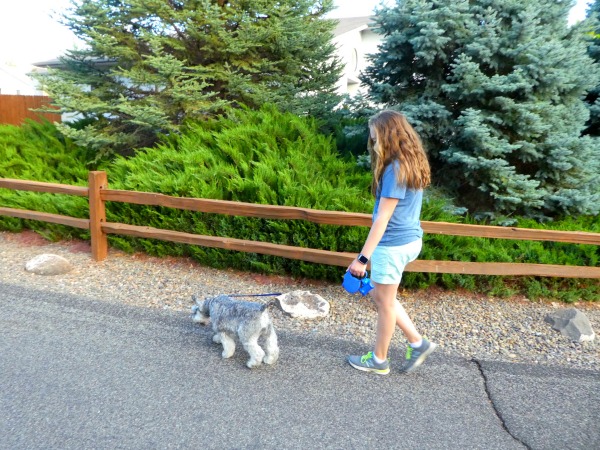 With a month of 100 degree days underway here in Colorado, we've been waiting until later evening to take our family walk.  And when we make an effort to get out and do this, I feel good about setting a good pattern for my kids to follow in life.
It means setting down our iPads and Netflix.  Getting up off the couch.  Then we take a walk, exploring the neighborhood.   Granted, it's not as exciting as hiking in some beautiful mountain location.  But for your mid-week routine, it's convenient and very do-able.
I read a cool article years ago, about how people in Mediterranean countries often take long walks after eating dinner in the evening.  This "Mediterranean influenced" lifestyle brings numerous health benefits.
May your summer days be filled with good times and enjoyable evening strolls.  🙂
*o*     *o*     *o*
This is a sponsored conversation on behalf of Verizon.  All opinions are my own.