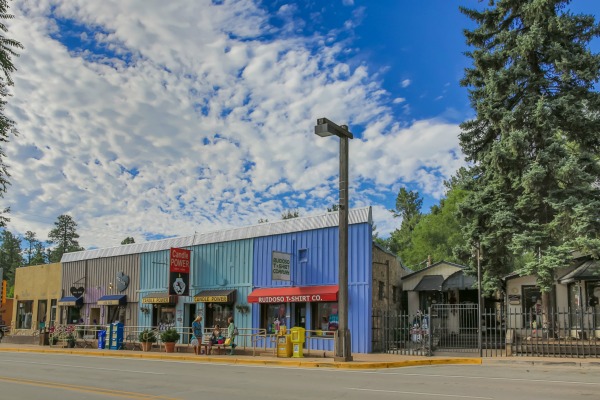 Ruidoso, New Mexico is a unique mountain village that may be a bit off the beaten path.  But what you'll find here is an outdoor lovers paradise, which is well worth a visit.  Here I've gathered the Top 5 Ruidoso New Mexico things to do with a family.
This unique off the beaten path destination offers much to outdoorsy families looking for a fun yet relaxing getaway.  Get your heart pumping activities like hiking, mountain biking, and skiing.  Or just taking a leisurely stroll through town to browse local Western art.  There's something for everyone here to enjoy.
# 5 – Mountain Bike Trails
Since my son turned age 5 and graduated to a decent trail worthy bike, family mountain biking has become our favorite outdoor activity.
With new trail development and a vast network of empty rural roads and awesome mountain trails, cycling in Ruidoso has never been better.
Ruidoso local bike shops can hook you up with bike rentals.  Then check out the Discover Ruidoso website for their great section on biking in Ruidoso.  You'll find info on what areas to check out, and even downloadable trail brochures.  And if road cycling is your thing… they've got great routes to do that, too.
Personally, I love a scenic mountain bike trail.  It's such an amazing way to explore an area, often allowing you to spot wildlife and behold mountain vistas that others just don't get to experience.
All ability levels can bike Ruidoso.  Glide along an easy route on a scenic, paved path.  Or try out Cedar Creek if you're ready to elevate your heart rate as you soar among the pines and aspens.
# 4 – Hike Along Wildlife Trails
With a little planning, you can explore some of the best trails for wildlife viewing.  Here's a list of some of the best Ruidoso hiking trails to explore with your family, along with what to expect.
Pack smart and bring along a backpack to carry along water, snacks, sunscreen, your camera, and an extra layer of clothing.  If you're going to go for a day hike, check out my list of day hiking essentials for ideas on what to bring along.  Got a baby on board?  Hiking with a child carrier were some of my all time favorite outdoor memories with my kids thusfar!
# 3 – Horseback Riding
Put this at the top of my personal list!  I can't get enough of horseback riding, especially when it involves beautiful mountain vistas like Ruidoso offers.
Taking a horseback trail ride is the ultimate, relaxing way to enjoy some outdoors time. Available year round, the Grindstone Stables is one of Ruidoso's most popular family activities.
Enjoy guided Ruidoso horseback rides in the forest above Grindstone Lake or a covered carriage ride through Midtown. During the winter holiday season, there are sleigh rides through the historic upper canyon.
# 2 – Golfing in Ideal Climate
There's a lot of gorgeous golf course in tourist areas that are JUST TOO HOT to golf in peak season!  Score another point for Ruidoso.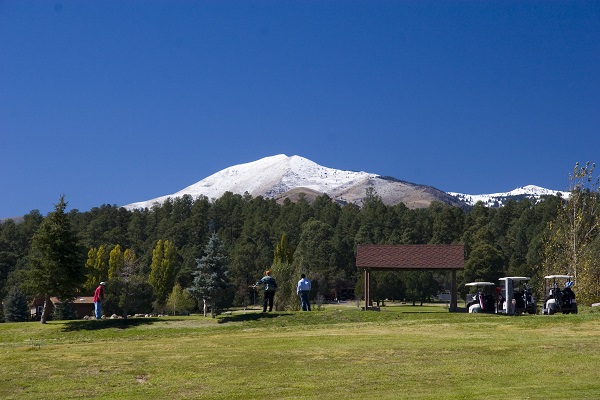 Again, this off the beaten path appeals to visitors looking to escape the heat from late spring to early fall.  It's a golfers paradise, offering an ideal climate to enjoy hitting the links without getting heat stroke.
#1 – Enjoy Gorgeous Fall Colors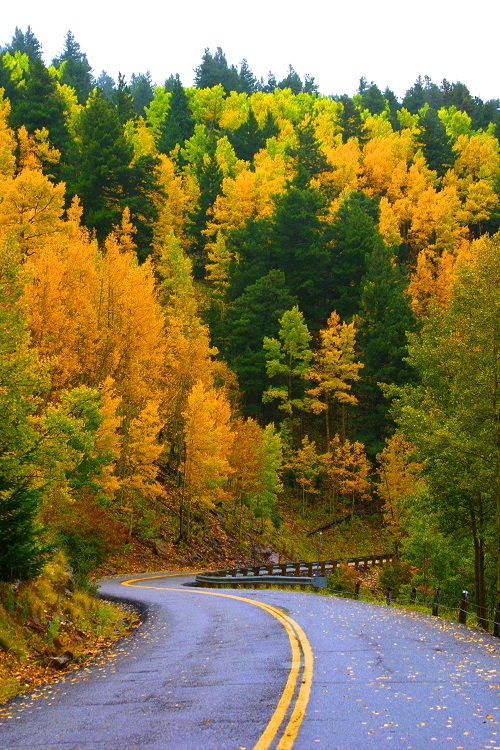 You may be discovering Ruidoso, NM, just in time to enjoy the amazing Aspen trees turn gold!  This is a particularly breathtaking sight to behold in Fall.  Enjoy all the outdoor activities listed here, surrounded by the gorgeous Fall colors.
Top 5 Ruidoso New Mexico Things To Do
Ruidoso, New Mexico, is a laid-back mountain community in Lincoln National Forest.  It boasts plenty of outdoor activities and western history, plus an ideal climate to enjoy them all.  With over 300 days of sunshine every year, really any time is a great time to visit.
It can provide a great escape to relax, put your feet up on the deck, and check out the local wildlife!  (Elk, deer, and bear, that is…).  Come unwind with your family, and discover this fun place to get outside.
See more photos and get ideas to plan your trip here:
• Facebook: https://www.facebook.com/RuidosoNM/
• Twitter: @ExploreRuidoso
• Instagram: https://www.instagram.com/ruidoso_tourism/
*o*     *o*     *o*
Photo credits DiscoverRuidoso.  This travel post was authored by me, but was sponsored by one of this blog's partner.  All opinions are my own.