Nestled in a lovely, easy-to-access downtown area, the Denver Aquarium is a fabulous option for families.  You'll even find some surprising, non-fish attractions!  Here are the top exhibits to see, how much time to allow for a visit, what to expect for a closing time, and whether the attached Aquarium Restaurant is a good place to eat.
We had been to the Downtown Denver Aquarium a few years ago, and I don't remember being too impressed.  But for some reason, this recent visit was more enjoyable than ever.  Perhaps it's because this time around we have a first grader son that loves fish?  Or that they are now under a restaurant brand's umbrella, and have upped their overall game to bring in visitors?
At any rate, we were quite impressed and had a wonderful time.  I heartily recommend this Colorado attraction!  Here's my recap of what to expect, and the best exhibits to watch for.
Travel Through the World's Ecosystems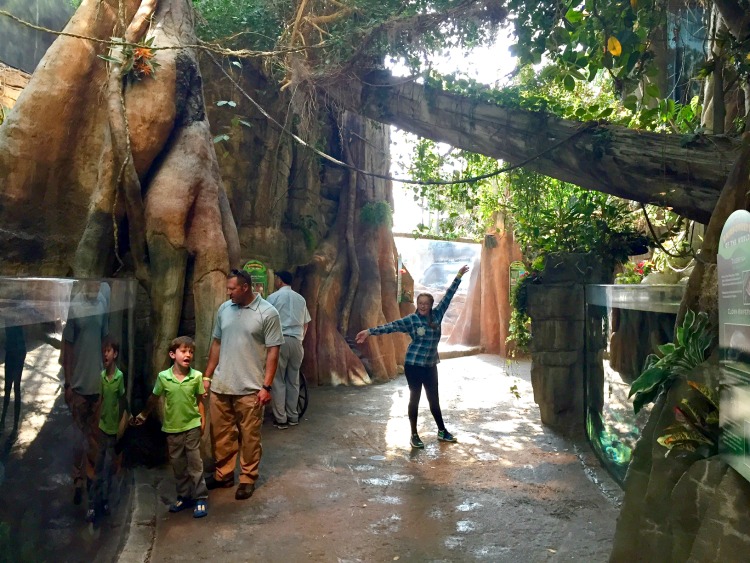 Rain forest ecosystem at Denver AquariumThe layout of the aquarium winds you a variety of ecosystems.  This is an engaging way to learn even more about the species on display. You get to visit them clustered in the various part of the earth where they are found natively.
Although paying to go watch some fish may not seem too exciting at first, the staggering diversity is fascinating. I continue to marvel at discovering a creature I never knew existed.  Proving once again that educational experiences can still be highly entertaining!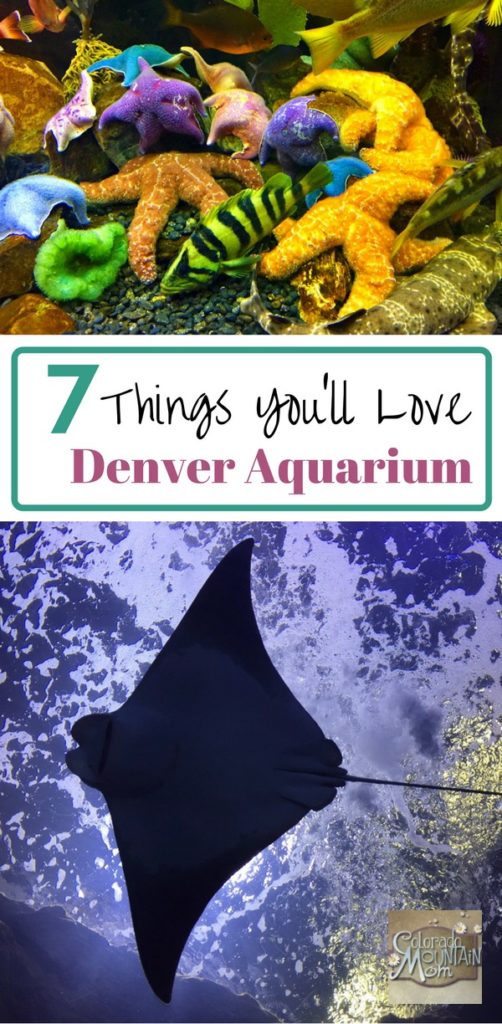 Experience a Flash Flood
Being from Western Colorado, I've heard numerous frightening stories about flash floods that occur in slot canyon areas.  Rainstorms in rocky desert terrain, where the ground cannot quickly absorb the moisture can catch hikers unaware, leaving them in a highly dangerous situation.  People drown in this manner every year.
Forearmed with that knowledge, watching the flash flood demo is even more terrifying!  It occurs every 5 minutes or so, and is worth the wait.  You'll spot it by the "Wet Zone" signage.  Stick around, and imagine yourself getting caught in such a flash flood.
Mermaid Show
Honestly, the website photos and description of the Denver Aquarium having mermaids seemed a little cheesy.  It certainly wasn't on my "must see" list.  I was wrong.
They have a handful of Mermaid Show times throughout the day.  You do NOT have to be dining in the restaurant to view it, this is performed where it can be viewed at the aquarium itself.
Fortunately, we stumbled across a show purely by chance.  They are short, only lasting the duration of the Disney song "Under the Sea".  But watching two smiling, bubble-ring blowing, dancing mermaids was fantastic!  Numerous kids clustered together in the underwater aquarium viewing tube, thrilling at the mermaids swimming by and waving at them.
My son was fairly blown away by this whole display.  "ARE THEY REAL?! MOM… ARE THOSE MERMAIDS REAL?!" he kept shrieking, in excited awe.
Yes, definitely make sure you watch for the mermaid show times and be in position to catch this!
Tigers!  Wait… What?
The Denver Aquarium has also included a few furry species to add to the "aww" factor.  A stunning highlight is the tigers.  We only viewed one on display when we were there, but he was a beauty.
A few years ago, they received three Bengal tiger cubs from the National Zoo in Washington, DC.  I love that they are 3 sibling cubs from the same litter.  They are gorgeous, healthy looking, and have a decent habitat.
The ground level viewing area offers a peak at these beauties through glass.  A viewing bridge is provided to catch a higher perspective through a net fence.
Petting and Feeding Sting Rays
Here's my sad story of the day:  I've never been at the right place and time to pet a dolphin.  But I'd have to say as far as sea life goes, petting a sting ray is probably the next best thing.  Who knew they were so social and charming?
Love, love, LOVE the Denver Aquarium sting ray pool area!  This interactive display allows you to gently pet the sting rays floating by, as long as you use just two fingers.  Sardines and shrimp are available for purchase to feed them.
The smaller ones dash by, their adorable "wings" as soft as butter to the touch.  Giants float more slowly on the bottom central area of the pool. Until they detect someone actually has sardines to share… then watch out, you may get splashed!  We spent a half an hour at this exciting and fun area.  It's the thrilling conclusion to the Denver Aquarium tour, and is the last exhibit prior to the gift shop and restaurant.
Dining at Denver Aquarium Restaurant
Captive audience, so how good can the food be.  Right?  Wrong.  The food here is actually quite good, and comparably priced to any other downtown Denver restaurant.  You've already paid for parking.  The atmosphere continues with a lovely underwater theme, and views of the aquarium.  Why not stay for dinner?
We were pleasantly surprised at how tasty our seafood pasta dishes were at the Denver Aquarium.  Being able to view the fish tanks continued to entertain my youngest while we enjoyed dinner.  I wish they had "fish identity" cards at the tables, so you could learn the names of those on display.  But the server seemed pretty knowledgeable when we asked about one of the larger fish we spotted (we had mistaken it for tuna).
Keep your receipt.  At the time of our visit, our restaurant receipt could be used to validate our parking.  This saved us $7.
Overall, the Denver Aquarium is an excellent family attraction.  As it was also our travel-to-Denver day, we found the generous hours of staying open until 10 pm highly convenient.  Allow 2-4 hours for an enjoyable and thorough visit.
*o*     *o*     *o*
We received complementary admission to the Denver Aquarium.  All opinions are my own.