My family recently enjoyed a Take Me Fishing excursion at Walt Disney World! Here's everything you need to know – what do you need to bring, and where do the boats depart? Is it worth sacrificing valuable Park time on your Disney vacation? How does fishing help the outdoors, and why is this such a great family activity?
Although my family has had a few vacations at Walt Disney World, on our recent trip we had an adventure like nothing we've ever experienced.  Disney World fishing and boating – now that's my kind of adventure!
It was a moment in which all my greatest loves blissfully collided: Disney… the outdoors… adventure… my family… boating… sunshine!  It makes me giddy just thinking about it.
I had heard that you could take guided bass fishing excursions right on the Disney World property.  And honestly, my first reaction was "I don't think I'd want to sacrifice park time for that". Well, I WAS WRONG.
I'm now convinced a bass fishing excursion is an ideal addition to a Disney family vacation.
Disney World fishing turned out to be a relaxing, extremely enjoyable time with my family.  We were surrounded by gorgeous scenery, along with spotting some of our favorite Disney resorts along the magical shoreline. Beautiful water birds hung around our boat, hoping for a bit of stray bait to come available.
Having a low-key outdoor adventure like this, while still in the vicinity of the Disney magic, proves to be a perfect break.
And the most exciting part… boy, were the fish biting!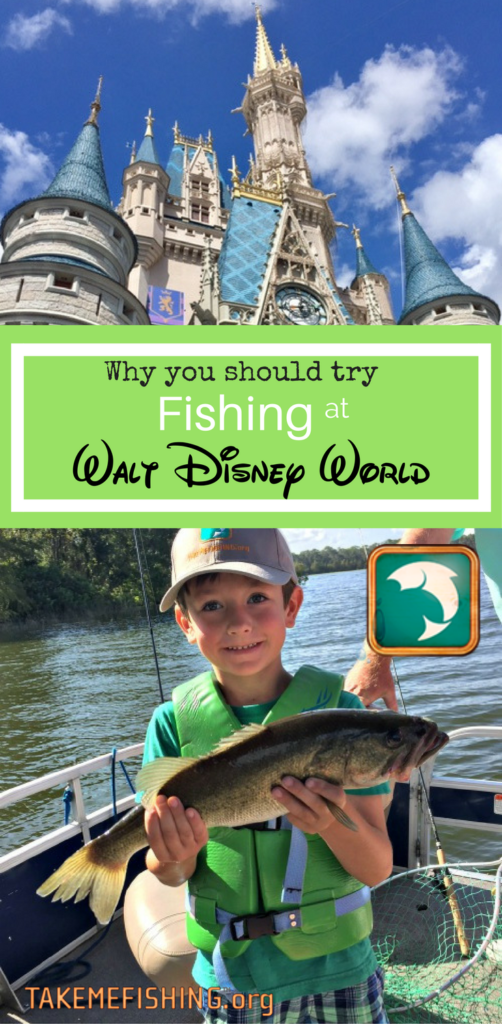 Take Me Fishing™ & How Fishing Helps the Outdoors
The Take Me Fishing™ initiative was started by the Recreational Boating & Fishing Foundation (RBFF), a non-profit organization whose mission is to increase participation in recreational angling and boating.
In a way, fishing is the outdoors sport that gives back.  Did you know that licensing and tax on fishing gear goes towards funding conservation projects, fish stocking, improving docks and recreation areas, and improving water ways?  As an outdoors lover, the fact that this has a direct, positive effect on protecting and restoring our aquatic resources is highly appealing to me.
I grew up in South Dakota, occasionally fishing the Missouri River with my dad.  (Ok, mostly I went along and read a book.)
Fast forward a few decades, and I have not really fished as an adult.  However, seeing how thrilled my kids were to be out on that water, and the excitement when one of us caught a fish has re-ignited my interest in this awesome family outdoors activity!
Take Me Fishing™ Partnership with Disney
In recent years, Walt Disney World Resort has started offering guided fishing excursions right on the Disney World property.  They've partnered with RBFF's #TakeMeFishing initiative, to try and help increase fishing and boating participation among youth and families.
Doing the right thing for the earth and nature is a priority that Disney has consistently demonstrated (DisneyNature's annual Earth Day conservation movies and associated donations are a perfect example).
Helping to promote fishing as a fun family activity means helping to promote togetherness, the outdoors, and making family memories.  These are values shared by both RBFF and Disney.
Disney World Fishing Adventure
So how about the details, and what you can expect?
When you book a guided bass fishing excursion at Disney World, you'll have a pontoon boat for just your family and your personal fishing guide.
Everything was provided for us.  Kids ages 12 and under must wear the provided life vests.  Drinks and all the needed fishing equipment are included.
We started out fishing in Bay Lake, after departing from the marina at the Fort Wilderness Resort dock.  Most of our Disney World Fishing Adventure morning was spent in Bay Lake, with a view of both Disney Wilderness Lodge and Contemporary Resort.
Later we moved over to Seven Seas Lagoon, which was a nice boat ride and added to the fun.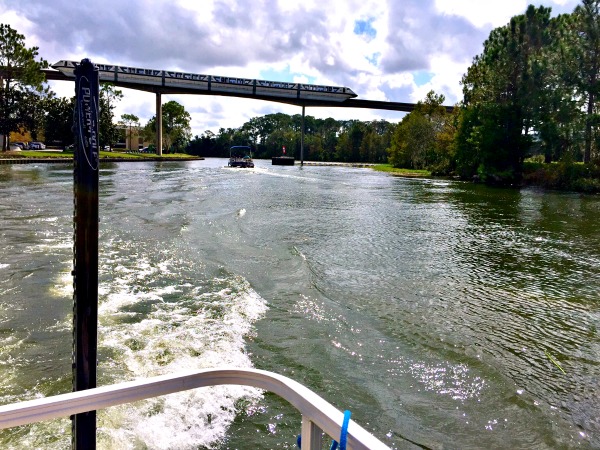 What a beautiful September day it was!
So What Did We Catch….?
The fish started biting literally within minutes.  This is strictly catch-and-release fishing.  Most of the fish we caught were bass.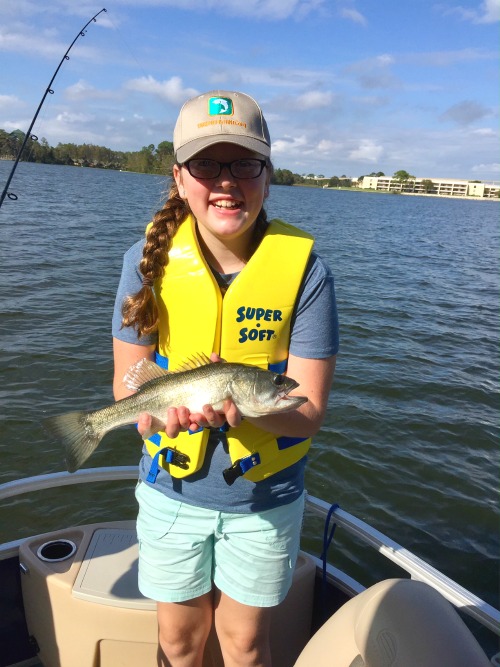 Grand total for our 1 ½ hour adventure (with 5 fisherman having lines in the water) was 16 fish! Every single person caught at least one fish.  We caught a total of 15 bass, plus my son caught 1 crazy looking bullhead that the guide insisted on handling for us.  Just another perk of having an expert along.
I can't even tell you the excitement when someone had a "fish on"!  Yes, I'll admit I was previously a fish-holding wimp…. But even I had to hold my catch for a photo.
Later we moved over to the Seven Seas Lagoon, right in front of Magic Kingdom.  Cruising through this area on your own pontoon boat, on a beautiful Florida day, is pretty amazing.
We navigated past the entrance to our favorite Disney Park, and selected a spot within view of Disney's Grand Floridian Resort.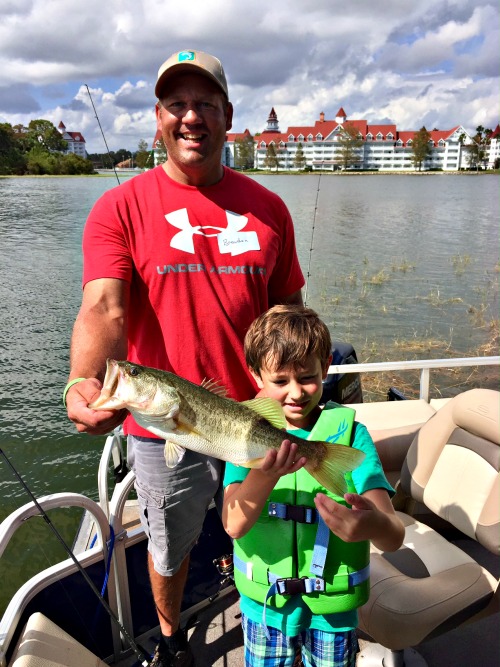 We didn't have quite as much luck in that spot, but the change in Disney scenery was worth the trip over.  Some impressive water birds joined us.  Watching them was almost as entertaining as catching fish.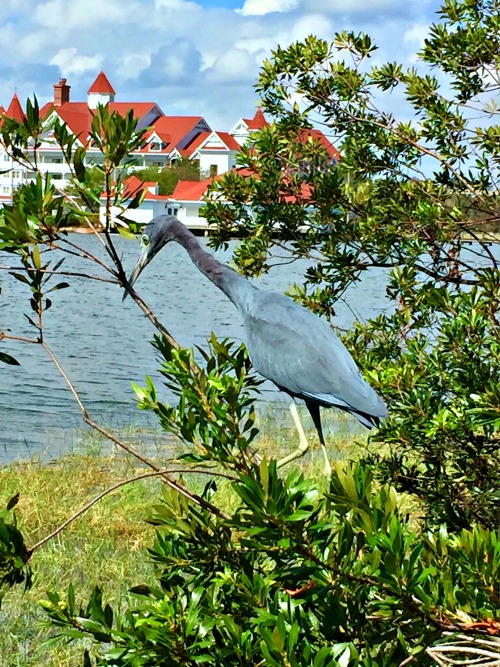 Guided Bass Fishing Excursion Rates & Details
Take Me Fishing offers both 2-hour and 4-hour excursions at Walt Disney World. There are lots of locations from which you can try guided bass fishing at Disney World.
We went out for 2-hours, and although my kids would have loved to fish longer… I thought it was a good amount of time.
Fishing excursions are available at the following Disney World locations:
Here are the Guided Bass Fishing Excursion rates, as posted at the Fort Wilderness Marina.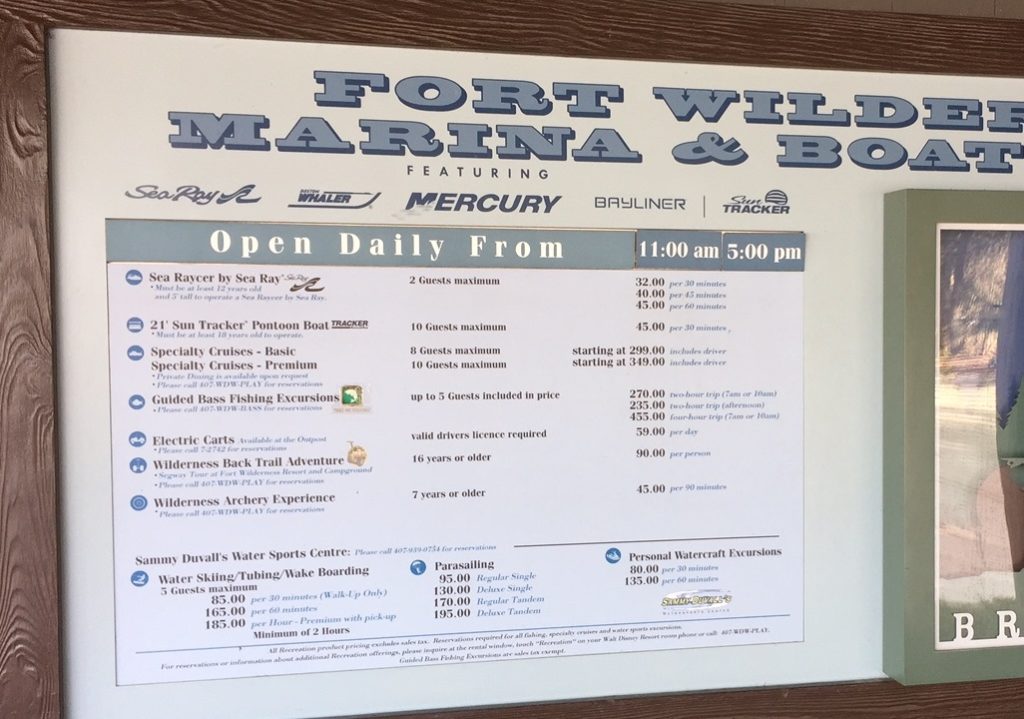 Guided Bass Fishing Excursions
Up to 5 Guests included in price
$270 – two-hour trip (7 am or 10 am)
$235 – two-hour trip (afternoon)
$455 – four-hour trip (7 am or 10 am)
Call (407) 939-BASS or (407) 939-2277 to make a reservation. Reservations can be made up to 180 days in advance.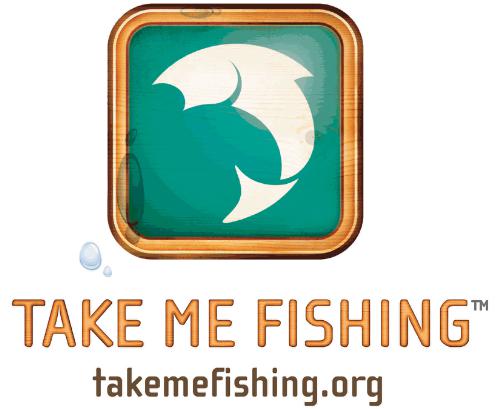 If you are considering a Disney World trip with your family, check out my best planning tips:  Easy Disney World Planning 101.  We can't wait to go back and try Disney World fishing again!
And in the meantime… we will definitely be fishing as a family at home here in Colorado.  🙂
*o*     *o*     *o*
My family was hosted for this experience by Take Me Fishing and Walt Disney World.  All travel expenses were paid for.  No compensation was paid in addition to that.  All opinions are my own.