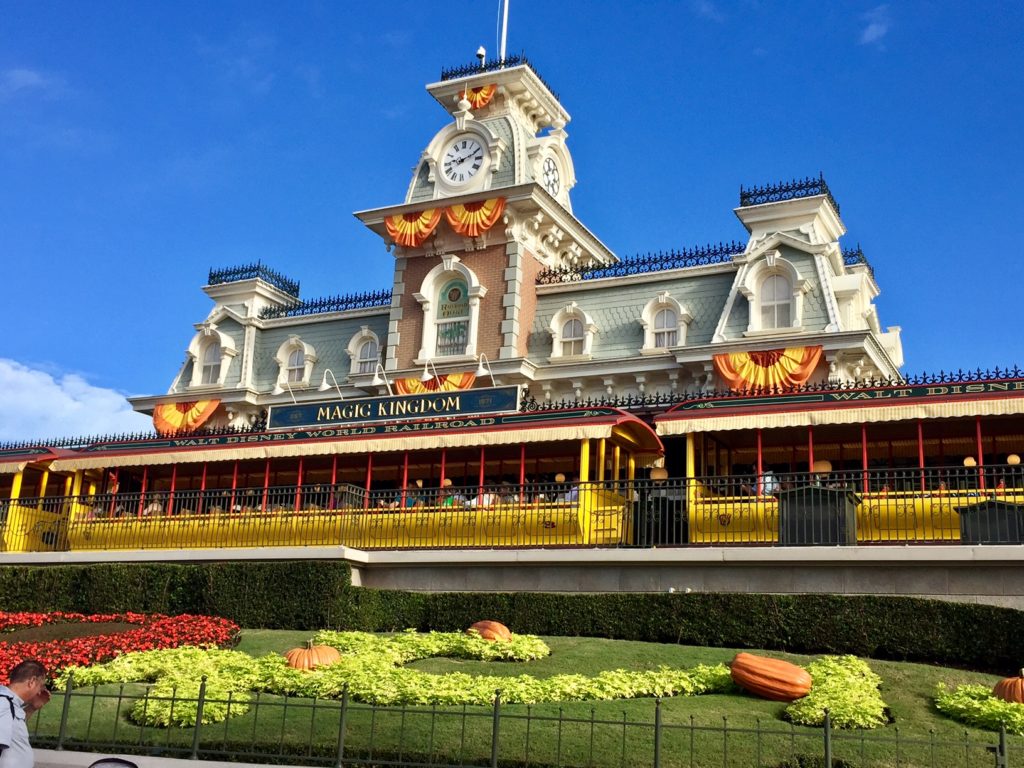 You've got one day to spend at Walt Disney World.  Which park should you pick?  I get asked this question all the time, and here's my panicked response, every single time:  "Wait, one day isn't enough!!"  But I get it, sometimes that's all your plan allows.  In that case, if your kids are in the range of ages 5- 12… I recommend Magic Kingdom.
My children are ages 7 (1st grade boy) and 12 (7th grade girl).  We recently had a whirlwind, long weekend at Walt Disney World to attend an awesome Take Me Fishing event. We had one park day.  ONE. PARK. DAY.  Being the crazy mom uber-Disney-planner that I am, I found this an exciting challenge!
First, I need to give credit where credit is due.  I'm a huge fan of using TouringPlans.com, for everything from their Disney Parks estimated crowd calendar to their optimized park touring plans.  They've put a lot of research into park traffic flows, and such.  So I based our strategy loosely on that.  It worked out great, and we packed in a TON of amazing things!
Magic Kingdom ~ What We Skipped
First disclaimer:  We didn't include Space Mountain in our itinerary.  A roller coaster in the dark is just a tad too scary for my kids, at this point.  So that's one long-line attraction we didn't need to work in.
Second disclaimer:  My family doesn't really mind if we have to miss the new Storybook Circus area, in the far reaches of New Fantasyland.  So that's another thing not included in this itinerary.  You could easily add/swap it for something else.  If it's your first Disney World trip, I do recommend you add Dumbo the Flying Elephant attraction to this schedule.
One last note:  Our ultimate 1-day itinerary included riding Big Thunder Mountain Railroad twice.  Once in daylight, once in the dark.  Because it's totally awesome.  FAMILY FAVORITE RIDE!!
Our 1-Day Itinerary for Magic Kingdom
Without further ado, here's a perfect itinerary for Magic Kingdom, with kids ages 6-12.  This flow maximizes use of 3 FastPasses, on a moderately crowded park day.  While you may not wish to go to every one of these attractions, using this general order can assist you in reducing wait times.  It goes against the natural/typical flow of the majority of guests.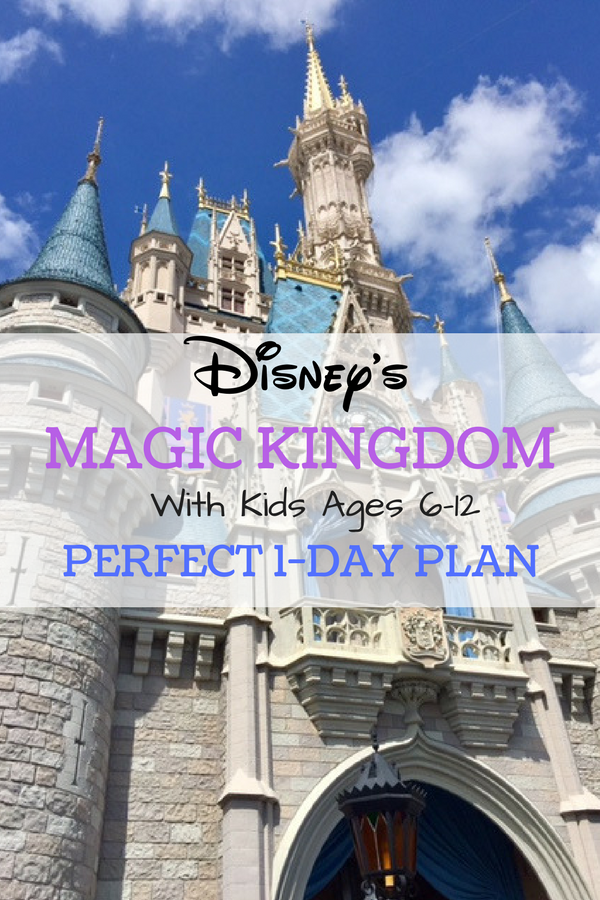 The park hours on the day of our visit were 9am – 11pm, so we even had time for an afternoon swim break at our Disney Resort.
I'd also mention that after numerous family Disney World trips… the attractions I included on this schedule are our absolute favorites!  For crowd level reference, the TouringPlans Crowd Calendar ranked our September park day at Level 6 (out of maximum 10).
9:00 am             Wading through security. We miss the Let the Magic Begin welcome show by a gnat's eyelash.  Get there earlier than we did!!
9:10 am              Headed directly to Tomorrowland… road Tomorrowland Speedway (7 minute wait)
9:23 am              Buzz Lightyear's Space Ranger Spin (5 minute wait)
9:40 am              Headed to Fantasyland – The Many Adventures of Winnie the Pooh (15 minute wait)
10:00 am            Headed to Frontierland – Big Thunder Mountain Railroad (30 minute wait)
10:35 am             Country Bear Jamboree (no wait)
10:55 am             Frontierland Shootin' Arcade (no wait)
11:15 am              Mickey's PhilharMagic (10 minute wait)
11:40 am             Peter Pan's Flight (FASTPASS – no wait)
1:00 pm              Be Our Guest (lunch reservation)
2:00 pm             Headed to our Disney Resort to swim!  This is the hottest, busiest time of day, and ideal to work a break into your park schedule.
*o*     AFTERNOON BREAK    *o*
IF YOU LEAVE THE PARK for the afternoon –> Stop at the Main Street USA shops to grab your souvenirs on your way out.  You can take them right to your resort, and the crowds are much lighter in afternoon than at park close.
IF YOU DON'T LEAVE THE PARK –> watch the Festival of Fantasy Parade (typically at 3:00 pm) It's fantastic!
*o*     *o*     *o*
5:45 pm               Return to Magic Kingdom
6:00 pm               Seven Dwarfs Mine Train (FASTPASS – no wait)
6:20 pm               Headed to Adventureland – The Magic Carpets of Aladdin (7 minute wait)
6:35 pm               Swiss Family Treehouse (no wait)
7:50 pm               Grab a Dole Whip, Mickey Ice Cream Bar, or Mickey Pretzel
8:00 pm              Find a spot for viewing Happily Ever After fireworks show!  Being able to see the front of the castle is imperative to thoroughly enjoy it.  Grab a snack and save a spot 1 hour prior to the show.
9:00 pm              Happily Ever After fireworks
9:25 pm               Frontierland – Big Thunder Mountain Railroad in the dark! (FASTPASS – no wait)
9:40 pm               Fantasyland – "it's a small world", or "little world" as my 7 year old calls it (no wait)
10:00 pm             Under the Sea ~ Journey of the Little Mermaid (5 minute wait)
Fun Packed Day at Magic Kingdom!
That was a wrap for us!  We left a little before park close. What an absolutely amazing day!  I was so happy with how much we packed in, and we hardly had to wait in any lines.
It's great to have a plan.  Take a look at the Disney World Magic Kingdom website, and feel free to add any attractions I missed.
But my best Disney advice is this:  Go with the flow!  Once you are there, not everything will work out exactly like you scheduled.  Just enjoy whatever fun things come your way, soak it all in, don't let yourself get frustrated, and be flexible!  It makes for the best possible Magic Kingdom experience.
I hope this helps!  Feel free to ask any questions on specific recommendations for your family.  I love to help with Disney World trip planning advice!
*o*     *o*     *o*
This was a media sponsored visit, and I received admission to Disney's Magic Kingdom at no cost.  All opinions are my own.