One of the things I love about living in Colorado, is that we do have four seasons. The variety keeps things interesting, and allows for different types of outdoor play different times of the year.
And Fall means hiking and biking!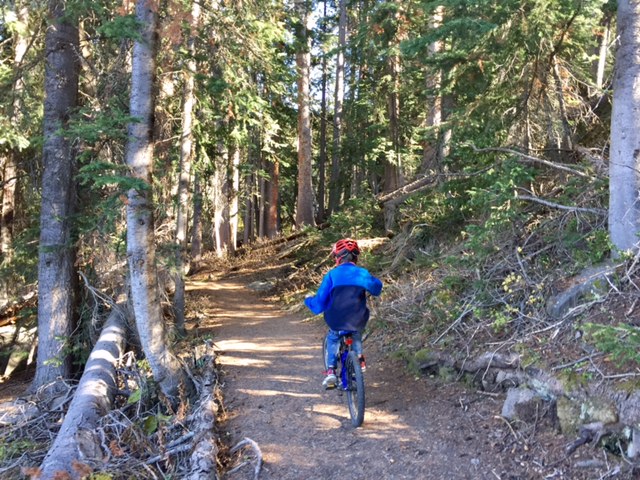 No bugs.  Perfect temps for athletic endeavors. Gorgeous scenery of gold, orange, and red colored leaves.  It all makes for an ideal time to get the family outdoors for some adventuring.
Capturing Your Family Adventure Memories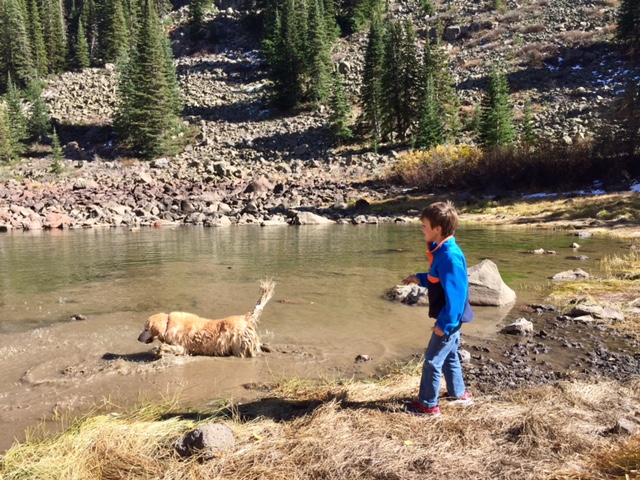 I'm pretty good about taking pictures on our family recreates in the great outdoors.  I love looking back on past memories of the fun times we've had camping, fishing, and exploring.  This makes and preserves memories for us, as much as when we take a full-on vacation somewhere!
Plus then I can share photos and video from our outdoor endeavors.  It keeps my family and friends up to date on the fun we've been having, which they love to see.
And I'd like to think it also inspires other to want to go play outside, too.  🙂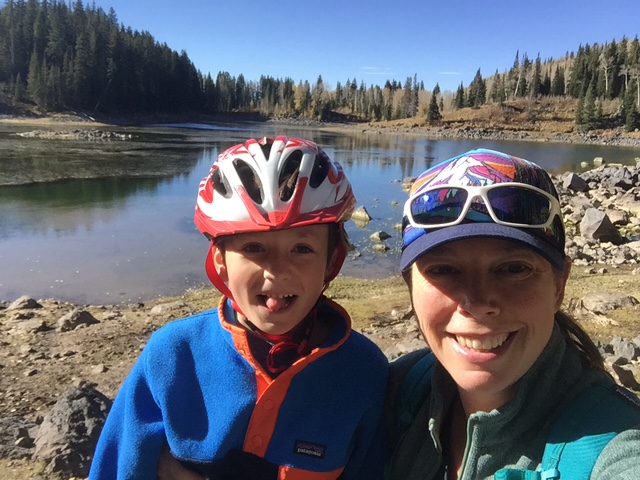 I'd never tried a 360 degree camera before, but we've had a chance to play with the Samsung Gear 360 from Verizon the past few weeks.  We took it along when hiking and biking… and even tried just filming outside our sunroof during a particularly scenic drive.
Samsung Gear 360 ~ Make Surround-view Videos
Check out some of the footage from our recent visit to Colorado's Grand Mesa, to see the Fall foliage.  I'm a very newbie cinematographer, so please cut me some slack here.
We hiked so we could bring our family Golden Retriever, Daisy along.  She loves coming with us so much!  At age 10 (or 70, as my first grade son likes to point out to people we meet), she just can't keep up if we all bike.
This trip we decided we'd be on foot, but we'd let my 7 year old take his mountain bike.  He'd been begging to ride the trails on the Grand Mesa.  And we can cover a lot more ground if he's biking vs hiking.  Use your cursor to look up at the tree tops!
With over 300 lakes in the area,  Daisy finds lots of opportunities to play fetch.  And get really muddy.  And stinky.
This video turned out a little better. You can drag and from side to side, or up and down to literally "look around". It's a trip!  Watch to the end if you want to see our adorable Golden Retriever up close.
Good dog!  🙂
Samsung Gear 360 ~ How to Get Videos Off Your Camera
If you are interested in trying out the Samsung Gear 360, I wanted to share some helpful tips I've learned.  It was my first experience with a 360 camera, so I struggled a bit with a learning curve.  Actually, I believe this is fairly new technology.  And from other reviews I've read… the Samsung Gear 360 is very reasonably priced for what it delivers.
So here's the low-down:  You need an in-between software (or app) step because the Samsung Gear 360 is actually two cameras, filming two videos.  To be viewable, they need to be "stitched" together.
If you have a newer Samsung phone, you're in Fat City. You can get the app, and view and share the 360 photos and video right from your phone!  Good for you.  There is also a iOS phone app that works if you have an iPhone 6s, or newer.
Not having a viable phone situation, here's the other option that worked for me. You will need to use a PC, and install the (free) Samsung Gear 360 ActionDirector software.  Then you can plug in your 360 camera, copy the files over, and edit them for use.  It even uploads directly to Facebook or YouTube.
Don't Forget to Play Outside!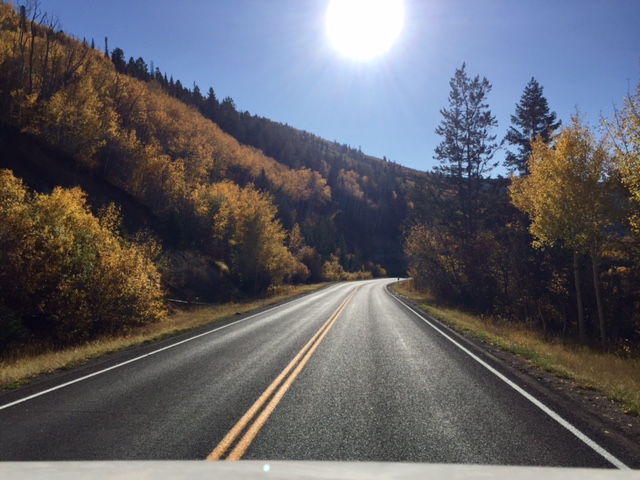 Life happens.  We had sick kids through the month of September (Already in September? Really??).  Then some conferences and other travel.  So we *almost* missed taking a Family Adventure Day to just head up to the mountains and enjoy ourselves.  It's always so relaxing and fun.
So if you haven't done so lately, make an effort to get outside this coming weekend to enjoy that amazing Fall weather!
And remember to bring along your camera to capture those family adventures.  🙂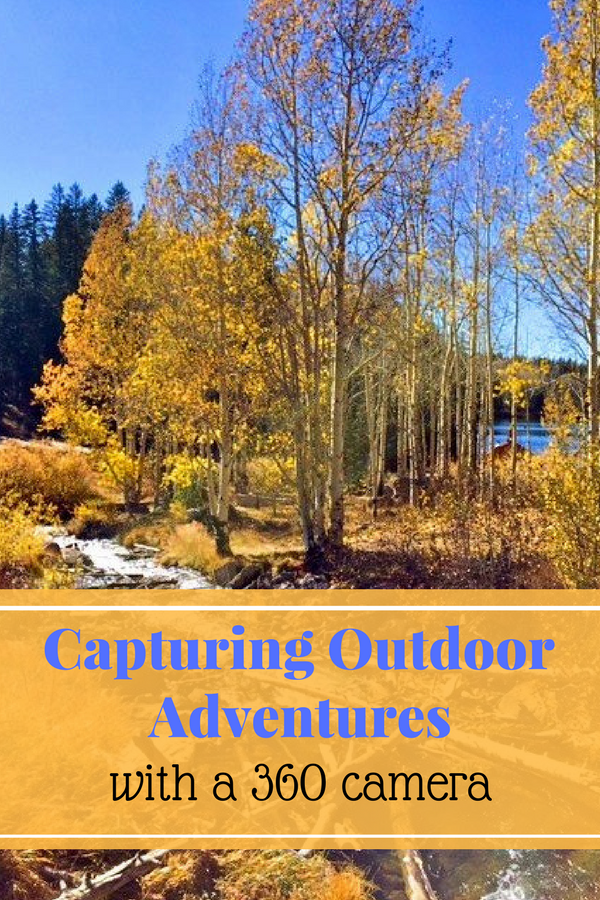 *o*     *o*     *o*
This was a sponsored conversation on behalf of Verizon.  All opinions are my own.