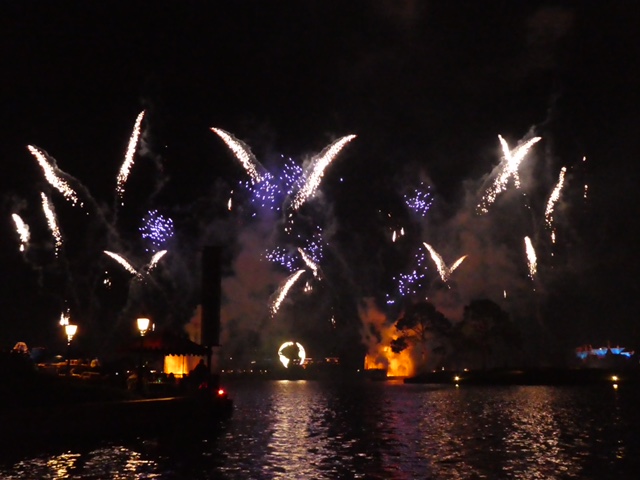 We were blown away by the Disney World fireworks cruise my family took, to view Epcot IllumiNations! Here are the details of what to expect, what it includes, how much time to allow, and how much a Disney World fireworks cruise costs.  Plus a preview video of our on-the-lake view of IllumiNations!
Did you know that your family can take a Disney World fireworks cruise aboard a pontoon boat? My family tried this fabulous experience out during our most recent Walt Disney World vacation.  The fireworks cruise we took was near Epcot, where we had an up close and personal viewing of Illuminations.  It was absolutely breathtaking!
A Disney World fireworks cruise is such a unique and over-the-top experience, that I absolutely recommend your family trying this at least once.  Put it on your Disney Bucket List!
Disney World Fireworks Cruise ~ Schedule & Location
Our Epcot IllumiNations: Reflections of Earth cruise departed from Disney's Yacht Club marina.  We had to meet at the dock around 8:45 pm, in order to view what was a 10:00 pm Illuminations show that evening.
We had our own boat captain, who was super friendly and served as our host for the evening.  A complementary basket of snacks and cooler full of cold soda and water is included with your fireworks cruise package.
The boat is pontoon style.  That evening my family of four shared the boat with one other family.  In total, we had 10 people with a comfortable amount of room and available seating.
Epcot IllumiNations Fireworks Cruise ~ What to Expect
If you are familiar with Walt Disney World's Epcot Resort area, there are three Disney resorts (plus the Dolphin and Swan) clustered around a lake and waterway.  The water is used as a transportation route, for getting to either Hollywood Studios or Epcot.  Friendship Boats offer complementary transportation, and have the right of way under bridges and in any congested areas.
We left for our Epcot Illuminations Fireworks Cruise with plenty of time to navigate leisurely to our destination.  The captain actually took us for a loop down to Hollywood Studios, to enjoy a longer, relaxing boat ride.  Unlike zipping along in a speed boat, the sound of the pontoon motor during the cruise is minimal, allowing for conversation.
Next we headed in the other direction to nestle into our spot to watch the fireworks.  You approach the International Gateway "back" entrance to Epcot.  The Disney World Fireworks cruise boats all appeared of the same size, and were lined up in a tight row underneath the bridge between France and United Kingdom.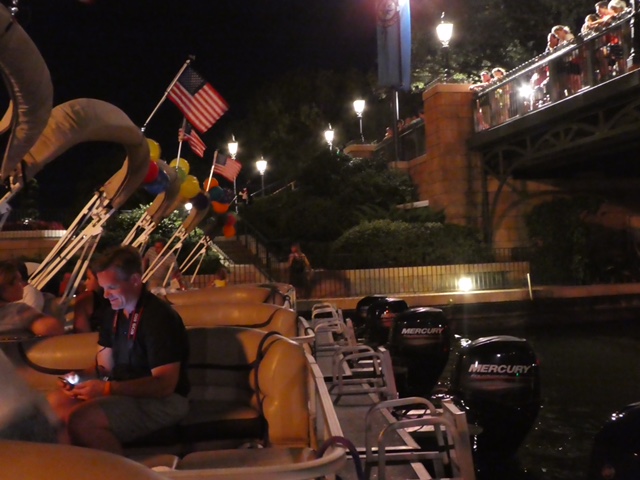 In other words, you are floating right on the water… on the edge of World Showcase Lagoon.  Words cannot fully express what an exhilarating experience it is to watch Illuminations from this vantage point!
IllumiNations… Like You've Never Seen It Before!
I've been watching Epcot's IllumiNations: Reflections of Earth for years.  I love it.  The soundtrack still gives me goosebumps at the dénouement.  But I'll be honest.  I've reached the point where I can take-it-or-leave-it.  Or I should say, I'm willing to miss it in favor of heading to the buses sooner, especially after a long Park day.
But this was a WHOLE NEW BALLGAME.  My entire family was excited beforehand.  But we really had no idea how amazing it would be!  We all agreed it was an absolutely incredibly, Disney Must-Do experience.
On this particular Disney World fireworks cruise, my family was hosted.  But this is one of those outstanding experiences that I absolutely would do on my own dime.  I definitely plan to do this again in the future.
Epcot IllumiNations Fireworks Cruise ~ Video
The view from right there sitting on the water was so breathtaking, I took this short video to capture my favorite portion of Epcot IllumiNations.  Enjoy!

Disney World Fireworks Cruise ~ Rates
You can book a cruise reservations by phone, by calling 1-407-WDW-PLAY.  Details for a Magic Kingdom cruise vary a little, with two sizes of pontoon boats available.  But the IllumiNations cruise is a boat that holds up to 10 guests. As of 2017, this "specialty cruise" starts at $349.00, and includes a driver.
*o*     *o*     *o*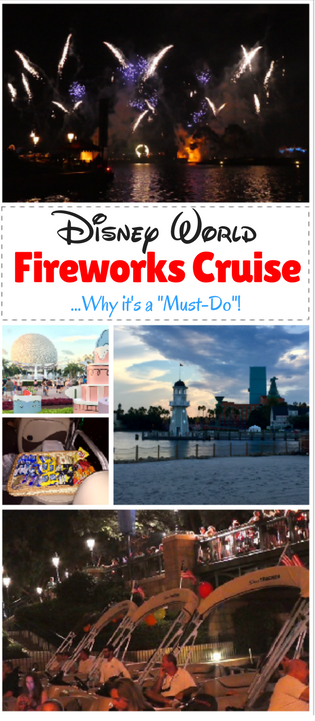 My family was hosted for the IllumiNations fireworks cruise, as part of the Take Me Fishing event at Walt Disney World.  All opinions are my own.