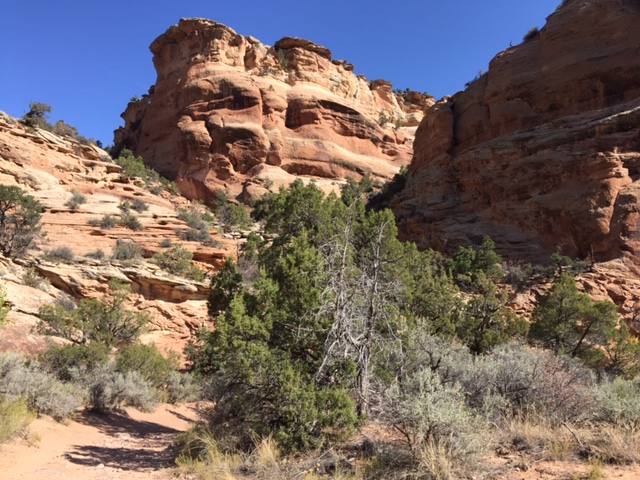 Last Friday was the perfect Colorado Fall day.  Sunny and high 60's, absolutely ideal hiking weather.  My daughter's 7th grade class was scheduled to do a class hike field trip.  I had the day off of work, and planned to join them.  Everything was right in the world.
That is, until the bodies started hitting the floor.
But I'm getting ahead of myself.
Wait, Can We Bring Dog…?!
So Friday morning we are scurrying around, packing lunches and getting ready for school.  I swear our Golden Retreiver Daisy must have spotted my daughter grabbing her hiking backpack.  You know those key items, that set the alarm bells off for a dog…"An adventure is afoot!!"
Bless her 10 year old heart… she starts bouncing around like an excited puppy.
"Oh Daisy, you can't come on the field trip."  Wait. Maybe she can?
Since I planned on driving behind the school buses, and hiking with the kids – in theory, maybe we could bring the dog?
Our plan was to have my daughter ask permission once she got to school, and to let me know if they were okay with bringing our dog.  This request was run all the way up the flagpole, and we received permission from the (very cool) principle himself.
Daisy's BEST DAY EVER
The ONLY thing better in a Golden Retriever's World, than hiking?  Hiking with 100 kids!
Daisy was definitely a big hit.  When we arrived at the trailhead, the 7th graders were pretty excited to see her joining them.  So much love!
Oh, How I Love Colorado Outdoor Field Trips!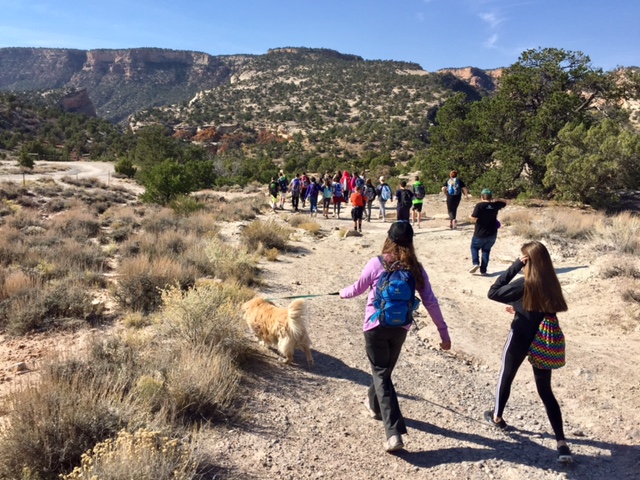 Being a state with so much access to natural beauty, our school often incorporates outdoor recreation in their field trips.  Heck, my daughter's 1st grade class got to go snowshoeing in the mountains!  I think this is awesome.  Especially for kids who may belong to a family who doesn't typically spend time outdoors.  What a wonderful opportunity to experience the trail!  It gives them a taste of what the outdoors can offer.  Then they can decide for themselves if it's something they would enjoy pursuing.
Love it.  Love. It.
The day was so incredibly beautiful.  There was still some bright gold Fall color remaining on the trees.  The hike chosen was around 2 miles (4 miles round trip).  A perfect distance to push them a little, and give them a sense of accomplishment.  The terrain was varied, and kept even the more easily bored kids interested.  They even get to scurry over rocks at some points.
One boy did a pretty good job tearing open his knee, early in the hike.  [We failed to pick up on this foreboding, early scene.]  But the school nurse was along on the field trip, and was ready with her first aid kid to bandage him up.
We press on.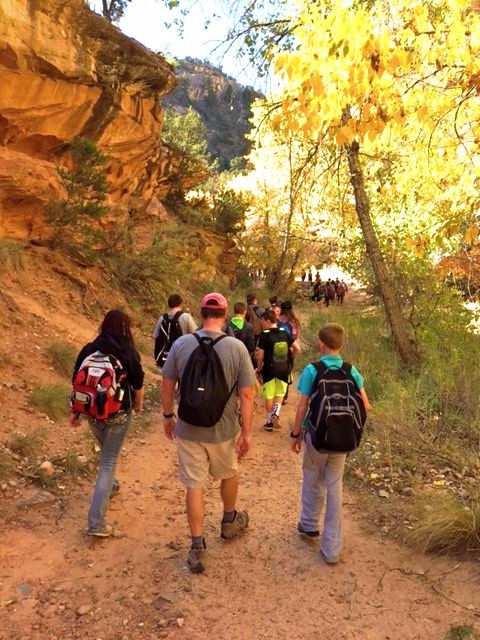 I was sad when I had to turn around and head back early.  I wanted to continue with the field trip, but needed to get to my son's school by 1:00 to teach art heritage class as a volunteer.  Such a bummer that both of these fun things collided on the same day!  But at least it was on my day off, so I could try and enjoy some of each.
Alas, it meant they were 1 grownup-down when all the excitement hit.
Every Adult Carrying an Injured Kid
I guess all heck broke loose once the kids reached the feature at the "end" of the hike.  An open cave type area, there are lots of nooks and crannies to climb and explore.
The worst incident occurred when a girl climbed too high, to a ridge the teachers had declared off limits.  They immediately spotted her, and instructed her to get down.
She turned, and fell off backwards.  According to my daughter, it was a height of around 15+ feet.
Terrifying.
They believe she broke her leg.  And one arm was tore open down to the bone, from wrist to elbow.  No one had phone service to call for a rescue service.  So two of the male adults picked her up and literally ran out with her.   While I don't have an update on her status, I do know they were able to contact her mother to meet them at the trailhead.  They then drove her immediately to the hospital.
Another girl on the hike twisted her ankle severely enough so that she could not walk.  Two female teachers carried her.
One boy slipped and scraped up the back of his leg.  He needed assistance walking.
By the end of the Colorado hiking field trip, every adult was carrying or assisting an injured child.  So much carnage!  And so incredibly sad, for many reasons.
As horrifying as the first girl's injuries were, what a relief that they were not worse.
Will The Hiking Field Trips Continue?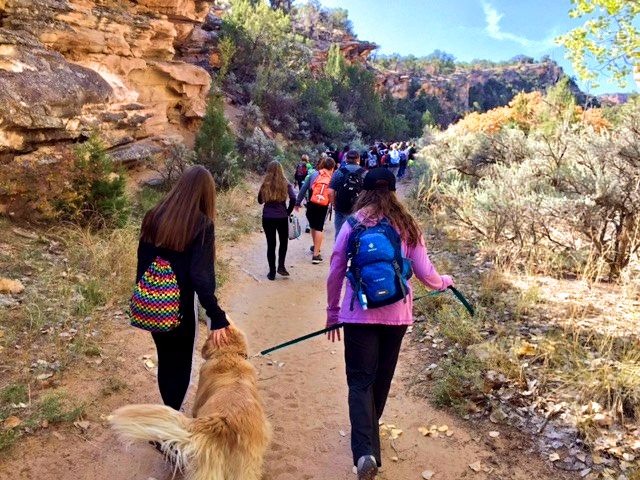 I'm guessing some sort of risk assessment will be done, to review last week's field trip and where it went awry.  Honestly, as much as I wished I had been there to try and help… I was somewhat relieved that Daisy and I had gone.  I wouldn't want a dog's presence (approved by the awesome, super nice principle) to have been viewed as contributing to the distractions and ensuing chaos.
My hope is that the school won't receive any negative blow back.  Yes, they need to keep kids safe.  But those teachers really care about those kids!  I'm not sure how much instruction the kids were given ahead of time, as far as watching their footing, etc.  But the teachers were trying to provide a positive experience and amazing memory for the kids.  That was the motivation for taking them hiking, which deserves consideration.
Sometimes, things happen.  Especially when playing outside.  Had all of the kids listened to instructions, injuries would have been kept to a minimum.  I desperately hope this won't mean the end of hiking field trips for future middle school kids.
*o*     *o*     *o*
What do you think… is it too much of a risk to take kids hiking on a field trip?