Ahhh… when those Fall temperatures start to drop enough for me to get out my scarves and boots, I am one happy camper!  My favorite Colorado season brings with it breathtaking golden Aspen trees contrasting the evergreens, and ideal weather for outdoor adventures.
It's also the perfect time to review your clothing and gear, and check out the new Fall lines from your favorite outdoor brands.
Adding just a few key pieces that catch your fancy can breathe new life and functionality into your wardrobe.  I've been doing my research and a bit of sample testing, and here's the best of the best:  Must-Have Fall Gear for the Outdoor Woman.
Womens Outdoor Gear for Fall
Here's a quick overview of my awesome Fall women's outdoor gear picks – including info on sizing, fabric, best use, and where to find them.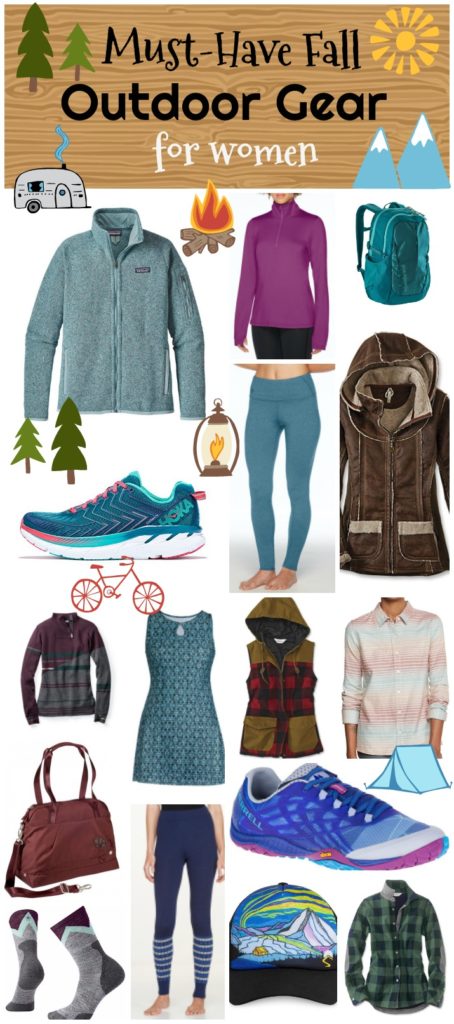 Sunday Afternoons ~ Northwest Trucker Cap, $28
Sunday Afternoons focuses on one thing:  making hats.  And they're really good at it!  My tween daughter and I been both been wearing a Northwest Trucker Cap all summer long. I kid you not, I get complements on it almost every time I wear it.  Most of the time they want to specifically know, "Where did you get that hat?!"

True Story:  My daughter recently left hers on an airplane when we were traveling. Traumatized, in tears, and not being able to face life without her Northwest Trucker… we immediately got online and ordered a replacement Northwest Trucker Cap, while in the Dallas airport. (Yes, I realize instantly fixing my tween's problem may not have been Top Shelf Parenting. But it was an exception!)

Although I've got more full coverage, Sunday Afternoons sun hats for when I'm hiking in a desert, no-shade area… a ball cap is always my preference.  It's just easy and mountain-style hip.  This one comes in 3 very cool designs, and is super comfortable.  Plus it's not unwieldy and huge like some trucker hats tend to be.
Kuhl ~ Dani Sherpa Jacket, $229
Kuhl makes "Performance Mountain Wear", that works for both outdoor adventures or just looking good about town.   And you've never seen anything quite like the Kuhl Dani Sherpa Jacket.  They take soft micro suede, and give it the look of vintage leather.  Bond it to a luxuriously soft shearling fleece for warmth.  Then add wool side panels for stretch and ventilation.  This results in one amazing jacket!  It is truly stunning.

Thoughtful details like a removable hood, and zippered side hand pockets.  Be sure to look for the lovely new "Almond" color out this season (released soon, if it's not on the site  yet).  The Dani Sherpa is so, so very beautiful and flattering.  Yet also a highly capable and warm winter jacket.

Runs small.  Although I wear a size Large in the Kuhl Spyfire Jacket, I needed a X-Large in the Dani Sherpa (for the roomy fit I prefer).
Patagonia ~ Women's Refugio Backpack 26L, $89
Boy, I'm a sucker for a new backpack. Isn't this Patagonia Women's Refugio Backpack 26L a beautiful color?  I adore the size.  It's somewhat small to keep your load light, but still holds a lot.  Actually, it holds more than my previous women's specific day pack I've been wearing.

I like that there is one primary compartment for most of your stuff.  It's very easy to find your contents, and keep them organized.  There's a back padded area to carry your laptop, which I've also used to slip in a hydration bladder (hole provided to thread up the tube).  Has just the chest strap, no waist strap… so best as an everyday backpack, or light hiking backpack.

This Refugio Backpack 26L is designed specifically for women.  Which is a good thing, unless you're too tall.  I'm 5'10", and I'd say I'm probably at the maximum torso length for it to fit comfortably.  If you are my height or taller, I'd recommend looking at the Men's Refugio. (Although then you'll be sacrificing this gorgeous teal color.  Noooooo!!)  #TealIsForReal
Smartwool ~ PhD Outdoor Approach Crew, $25
These are some fancy, high tech wool socks!  The Smartwool PhD Outdoor Approach Crew feature virtually seamless toe and PhD technology built for performance.  I love the mountain design and women's specific fit.  It's always good to have some high quality wool socks in your outdoor gear arsenal, ready for adventures when you are.

These feel fantastic on your feet, with just a little arch compression support.  My new go-to socks for hiking, skiing, and snowshoeing this season!
Patagonia ~ Better Sweater® Fleece Jacket, $139
Nothing makes you feel pampered quite like wearing a high quality Patagonia Better Sweater® Fleece Jacket!  All of Patagonia's Better Sweater pieces are now "fair trade fleece", which is awesome.

This jacket is thick, soft, cozy, warm, and beautiful.  I particularly love the Better Sweater Fleece Jacket since it's a more relaxed cut than the Patagonia Better Sweater 1/4 Zip, and is so versatile.  This is a fabulous staple to have in your outdoor mountain living wardrobe.  Works for a day at the office, or a day on the trail.

Runs true to size, and comes in waaaay too many lovely colors to choose from.
Merrell ~ Trail Glove 4, $100
 The new Merrell Trail Glove 4 kindof boggles my mind.  This "barefoot shoe" is so incredibly lightweight and soft fitting, yet rugged and capable.  Wait, why aren't all outdoor shoes like this, again?

I've found myself reaching for them again and again this Fall, and wear them with with either a light sock or even barefoot.  They have a wide toe box, lightly hug your insole, and are incredibly comfortable.  You can use these bad boys for trail running, or just running-through-your-daily-life running.

I have bunions and flat feet.  In other words, I have problem feet.  So it's always a challenge to find shoes that work for me, with no comfort issues.  These really are fantastic, and fit like a soft glove.   Yet they've got the hearty, solid tread of a Vibram sole?!  They even come in a smallish, compact box. Boogles my mind, I tell you…
Toad & Co ~ Shire Sweater Legging, $125
The delightful Toad & Co Shire Sweater Legging is my first experience with merino wool leggings.  Oh, they make me so happy!

They aren't cheap, but they are fantastic quality and crazy versatile.  Lusciously thick. Pretty  enough to wear with a dress or tunic.  Yet practical for wearing as a base layer for outdoor adventures!  My Shire Sweater Leggings and I plan on making many fun memories together.

The waist is a little snug, but I'd still say runs true to size.  Generous length.
Stonewear ~ Pilot Top, $74
I'm a big fan of active wear, and I'm going to flat out declare:  The Stonewear Pilot Top is my #1 pick for a Fall activewear piece to add to your lineup!  As a former Stonewear Ambassador, I still have several great pieces from this brand that I wear all the time.  It's high comfort, high quality stuff.

Extremely soft, yet technical fabric makes the Pilot Top an excellent choice for outdoor activity, or as a base layer.

Runs true to size.  It has a somewhat generous cut so it's very flattering (doesn't hug or cling), but is not at all sloppy.  Love this piece!!  Comes in lots of gorgeous colors, and even a couple cute prints.
Nuu-Muu ~ Ruu-Muu Pocket Dress, $88
I've seen Nuu-Muu on social media, but this is my first encounter with a Ruu-Muu Pocket Dress.  Billed as "the perfect travel and fitness dress", at first I thought it was perhaps the wrong season to be trying it out.  But it's so stinking cute and comfortable!  And it truly does look just as good with a cardigan and leggings for Fall, as it does bare legged for summer.

Made from almost a slinky fabric, it does not cling, and delivers a flattering cut.  Having a few technical piece tricks-up-your-sleeve like this is a genius idea.  Love things you can into a travel suitcase that won't wrinkle, and can be worn a variety of ways… even to exercise.

Be sure to check out Nuu-Muu's other beautiful styles, designs, and colors. They have some gorgeous and fun prints!

If you follow their sizing chart – they run a little big.  I got an XL for size 12-14, and it's plenty roomy.  Maybe could have sized down… but I love it!
Stonewear ~ Liberty Tights, $85
This is my first pair of Stonewear Liberty Tights, and I'm hooked.  I have a couple of pair of their Liberty Pants, but I this is the more updated version of the classic "Liberty" style favorite.

The waistband is the same, but I think they've improved it.  These Liberty Tights stay up and stay put… even better than my Liberty Pants do.  Bravo!  And thank you, Stonewear!

These are another great piece that works for both travel and fitness.  The heathered gray pair I have doesn't have that shiny "gym tights" look to them.  So they work great for working out.  But I also love them with dresses and skirts at work.  Definitely plan to get a second pair.

Runs true to size.  Nice and long!!
Haiku Bags ~ Virtuoso Satchel, $110
Haiku Bags Virtuoso Satchel is the PERFECT Go-Everywhere Fall bag  you didn't even know you needed… but you definitely do!  Haiku bags are made from recycled materials with nature inspired patterns and colors.  They've got a lovely variety of well thought out designs, in many shapes and sizes to match your needs.

My favorite is the earthy fabric textures, applique leaves and flower touches, and awesome organization compartments.

I've been grabbing this Virtuoso bag again and again this Fall. It's an excellent, medium size.  I use it as a work bag, purse, day adventure tote, or "throw everything in" travel bag.  A+ design!
Toad & Co ~ Lightfoot Long Sleeve Shirt, $79
The outdoor woman needs a new flannel shirt each Fall, right?!  It's all about the fabric quality and fit, though… and sometimes it's hard to find a great flannel.  Well, you just did.

Check out the lusciously soft Toad & Co Lightfoot Long Sleeve Shirt.  I love the non-traditional horizontal striping and soft colors. Super comfy to wear, and the fabric feels great next to your skin.  Perfect mid-weight.

Runs true to size  (not too fitted at all, which I love).
Hoka One One ~ Clifton 4, $130
Hoka One One is my favorite brand of running shoe.  Probably because it's the only shoe I can even manage to run in!  I learned that lesson when training for my first half marathon, and have worn Hoka's ever since.

I've been trying the new Clifton 4 road running shoe this Fall.  I had previously worn the Clifton 2, and I like this version better.  Not quite as narrow, and oh so comfortable.  If you haven't tried that signature Hoka One One cushioned sole, please do.  You're knees will thank you!

Runs true to size.
Orvis ~ Field Fresh Wool Vest, $159
Hooray for Buffalo plaid!  This hearty Orvis Women's Field Fresh Wool Vest caught my eye right away.  Such a fun piece, and it makes you want to head out to those woods and stay for hours.

It's made from weather proof wool, with briar-proof waxed cotton canvas on the shoulders and hood.  The PrimaLoft® lightweight down alternative interior makes it toasty warm.

Runs large.  I got my normal size (Large) and debated.  I kept it because I liked the generous fit through the shoulders, which left plenty of room to layer over even a bulky sweatshirt or fleece.  But the waist is cut so wide, there was 2 inches of extra gap to let in the breeze.  I ended up hand-altering mine, tucking in an extra inch on both sides of the vest (just at the bottom 3 inches or so).  Now I love it!
Smartwool ~ Itso Sport Stripe Sweater, $149
I'm highly sensitive to itch when it comes to wearing any type of wool, even merino wool.  But I can tell you that the Smartwool Itso Sport Stripe Sweater is completely soft, and happily itch-free!  It's a fine gauge, high quality knit in a fun style with a great feel to it.   Zippered neck looks cute up or down, giving you the option for added warmth.

It's actually made of 60% merino wool, and will make a great base layer that also looks attractive on it's own.  Sleeves are a generous length, and comes with thumb holes.

Runs small.  I sized up to X-Large, and it's still fitted (yet comfortable).
Orvis ~ Tetons Flannel-and-Fleece Jacket, $109
Definitely the shirt to grab when you're headed  out camping or even hiking!  The Orvis Tetons Flannel-and-Fleece Jacket is a very nice quality piece, with snap buttons and elbow patches.

Because it's a dual layer, you get additional cozy warmth over just wearing a flannel shirt alone.  More of that great buffalo plaid, with a quality black fleece interior and two handy side pockets.

Runs true to size (I'm shown below, 5'10" – wearing my typical size Large).
Hope you love these Fall outdoor gear picks as much as I do.  Have a great time playing outside this Fall, and happy trails!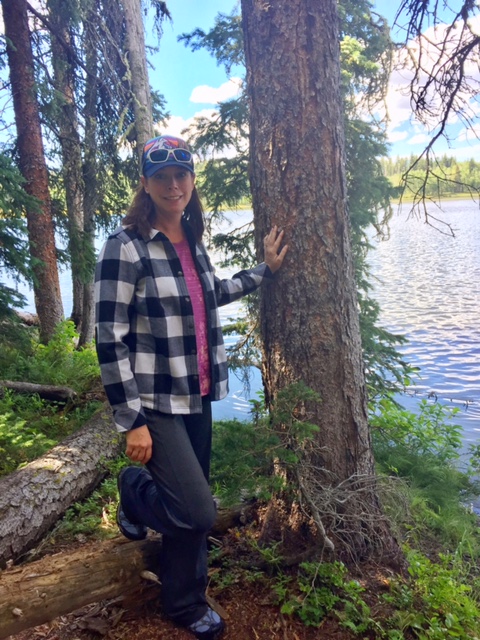 *o*     *o*      *o*
I received samples of some of the products mentioned here at no cost, for the purposes of review. All opinions are my own.