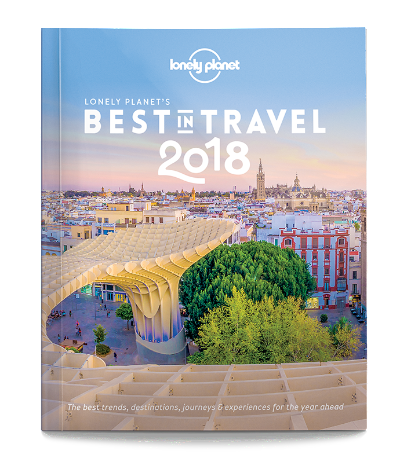 Lonely Planet's Best in Travel 2018 is the highly anticipated collection of the world's hottest destinations! These are the breathtaking places that should be on every traveler's wish list in the year ahead.  (Yaaaayy….! My favorite, Portugal, made the Top 10 List!)
What a fabulous gift idea, for any who love to travel.  I love this gorgeous little book, plus it's an awesome size (5.8 x 7 inches).  Works beautifully as either a coffee table piece or stuffed right in your travel bag to bring along.  And it's jam packed with gorgeous photos, and helpful and inspiring tidbits for your wanderlust plans.  Or daydreams.  🙂
Once per year, Lonely Planet experts reveal their selections of the Top 10 countries, cities, regions and best value destinations. This is an excellent resource for travelers looking for recommendation on what to experience in 2018.
Top Ranked Country, City, & Region
Chile takes the coveted top spot of the best country for travelers in 2018!
Seville receives the accolade of number one city in the world to visit next year. Hot on the Spanish city's heels is the American comeback city Detroit and Australia's oft-overlooked capital Canberra.
The region which Lonely Planet's Best in Travel 2018 declares the number one must-see in the coming year is Belfast and the Causeway Coast in Northern Ireland, with Alaska in second place.
Tallinn, Estonia has been crowned Lonely Planet's best value destination of 2018, closely followed by Lanzarote in the Canary Islands and Arizona in the USA.
San Juan is also showcased in the 10 best cities list. Lonely Planet's Central America and Caribbean destination editor Bailey Freeman said, "While Puerto Rico's capital was hit hard by the hurricane last month, San Juan's resiliency will have it back on its feet for travelers in 2018."
How Do They Chose?
Deciding what destinations to include in Lonely Planet's Best in Travel annual selection is a considered process involving Lonely Planet's most experienced travelers. These experts provide hundreds of recommendations of places not to be missed.
These places are then shortlisted by a panel of in-house travel experts. Criteria such as topicality, novelty and wow-factor are considered to decide what to include in the inspirational travel yearbook.
Exciting Change for 2018
And for the first time, this year Lonely Planet's Best in Travel 2018 is available as a larger, hardback edition!  What a great gift idea for the travel lover in your life.
"These are the places you shouldn't miss next year," said Lonely Planet's US magazine managing editor Alex Howard. "From Alaska to South Africa, our community of travel experts have named the top places to experience. Whether they're coming into their own, celebrating an anniversary or have seen a resurgence in recent years, all these destinations are worth a visit in 2018."
This impressive guide also includes:
Top ten countries, regions and cities
Best value destinations
Best culture trips for families
Best new openings and experiences
Best new places to stay
Top destination races, from walks and marathons to cycles and swims
Top vegetarian and vegan destinations
Top small-ship expedition cruises
Best places for cross-generational family trips
Best private islands that everyone can use
Lonely Planet's Best in Travel 2018
Lonely Planet's Best in Travel 2018 features trends and experiences to prepare for in the year ahead. Top trends include destination races, vegetarian and vegan travel, and exploratory cruises. Lonely Planet's experts also rank the top 10 best new openings, places to stay and culture trips for families.
The landing page, www.lonelyplanet.com/best-in-travel, features all of the Best in Travel 2018 destinations and more advice on visiting them.
Four videos accompany each of the number one destinations.  The videos reveal why each destination was selected as a top spot for travel in 2018.  Footage was all captured using GoPro equipment, by Lonely Planet's experts on the road.
Travelers can enter a My Best in Travel video competition to win round-trip flights for two to the number one country Chile and a GoPro HERO6 Black provided by this year's sponsor, GoPro. Best in Travel 2018 is also the cover story in the upcoming issue of Lonely Planet magazine, on newsstands November 7.
*o*     *o*     *o*
I received a complementary media copy of Lonely Planet's Best in Travel 2018, for the purposes of review.  All opinions are my own.