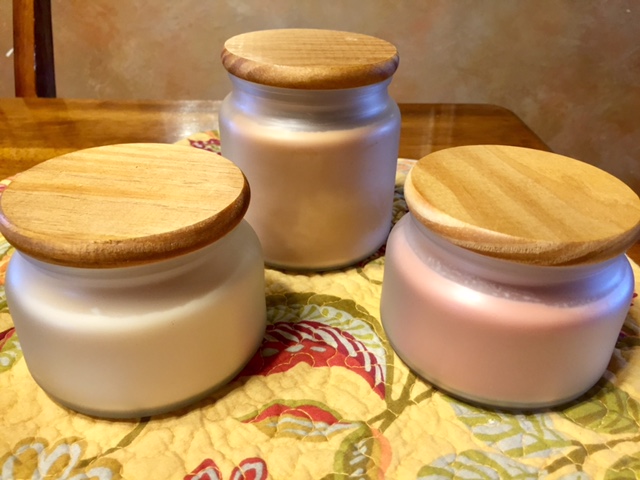 It's that time of year, when there's a chill in the air. We get out our sweaters and boots.  Start spending a bit more time inside our cozy homes.  And hot cocoa, throw blanket, movie watching lounging begins!  Plus, I've recently re-discovered my love of burning a great candle.
Candles add such a cozy ambiance to your home.  They add to your décor, but also serve an enjoyable purpose.  And when specialty Fall scents become available – like Pumpkin Spice and Apple – all the better!  Allow me to introduce you to some pretty fabulous, natural soy candles I've been using:  Pure Integrity Candles.
Pure Integrity Candles ~ Review
Pure Integrity Candles is a family-owned and operated business.  They were developed by parents who wanted to create a toxic-free candle that burned clean.
Pure Integrity candles are 100% made in the USA using cotton wicks, natural soy wax and healthy fragrances.   The are not only clean-burning, but are highly scented candles.  But not overpoweringly so, just in a very pleasing way.
The set of Pure Integrity Candles I received to try were each jar candles, which come in your choice of four different sizes.  The frosted glass jar and pretty, earthy wooden lid result in a candle that is beautiful and of nice quality.  I wondered if lighting a cotton wick would prove more difficult?  Not at all… they light quite easily.
Each of my jar candles has 2 wicks.  They burn nice and evenly, with the melt gradually extending all the way to the edge.  Nice, because no "center hole melt" means you truly get your money's worth out of your Pure Integrity Candle.
So What Does "Clean Burning" Really Mean…?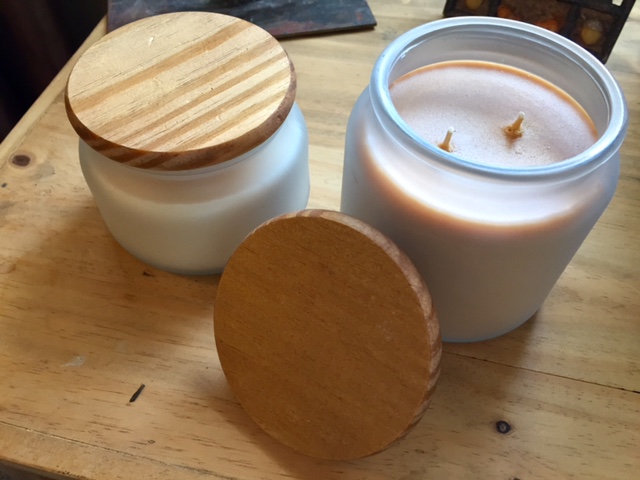 When you really notice the difference of how cleanly these awesome Pure Integrity Candles burn is after a few uses.  You know how a typical jar candle gets black smokey smudge marks on the glass after a while?  I saw none of that with these Pure Integrity Candles.  It's pretty impressive! After doing a little research, if you do see some soot, don't worry. It is NOT petro-soot (harmful, with toxins) you get with other candles.  Trimming your wick will help.
My glass jar portion is just as clean and lovely after 10 burnings, as it was when they were brand new.
That to me is the best testimony as to the difference in burning these quality soot-free, soy candles.
How Do They Smell?
And the smells!  Mmmmm… the smells!
I'm sensitive to artificial smells, or scents that combine too many fragrances in a blend.  The pure, simple scents of the Pure Integrity Candles I tried were all amazing.
Vanilla (their classic best seller)
Pumpkin Spice (self-explanatory in its awesomeness)
Hot Apple Strudel (mild, but so lovely; may make you crave dessert)
I'll warn you, there are almost *too* many wonderful scents to choose from on their website.
And the "Most Intriguing" Award goes to:  Heirloom Tomato!
Pure Integrity Candle Giveaway
Yaaay!  I love giveaways, and I feel like I haven't done one in awhile.  I'm so excited to send someone some of these wonderful jar candles.
Pure Integrity has offered to send one of my winning readers the same set of 3 jar candles that I received:
Vanilla – 10 oz jar candle
Pumpkin Spice – 16 oz jar candle
Hot Apple Strudel – 10 oz jar candle
Enter using form below.  Open to US residents, ages 18+.  Void where prohibited.
*o*     *o*     *o*
I received some Pure Integrity candle samples at no cost, for the purposes of review.  All opinions are my own.