Hidden in the Colorado Rocky Mountains is a fabulous ski destination, Crested Butte.  With long, fabulous runs, combined with lower prices and crowds – this is a mountain worth checking out for your next family's ski trip.   Crested Butte is such an ideal place for beginners to learn to ski.  This is the stage my kids are in, and we've accomplished super fun strides on this mountain.
Last weekend we had an early season ski trip to Crested Butte.  The first day, our kids were in such a small ski school group, they were practically private lessons.  As a result, by our second day on the slopes, everything clicked into place.  We had such a wonderful time!
After working on our kids learning to ski for a few years now, that Sunday turned out to be what I'd classify as my favorite day of skiing EVER!
And Crested Butte has officially become our favorite place to ski in Colorado.  Here's some of the reasons why.
#5 – More Affordable Than Other Colorado Ski Resorts
The sad reality is that it's expensive to ski.  And it's really, really expensive to ski in Colorado!  Since many of our glitzy big mountains are big destinations for wealthy international travelers, they also have the price tag to match.
For some reason, Crested Butte is a hidden gem.  It's not in the main I-70 corridor like other ski mountains, which seems to take it off many people's radar.  Hence their loss, is your gain, I say!  It's a HUGE mountain, comparable in quality and fun to any of the big ski resorts.  Plus, a family ski trip here is flat out cheaper.  More affordable lodging, less expensive restaurants, better prices on lift tickets.  Plus, their kids ski free deals!
#4 – Kids Ski Free
That's rights… kids ski free.  This year, up through December 15 they offered free skiing to kids ages 12 and under.  After that date, 6 and under is free.  Watch the early season promotions if this helps tip the scales for when your family can go!
This has been a light snow year thusfar.  When my family skied there on December 9 & 10, they only had 14 runs open, and 13" of the 14" of snow were man made.  But we still had a fantastic time.  It was sunny, 40 degree weather and the snow was better than I expected.
Consequently, an early season trip is definitely do-able! You might want to keep that in mind for next year.
#3 – Naturally Divided Terrain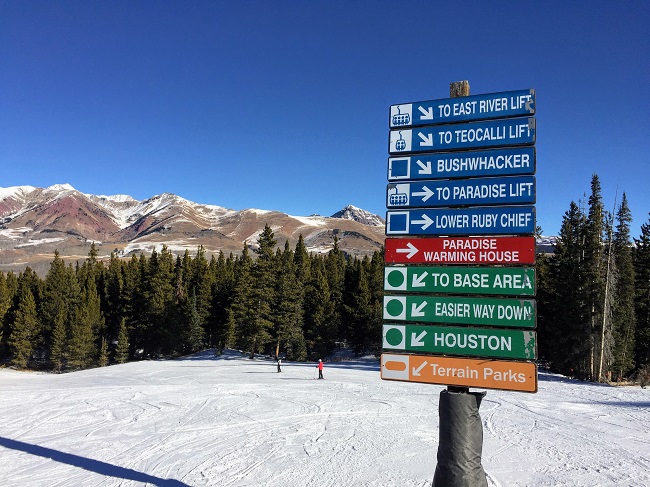 I didn't figure this out on my own.  Zach, the PR guy from Crested Butte explained it to me, and it made a lot of sense.  "Naturally divided terrain" means they have entire mountain sections that are:
Green runs
Blue runs
Black runs
This works out really well for new skiers, and families looking for a good place to learn to ski.  The result is you are skiing amidst fellow skiers at your level.  Those speedy teens who fly down the mountain will likely be back on those tougher runs, while your kids are on the green mountain taking it easy.
This is a fairly unique ski mountain situation, and is a BIG plus in learning to ski at Crested Butte.
#4 – Lower Crowds, Laid Back Atmosphere
This one is hard to fully convey, but again for me – it comes down to the contrast in atmosphere between Crested Butte and other famous Colorado ski resorts.  At Crested Butte, you find families and people who just love the mountain and being outdoors.  Not people there to show off their $1000 snow suits, and look good sitting in a fancy apre ski bar.
Waiting in line for 30 minutes to ride a chair lift?  No thanks!
That's part of why Crested Butte has the motto "Ski big lines… don't wait in them".  You won't find that kind of human traffic on the mountain here.  It makes things much more relaxed and enjoyable.  And the runs are just as long and fantastic!
#1 – Ski School Classes are Small & Customized
Now this is where we get serious about finding the BEST place for your kids to learn how to ski.  First, I've become a believer in ski school lessons.  Yes, my husband and I both know how to ski… and could, in theory, teach our kids.
But I guarantee the ski school instructors have done a better, quicker, and more effective job of teaching our kids to ski.
Plus, when you check your kids in for lessons you get some grown up time to ski any runs that you like.  🙂
We've had wonderful experiences with the Crested Butte ski school, during two different winters.  Although they are technically group lessons, the groups are so small that your child is getting excellent attention and customized instruction.
Sometimes that may even mean one-on-one.  True story!  Both winters in Crested Butte ski school, my daughter ended up having an instructor to herself.  They just skied together all day, with constant pro tips and coaching.
On this most recent visit, we skied 2 days.  The first day, the kids were in ski school lessons. And the second day, we skied as a family.  This was a brilliant approach, and the perfect amount.
Although we were tired Saturday night, I'm SO happy we decided to ski again on Sunday.  We saw amazing strides in our kids!  Our youngest finally gained complete control over stopping and turning.  This has opened up a whole new exciting world of skiing for our family.
Thank you, Crested Butte Ski Instructors!
Crested Butte is Great for Beginners
With all this of offer, Crested Butter is truly an ideal place to take your family skiing.  And it is perfectly suited to learning to ski.  If you'd like a peek at our past visit, which has more photos and details on lodging, check out my review on Why Crested Butte is an Excelled Ski Destination for Families.
Happy trails this winter!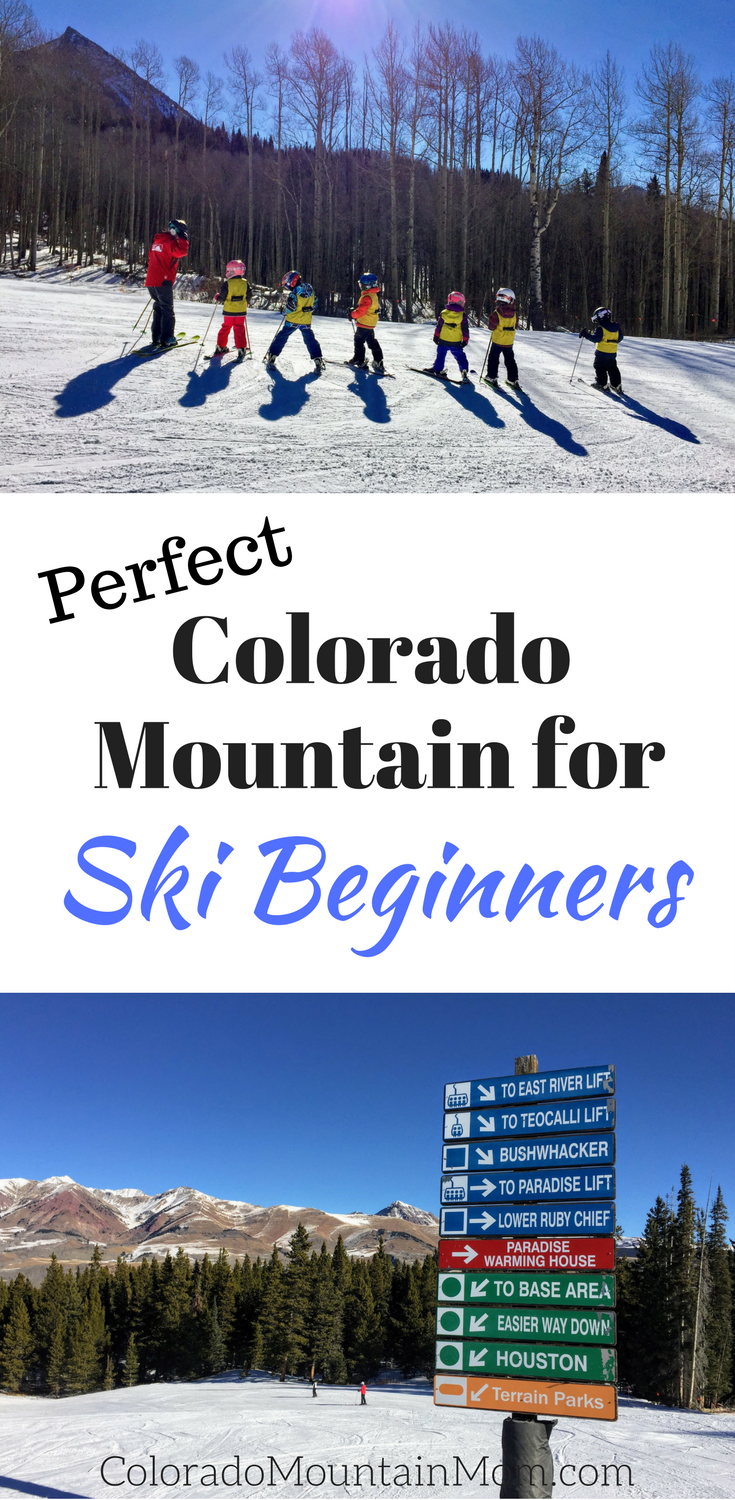 *o*     *o*     *o*
My family was hosted on a media visit to ski Crested Butte.  All opinions are my own.