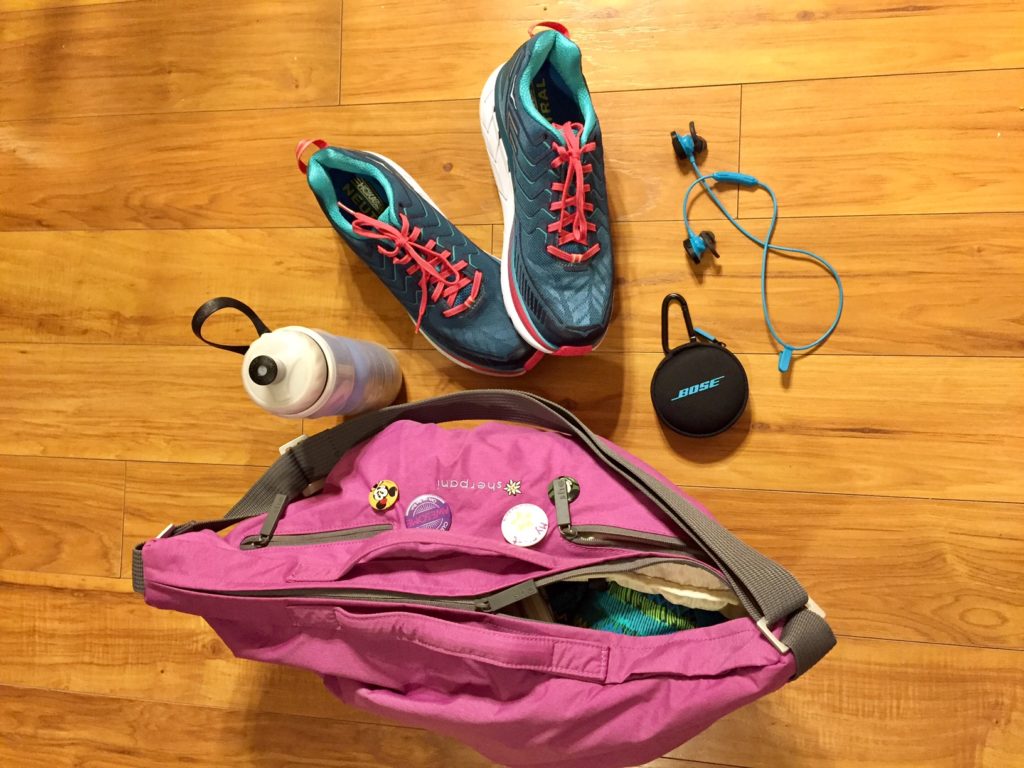 Have you heard the latest craze going around the MomiSphere about "Self Care"?  Self care. Huh.  Sounds…. selfish.  And who the heck has time for self care, anyways?  With all the other demands on our time?  Plus all those other things we're supposed to be doing, which are also important, like getting regular exercise?  And then there's the precious, regenerative yet oh-so-elusive "Me" time.
What if we rolled it all into a ball:  Self care, "Me" time, and the need for exercise?  I'll be honest, I really struggle with fitness motivation these days.  So I've been thinking maybe this is a fresh perspective that can help me. Could this put a more positive spin on getting my rear in gear?
Finding Fitness Motivation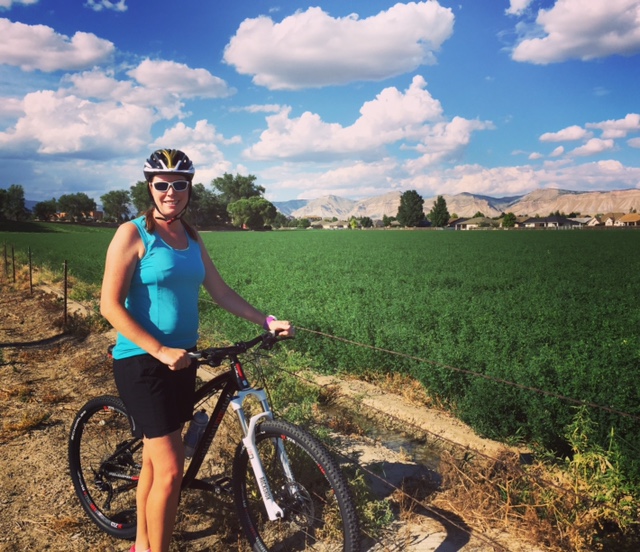 I've always been a reasonably active person, who enjoyed staying in shape.  I do believe keeping yourself fit allows you to enjoy life more.  So when your friends invite you on a long hike, it's totally doable.  When your kids want to go on a bike ride, you've got no issues keeping up with them.
There are obviously other motivations for exercise. For women, controlling our weight is always in the back of our minds.  But I've found myself caring less and less about that, now that I'm in my 40's.  Call it acceptance.  Exhaustion.  Or maybe I've just given up.
Ahhhh… but I can't give up just yet. Because then there's the HEALTH aspect.  And I realize THAT is more important now, than ever before in my life.  Building bone density, while I still can.  Lowering my cholesterol (oh joy). And so on, and so forth.
So I really need to exercise.  For my well being.  Future health-wise, emotional health-wise… "self care" wise!
Self Care Exercise Can Be Your "Me" Time
Although it's somewhat self-explanatory, I was curious about the definition of Self Care.  Here's one I liked:
 "Any activity that we do deliberately in order to take care of our mental, emotional, and physical health. "   ~ from https://psychcentral.com/
Yep, exercise fits within that footprint.  And so does "Me" time.
I like the approach of viewing heading to the gym, or taking a solo bike ride, as self care.  I'll admit, when I first heard that expression it sounded selfish to me.  But taking care of your health is not selfish.  It's important.  To you, and everyone who loves you.
It's about refueling.
It's about considering your needs.
Hey, I need to exercise! Exercising gives me more energy!  And I also need to be alone sometimes.
Rock Your Workout Solo
Let's also quantify that this refreshing, refueling, self care, exercise "Me" time needs to be on your terms.  In my case, that means being alone.
I like to carve out time by myself to exercise.  It can be sneaking out in the evening alone to walk the dog. It can be a lunchtime workout, where I'm not dealing with any customers or coworkers.
Or it can be a weekend bike ride, where I go out alone for just 45 minutes or so.  Then I don't have to worry about keeping kids safe alongside the road, and can go as fast and far as I want to.  So liberating!
This is how I merge getting in some "Me" time, with exercising.
My Best Winter Exercise Tips
Lastly, I'd like to leave you with what I've found helps me stay on track with exercise, with winter exercise.
 1. Rock some wireless headphones. You need some good wireless headphones! Once you go wireless when working out, you won't go back. Play some motivational tunes to keep you going, via a bluetooth connection to your phone. Check out these sweet Bose SoundSport headphones from Verizon, because in my experience – nothing beats the sound of Bose.  These deliver amazing bass, especially considering they are earbud style headphones.  You can even take a call with the inline mic, without having to reach for your phone.  And the ear piece fits me (and stays put) better than any other pair I've ever worn.
[I've owned the "wired" version of these for 3 years, and absolutely love them.  But after trying a demo pair of these wireless Bose SoundSports, I desperately want a pair!]
2. Smart Hydration.  A big fan of water, it used to be all I would drink.  But they've started improving hydration drinks. They now make some great tasting options with all natural ingredients like coconut water and electrolytes, that are still low in calories.  A quality beverage as a recovery drink is a great idea for after your workout.
3. Cute and Functional Exercise Duds. Let's do this right, ladies. As part of our self care, I think we need to treat ourselves and feel good about our workout clothes!  No giant baggy cotton t-shirts and sweats.  Find some technical fabrics and styles that are flattering, and I swear it makes it a little easier to head to the gym.
4. Critical Gear For Outside Play.  For outdoor endeavors in cooler temperatures, the two core pieces of gear I can't live without include:
Technical fitted fleece
Wind proof outer layer
This is a great combo for walking, riding, or running in Fall/Winter when you'll be potentially breaking a sweat.
5.  If You Don't Like It, Don't Do It. At it's heart, moving your body is enjoyable.  So in theory, getting exercise should be enjoyable – right? Give yourself a break.  Do the things you enjoy.  I've finally realized/decided that riding my bike is much more fun than running.  At least for me, given my bad knees and body type.  So I don't make myself run anymore.  🙂
Enjoy Your Healthy "Me" Time!
So why not try working some exercise into your day as your Mom "Me" time?  I'll be doing so this winter, and hope it helps give me a new lease on fitness.
Please share any motivation exercise tips that work for you!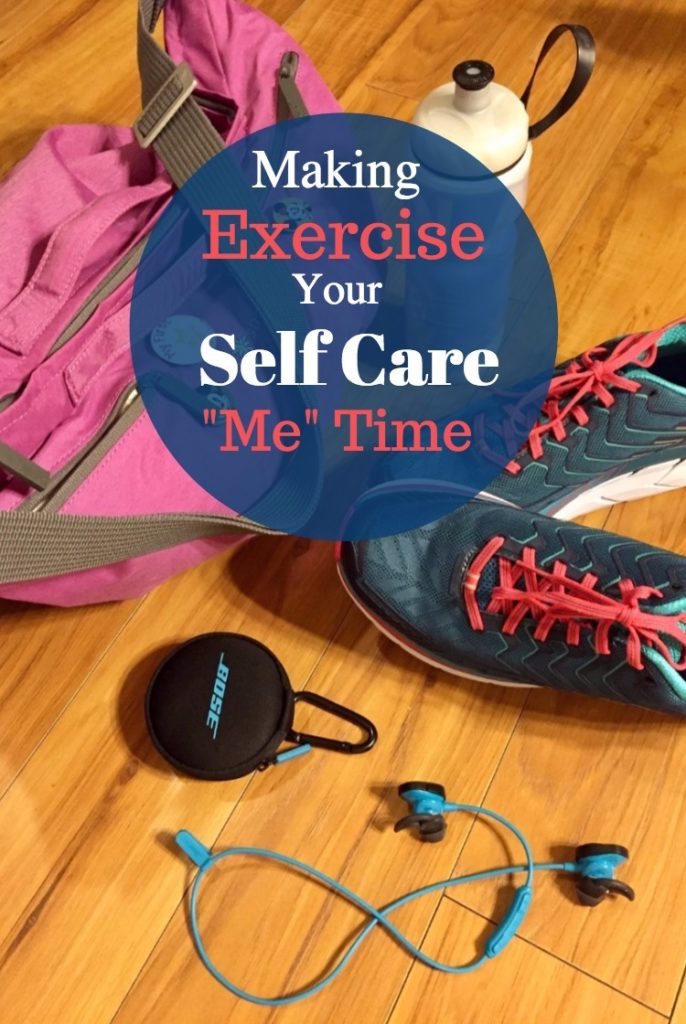 *o*     *o*     *o*
This post is a sponsored conversation, in partnership with Verizon.  All opinions are my own.