Allow me to tell you a little bit about Colorado's loveliest zoo!  Cheyenne Mountain Zoo is truly unique, with one exhibit in particular that will knock your socks off, and possibly change your life.  But I'm getting ahead of myself.
Cheyenne Mountain Zoo is a gem that has been brilliantly nestled along a mountain side, near Colorado Springs. Trails to view the animals slowly wind up the mountain, switchback style.  Foliage and trees are prevalent, and while some exhibits (like the monkey house) feel a little dated… most of the habitats are excellent.
We visited on a cool, rainy November day.  Which I highly recommend!  The animals were active, and the crowds were very low.  One of the things I love about going to a zoo, is that each visit is unique.  Here are what we feel were the Top 5 Experiences at Cheyenne Mountain Zoo.
#5 Rocky Mountain Wild… Moose, Mountain Lions, & Bears!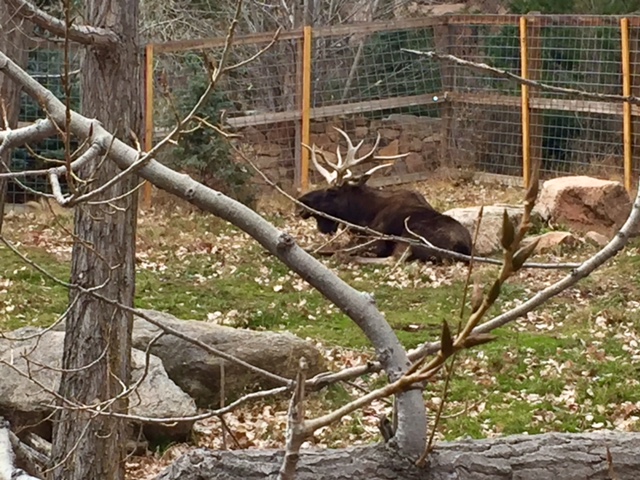 Especially given the natural Colorado Rocky Mountain surroundings, I loved the Rocky Mountain Wild section of the Cheyenne Mountain Zoo.  Here they feature some healthy and happy looking animals that are native to this area and mountain landscapes.
Well, I don't know if we actually have GRIZZLY BEARS  in Colorado.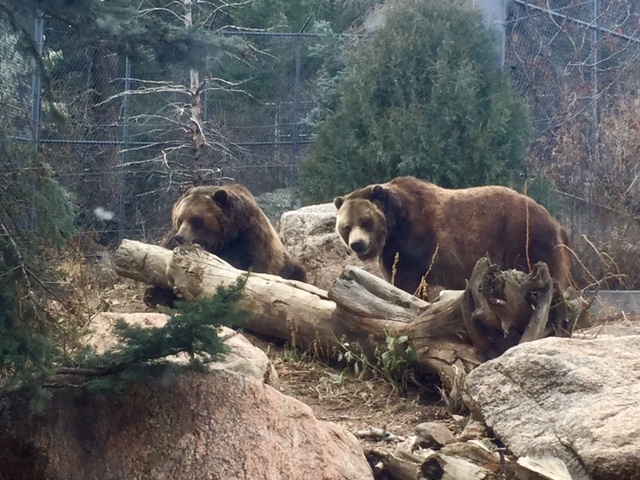 But, it's still fun seeing them.  My goodness, they are massive!  We watched them quite awhile, as they were roaming around and so fun to watch.
#4 Clever Goats, Will Work for Food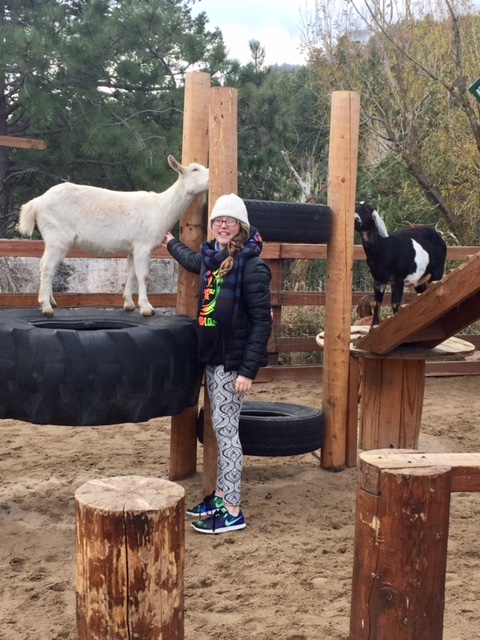 A highlight for kids is always a petting zoo.  At Cheyenne Mountain Zoo, this is covered by their goat "farm".  With a staff person on hand, they allow you to enter the goat's play area and interact, brush, or feed them.  You can buy a cup of goat food for $1.
And one clever guy in particular knows how to pedal a bicycle wheel, to work a pully system that delivers a cup of food.  Very entertaining to watch!
#3 Lunch at Grizzly Grill
Our pick for when you get hungry around lunchtime?  Eating at Grizzly Grill!  We were pleasantly surprised at how good the food was here.  The kids loved the pizza.
We also scored some really cute insulated travel mugs filled with hot chocolate, for only $6.50.  We are still using ours now that we're back home.
And the best part?  It was TACO TUESDAY!  Holy cow, their tasty tacos were only $2 each.  We had our choice of three flavors (pork, pulled chicken, or crispy avocado) and they were all super delicious.
You know you're in the right place when you see a bunch of zoo staff eating their lunch there, too!  A group of them had swung by for Taco Tuesday.
#2 The Loft – Interactions with Reptiles (Whaaaa??)
Now normally, any incident involving me seeing a snake would make my "Yukky & Terrifying" list, not my "Top 5 Experiences" list.  But the volunteers at The Loft turned our reptilian encounter into a pleasant and interesting one.
When our boys asked "Which is your BIGGEST snake??" (such a first grade boy question)… this helpful worker took it a step farther.  She went ahead and dug the largest snake out of it's cage, for us to see and even touch.
As someone with a morbid fear of snakes, I was fascinated with her comfort level in handling this slithering creature.  I asked if this was something she had always done?  Did she raise a son who owned reptilian pets?  Nope.  These are skills she has acquired as a zoo volunteer, which I though was awesome and very impressive.  She mused, "If someone would have told me 15 years ago I'd be grabbing and holding a snake – I'm not sure I'd have believed them!"
We also got to watch a volunteer training a parrot, and another giving a lizard his weekly soak bath.  Being able to chat with knowledgeable people about animals and their behaviors makes a zoo visit even more enjoyable.  Don't miss swinging by The Loft, if you agree!
#1 Petting… err, I Mean Feeding… Giraffes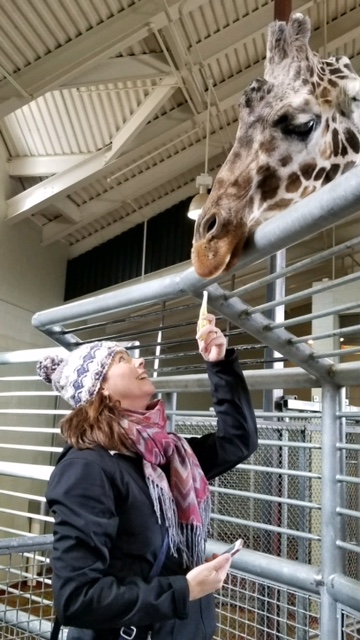 Are you supposed to pet them?  Who knows.  But they are certainly friendly enough to get away with it. This experience is SO wonderful, and absolutely blows my mind!  I've spent a lifetime daydreaming at zoo exhibits of gorgeous, furry, wild animals "What would it be like to pet him?"
At Cheyenne Mountain Zoo's Giraffe Feeding Experience, you get your chance to find out. And it's fantastic.   You can purchase a bundle of fresh lettuce leaves for $3 to feed the giraffes.  Note that they do not allow you to bring your own lettuce from home.  They are very careful about their health and diet.
We even got to pet the baby's cheek!  So precious.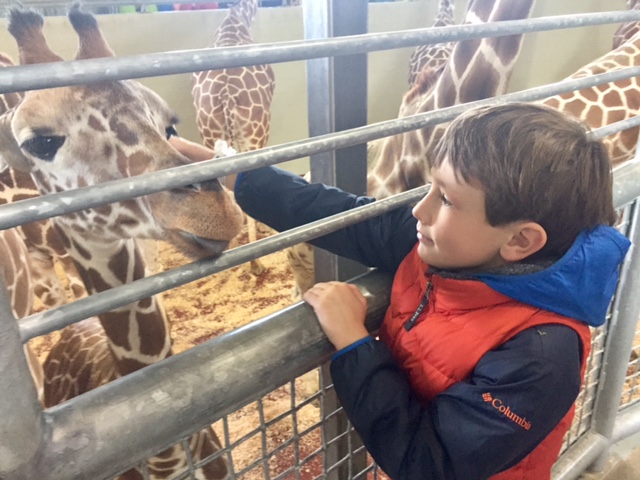 They've got a great deck structure built outdoors for this interactive experience.  But on chilly days like our visit, you can also go indoors and get a chance to pet and feed the giraffes.   This is a Colorado Must-Do!!!
I highly recommend a visit to Cheyenne Mountain Zoo.  It's truly one of Colorado's best family attractions.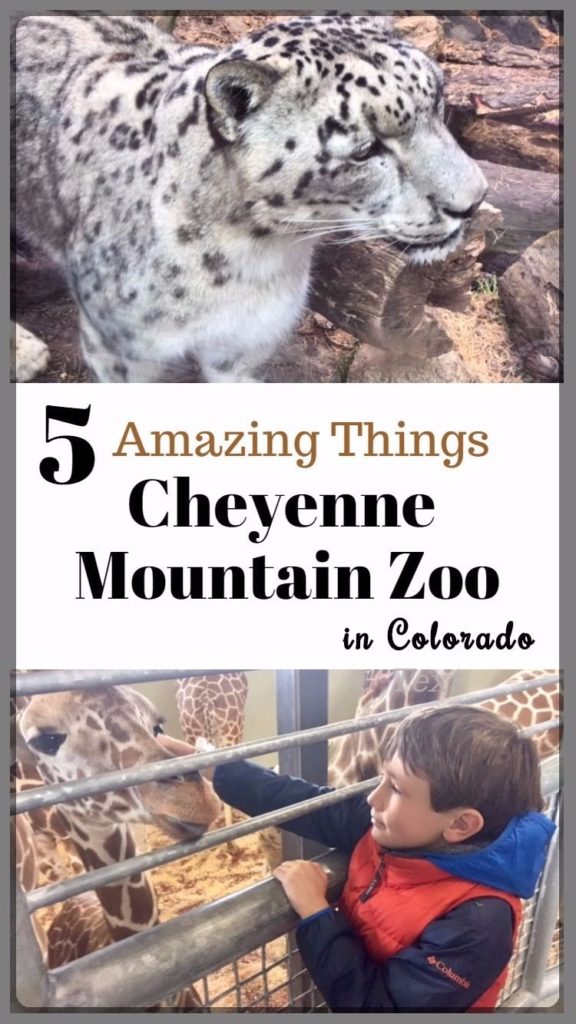 *o*      *o*      *o*
We received complementary media tickets to visit the Cheyenne Mountain Zoo.  All opinions are my own.