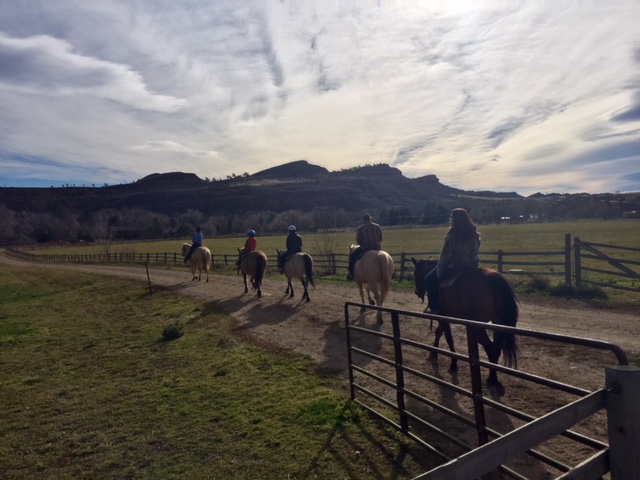 Dude ranch vacations are becoming more common, with many people exploring this option for their next family trip.  Why are these venues so popular?  What should you look for when selecting a ranch?  And is this type of experience right for your family?  Plus a look at one I consider special, Sylvan Dale Ranch.
The secret is out.  Dude ranch vacations offer a unique opportunity to unplug and live a relaxed, Western lifestyle for a few days.  They are truly amazing experiences, and here in Colorado we have numerous guest ranches available.
My family has had the opportunity stay at a few of the Colorado dude ranches, and it's become one of our absolute favorite vacations.  However, it pays to do your research, as there are definitely certain aspects to consider before selecting a ranch.
Last Fall, we enjoyed a visit to one I think is particularly special:  Sylvan Dale Ranch near Loveland, Colorado.  Here's an overview of our stay at this charming ranch, along with some helpful information if you are considering a dude ranch vacation for your family.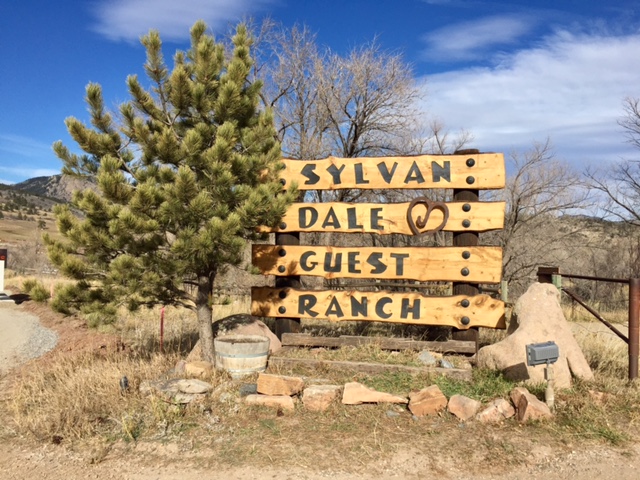 Best Age for Dude Ranch
My first tip?  Unless an adult in your party plans to stay behind and mind the baby or toddler… dude ranches are typically not for younger children.  Be sure to check the details on the ranch website, as some do not even allow children below the age of 6.
Most of these ranches have separate kids programs to occupy your children, at least during the peak summer season.  They literally whisk your kids away for a separate itinerary from the grown-ups.  You typically re-group in the evening, to eat dinner together.
We've had mixed success with this.  Although it can be relaxing to have some kid-free time, typically when I'm on a family vacation I prefer us to spend time together.  I recommend looking for a ranch with a flexible policy.  Some allow you to choose a family trail ride (or other activity) if you prefer, rather than having the kids in a separate program.
Easy to Access Location
Here's the rub.  You get a large enough ranch to have miles of beautiful riding trails… and it's often in the middle of nowhere!  If you are traveling to Colorado for this experience, just be aware that some ranches are much easier to access than others.
Sylvan Dale Ranch wins hands-down in this regard.  Situated just 7 miles outside of Loveland, its location on the Front Range at a relatively low elevation level gives it a unique advantage.  It's an easy interstate drive from DIA, Denver International Airport.
Many Colorado ranches are located at 8,000+ feet elevation.  Sylvan Dale's relatively low elevation of 5280 feet (the same elevation as Denver) may save you some headaches… literally!
Length of Stay… Can you Afford an Entire Week?
If you can, then go for it!  Many of the larger ranches require a full week stay, no exceptions.  Check in on Sunday, out on Saturday.  Period.  End of discussion.  Which may work fine for you.
Keep in mind, this is not a cheap vacation.  The good news is, they are all inclusive and include meals and most activities.  If you are wanting to give it a try, but are not sold on investing in a spendy full week… look for a smaller ranch that offers more flexible options.
For example, Sylvan Dale Ranch offers 3-night stays (depending on the dates), and is happy to work with you on a booking that's right for you.  This will be your first taste of the personalized service you'll receive from them.
What Types of Activities at a Dude Ranch?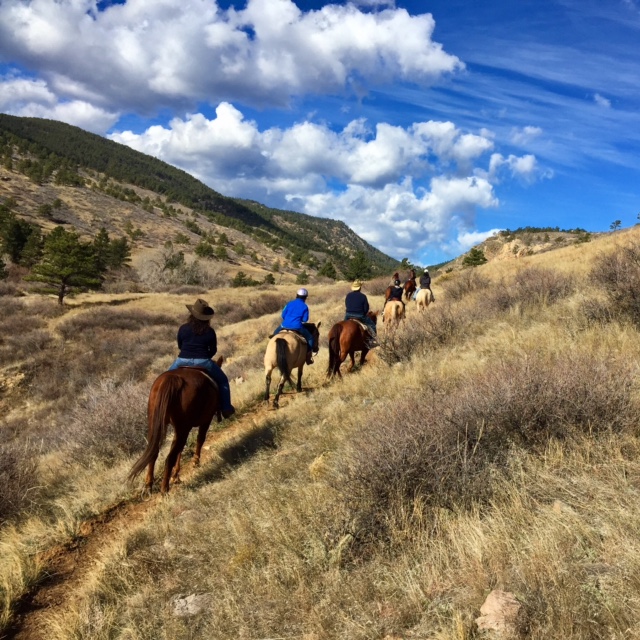 Pretty much anything outdoors and/or Western-ey!  If you so choose (and I think you should… it's the best part!), you'll spend lazy days riding horses through beautiful mountain terrain.  Then in the evenings enjoy a cozy atmosphere in a central lodge, with all guests gathering for a delicious meal served in a main dining hall.
Usually the Colorado guest ranches offer lots of outdoor recreation opportunities, customized for the current season.  They've got the gear and equipment, so that's not something you have to worry about.  You'll see activities offered like archery, fishing, mountain biking, heck… even cross country skiing.
But if you ask me, the highlight is the horses.  It's so wonderful to be matched with a horse for the duration of your stay, and get to ride him/her several times throughout the vacation.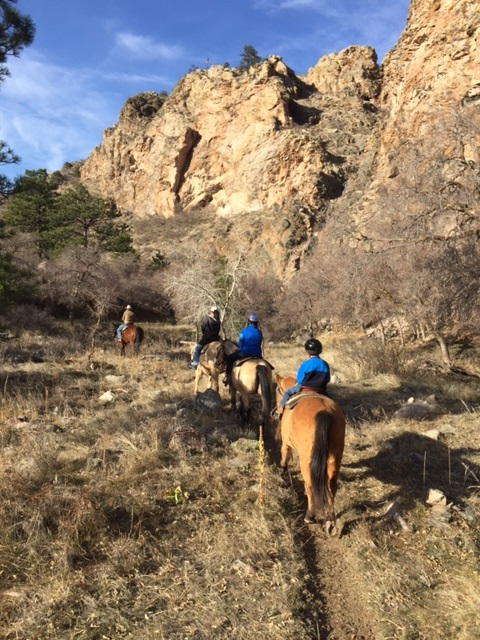 Hey, if you want… you can pretend that it's your horse.  No judgement here.
I'm admittedly biased because I'm a horse lover.  But my husband can offer a more neutral perspective, as he's not too crazy about horse riding.  Trail rides are not his favorite dude ranch activity.  But in spite of that, the overall stay at a dude ranch is such an authentic and relaxing experience that he really loves it.  There's something for everyone to enjoy.
As a side note, my husband experienced his most fun trail ride ever at Sylvan Dale Ranch.  This was thanks to a combination of the fun and exciting riding terrain, and their great horses which are not just auto-pilot robots… but exhibit plenty of personality.  It was awesome to see him enjoy it so much.
No Screens… But Don't Panic!
I'm not ashamed to say that I get a little uneasy at the thought of staying in a hotel or cabin with no TV.  And that's how dude ranches roll, people.  Your personal cabin will not have a screen to entertain you.  Yikes!
But here's where some of the more interesting and surprisingly fun experiences come in.  To compensate for this, and to help you enjoy what Western folk used to do for a good time in the olden days… each night there will be some sort of scheduled evening entertainment.
Yet another instance where the smaller, more personalized environment at Sylvan Dale Ranch comes out a head above the rest.  We thoroughly enjoyed every evening's events.
Sylvan Dale Ranch Evening Entertainment
One night at Sylvan Dale, we had a fireside sing along, led by ranch owners Susan and David.  I started out hesitant of this concept, as they started to pass out books filled with lyrics for songs like "Home on the Range", "Amazing Grace", and "Ghost Riders in the Sky" (a Johnny Cash classic).
I was wrong to doubt.  This was good, quality fun!  And by the end of the evening, our little group of 20-or-so guests had all shared a terrific time together.  Yipee-iy-aaaaayyy!!  Yippe-iy-oooooohhh!!
Another night they had a dance instructor come in and teach us all some classics like the Virginia Reel, and square dancing.  My kids absolutely loved this!  What a fabulous memory, to see them have a blast doing an activity they'd not normally be exposed to.
Man, this is how we should be living.  It left me feeling inspired, if not a little sad.  A sobering reminder of how our lazy-habit, mind-numbing default of staring at a screen on weeknight evenings is such a waste.
*Sigh*
You're beginning to see why a dude ranch vacation is so very charming, and unique!  It's not just a cliché.  It will truly take your family away from the hustle and bustle of life, for a refreshing un-plugged break.
And don't forget to look up at that star-filled night sky every night, on your way back to your family's private cabin.  Stunning.
Those Gorgeous & Gentle Horses
It seems to me that someone in charge of acquiring guest horses for Sylvan Dale Ranch must love buckskins, because I've never seen so many in one herd.  They have a fantastic group of horses available to ride at Sylvan Dale Ranch.
I loved my horse Jiminy, who is still young and spunky and had tons of personality.
My son rode Billy Jack the entire time we were there.  What a gentle sweetheart, and no "robot" boring ride either.  My kids got a serious case of the giggles when Billy Jack would head into the scrubby bushes for a belly rub (with my son on his back…!)
Ranch manager Karen keeps a loving and careful eye on the Sylvan Dale Ranch herd.  As evidenced by the annually updated binder she maintains full of "horse bios" for each steed, providing you a glimpse to learn more about "your" horse.
You'll Love Sylvan Dale Ranch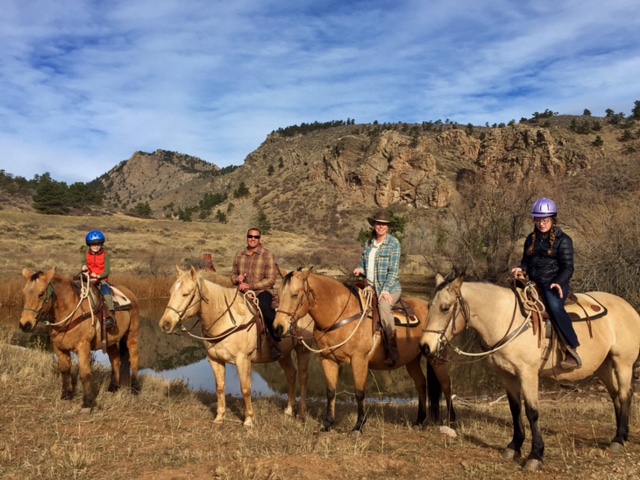 Does all of this sound like a good fit for your family vacation?  Then I highly recommend Sylvan Dale Ranch as a unique guest ranch that will capture your heart.
It is the smallest Colorado Dude Ranch we've stayed at.  The buildings and cabins are not the fanciest that we've seen.
But between the caring interactions with the staff and owners, AMAZING and delicious food served, and down to earth quality evening experiences – they more than make up for it.  We felt so welcomed, and the personalized service was evident with little touches throughout our entire stay.  We can't wait to return some day.
*o*     *o*     *o*
My family was hosted for a complementary media stay at Sylvan Dale Ranch.  All opinions are my own.