It's new, it's hot, and everyone wants a seat.  Being a full scale Broadway-caliber musical, the new Frozen – Live at the Hyperion production that recently opened at Disney's California Adventure Park is a bit of a time investment.   Even with a FastPass, waits will be involved.  And the Frozen musical itself lasts about an hour.
So is it worth the valuable park time?
This was my family's recent dilemma, when for the first time in forever... we had just one precious day to experience both Disneyland and Disney California Adventure Park.
Frozen… Are You Over It?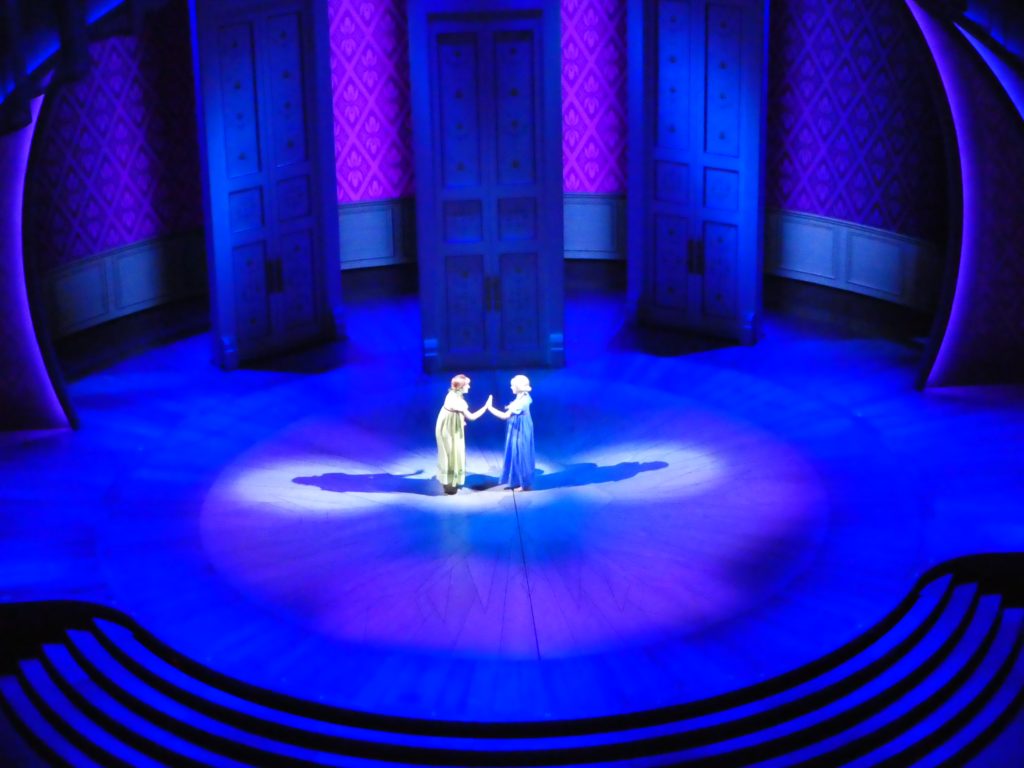 First, let's address the elephant in the room.
I'm a huge lover of all-things-Disney, and I feel like Frozen was one of their best animated films ever.  But at the risk of sounding like a hater, I'm over it. I'm sorry, but I feel like the saturation of merchandising, attractions, and promotion of that movie has given me a bit of a Frozen hangover.
I love Olaf.  I do.
"Let It Go" gives me goosebumps.  It does.
But sadly, you can get sick of even things that you love.  And that's where I'm at right now with the crew from Arendelle.  So when my local friend who was helping map out our touring plan for Disneyland/DCA asked "Will you want to see the new Frozen?"… I was torn.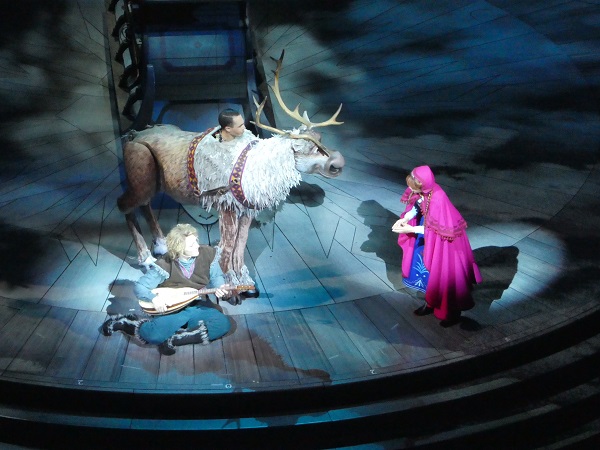 Frozen the Musical ~ Know Before You Go
Be aware that even with a FastPass, you may end up in the nosebleed section.  There are FastPasses dispersed for all three tiers of the theater.  Your ticket will be marked, so that you know which line to queue up in.
You get what you get, and you don't throw a fit.
This was my first visit to the Hyperion Theater, and it is lovely inside. But extremely vertical.   The upside is, it works magically for giving everyone a great view (perhaps along with some vertigo).  You should have an unobstructed view over the heads of those seated in the row in front of yours, which is nice.
The third, uppermost tier is extremely high up.  You're going to get a pretty cool overall view of the stage and special effects.  But you will not be close enough to enjoy the characters facial expressions.
I loved going through my zoomed-in photos afterwards, which gave me a clearer picture of what the cast looked like, and fabulous details found on the costumes.  I really do love my Panasonic Lumix ZS60 point and shoot camera that I got at the TravelingMom conference this year… that 30x zoom is awesome.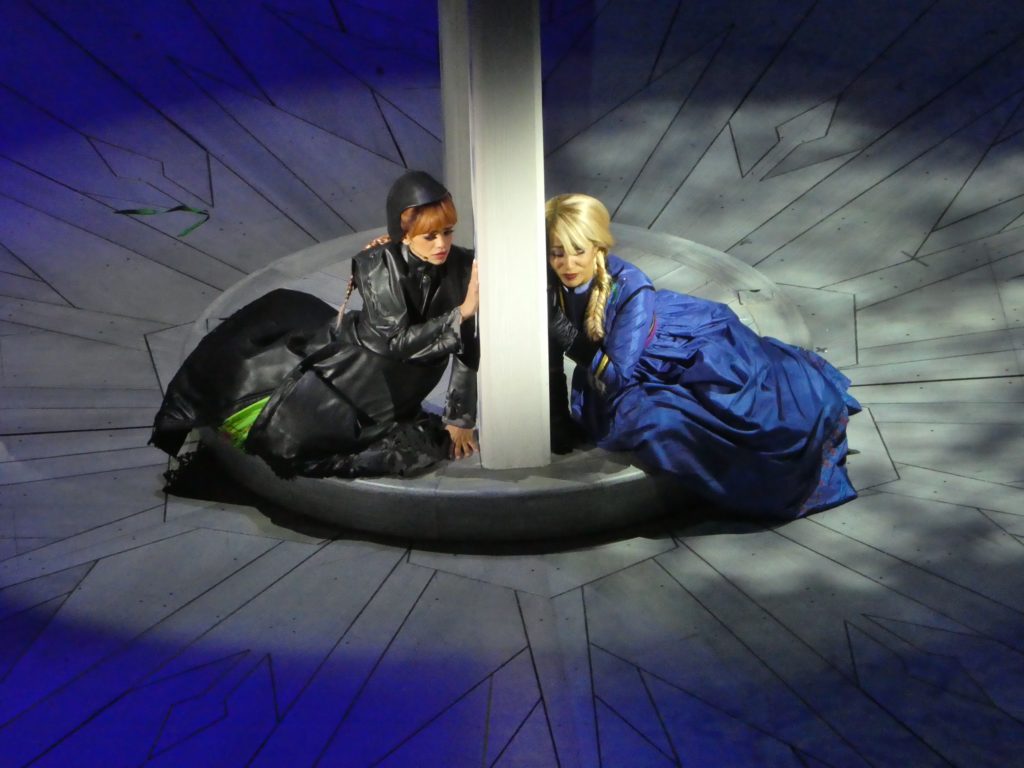 Frozen Live at the Hyperion Theater ~ Is it Worth the Time?
That's a firm "yes".
No matter where you sit, Frozen the musical is a quick moving, visually stunning, highly enjoyable show.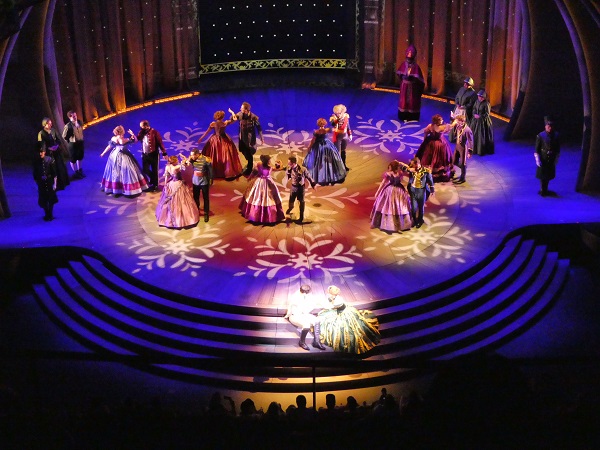 My entire family shares my Frozen-weary feelings, yet every one of us felt this was one of the best things we experienced during our Disneyland / Disney California Adventure day.  That's saying a lot, since we had a super fun-packed day!
They keep the story line moving at a rapid pace, without missing any favorite or key scenes.  The actor who played Olaf that day nailed it, to the point where if I didn't know what Josh Gad looked like… I would have questioned if it was him?!
The costumes are vibrant, and stage sets cleverly done.  The technology alone makes this show something to behold, as you watch Elsa's powers come to life when she generates bursts of ice and snow.
In short, Frozen at the Hyperion Theater is absolutely worth the park time.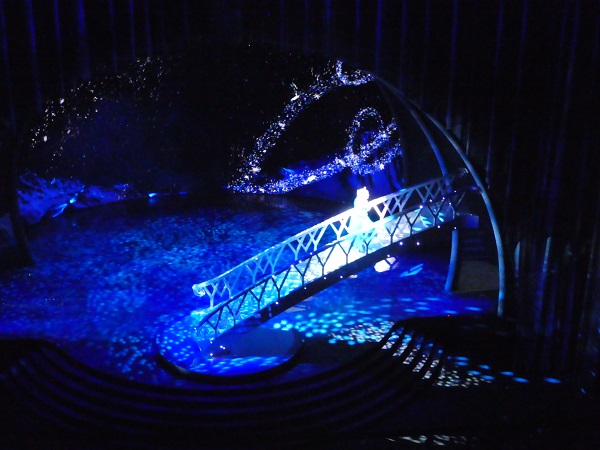 Although we had FastPasses, we still lined up in the queue one hour before showtime.  This allowed us to grab seats in the center of the row (again, in the upper 3rd tier), which was nice.
But if you've got a FastPass, you've got a guaranteed seat.  So in hindsight, I probably would have preferred to use that hour enjoying Disney California Adventure Park, and then just heading to Frozen closer to show time.
Other than that, no regrets.  It's a fantastic show!
Have you seen the new musical Frozen?  What did you think?
*o*      *o*     *o*