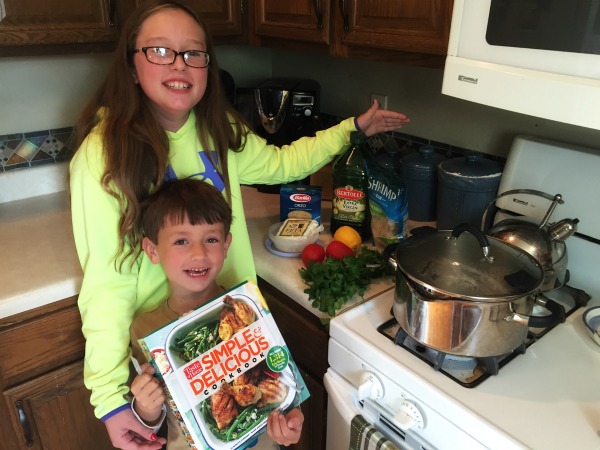 With the arrival of the blissful Fall season, comes crazy school schedules and busy weekday evenings.  Back to school certainly creates its fair amount of chaos around our house.  And this year with a new kindergartner, new middle schooler, and two very different start times… things have definitely been interesting!
Weekday meals are always challenging, so I was excited to get my hands on the new Simple and Delicious cookbook.  It's just been released for sale, so I wanted to tell you a little bit about this helpful tool.
The New Simple and Delicious Cookbook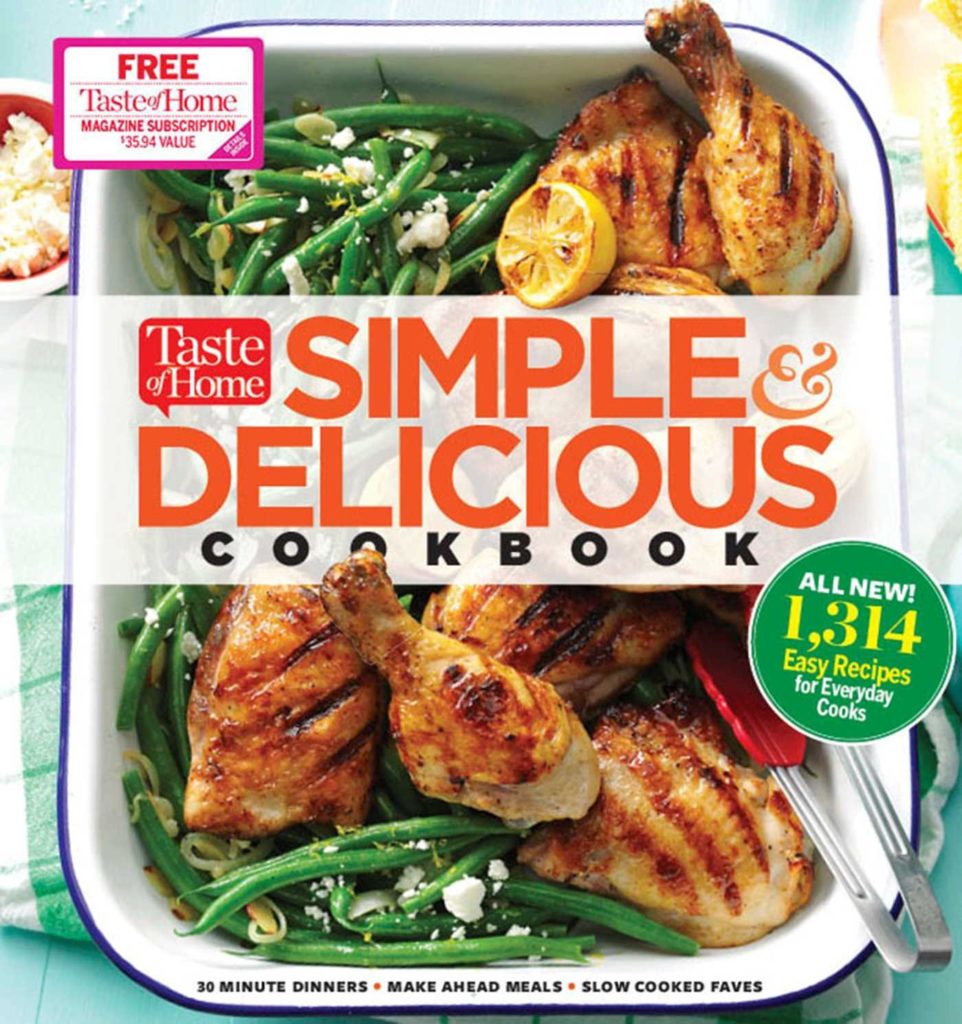 The Simple and Delicious cookbook comes in an easy-to-navigate binder with tabbed sections.  It contains 1,357 easy recipes for today's "family cooks".  That's me!  (Ok, and my husband. We operate about 50/50 on supper duty…)
Right away I noticed the practical and fun categories:
Make-Ahead Magic ~ Although not organized enough to try this yet, it's my goal to.  It makes so much sense.
Cook Once, Eat Twice ~ Perfect for taking leftovers for lunch the next day!  Big grocery money saver, too.
30 Dinners in 30 ~ Which is pretty much my max, for busy back-to-school dinner prep time…
Lunch On-The-Go ~ Sounds good to me!
Classroom Treats ~ Helpful inspiration for parents
One-Dish Meals ~ Fewer dishes to wash.  Bless their hearts.
For more than 20 years, Taste of Home has published recipes for delicious home-cooked dishes in the Simple & Delicious magazine.  Now they've gathered together this collection into one great cookbook.  It really is a must-have addition for a busy family household.
I Need Pictures, Please…
Sure, I'd love to go to culinary school someday.  I think it would be a marvelous skill to have, to be able to whip up mouthwatering dishes.
But in the meantime… I need cookbooks with pictures.  Because apparently I'm not even creative enough to read a list of ingredients and visualize if it's something that would appeal to my picky-eater children.
Taaa-daaah!  The Simple and Delicious Cookbook has gorgeous, glossy full color photos.  This is such a great way to peruse though, when you're tired, and hungry, and are just looking to spot something quickly that looks delicious.
And as the name implies, the recipes really are simple.  Thank you Taste of Home!
Common, On-Hand Ingredients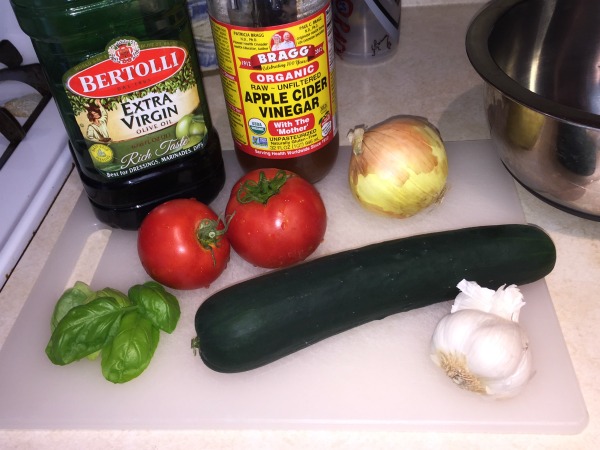 I sat down with my Simple and Delicious Cookbook one night, excited to add a few new meals to our monotonous lineup.  After I selected some savory looking recipes I wanted to try, I started a grocery list of ingredients.
And that's what really sold me on this cookbook:  MOST of the ingredients were things I already had on hand.  
So practical and awesome!  My pet peeve is trying to attempt a new recipe, and having such a long and expensive grocery list of ingredients for it, that I could have eaten out at a restaurant for the same price.  No thank you!
In addition to being a huge money saver, this also means you can often find something to make last minute, without having to run to the store.  The Simple and Delicious cookbook uses seasonings and staples that most of us already have in our cupboards.
Tasty Recipes My Family Tried Out
So what did we try?  We actually tested out a few things, but here is my new favorite:  Shrimp Orzo with Feta!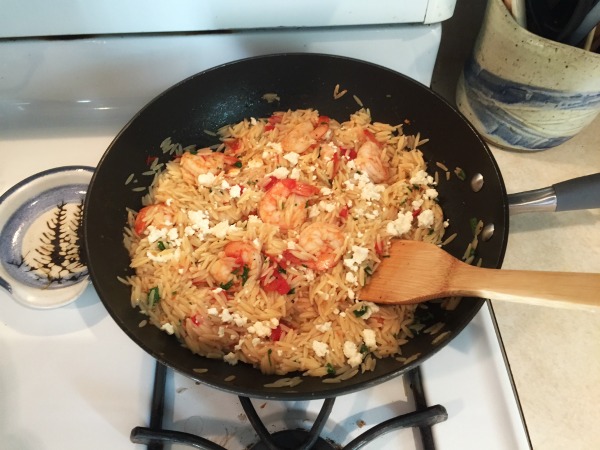 This dish is absolutely savory, and is make-for-dinner-guests worthy.  With the light flavors of fresh tomatoes, garlic, lemon, cilantro, and feta lightly accenting the shrimp and orzo pasta… it's mouth-watering good!
I will definitely be making this dish again, along with many others from my Simple and Delicious cookbook.  I recommend it for any busy families, especially now that we are heading into Fall, with back-to-school schedules and warm comfort foods on chilly nights.  This gorgeous, hard cover cookbook is currently available on Amazon for $18.55.
*o*     *o*     *o*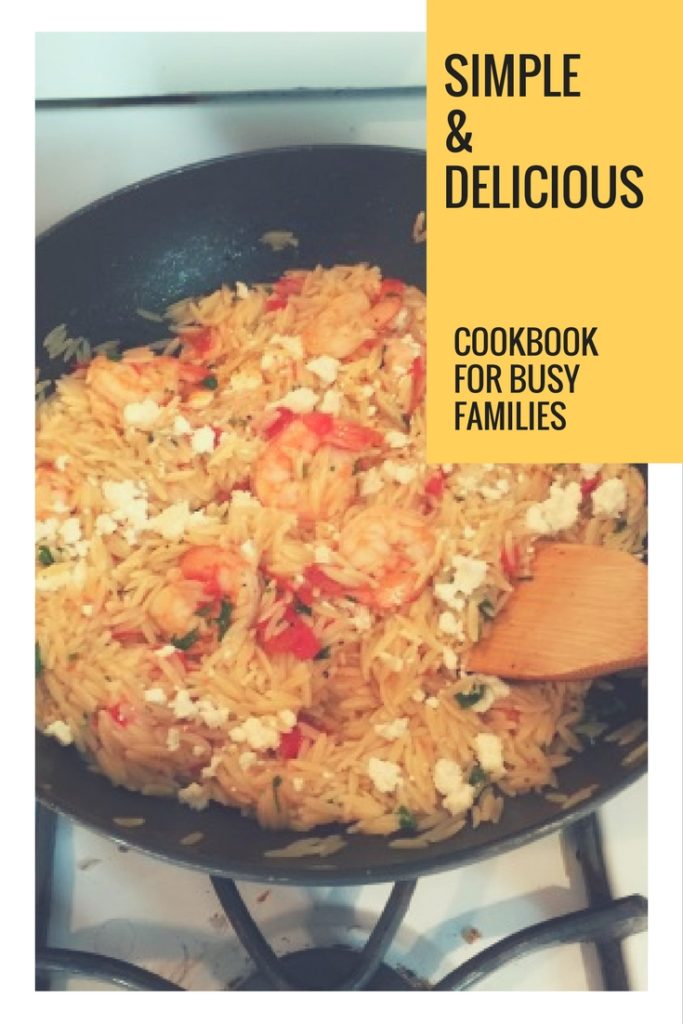 Disclosure: This post is sponsored by Taste of Home in conjunction with Blog Meets Brand, and I have been compensated for my participation. All opinions are my own.