Last week I attended a media launch event in Minneapolis, hosted by Hyundai to show off the all new 2016 Hyundai Tucson.  I fell in love with this sporty-yet-gorgeous crossover SUV model, and can totally see it fitting in nicely with a "live in a city, but love playing in the outdoors" lifestyle.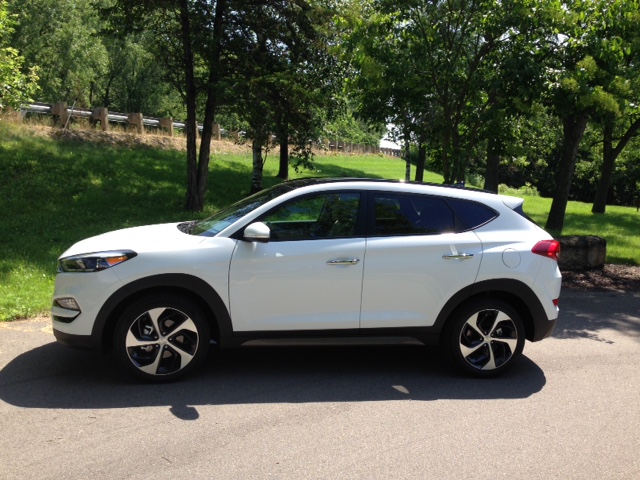 Crossover sport utility vehicles have been taking the car industry by storm.  This new-ish automotive class hits the sweet spot between an SUV and a mid-sized sedan.  While a crossover SUV is slightly smaller than an SUV, you still sit up higher, have off road capabilities, and it has fuel economy close to a mid-sized car.  That's a trifecta, people!  This market is growing so rapidly, that 1 in 3 vehicles now sold in the US is a crossover.
While the Tucson has been around since  2004, Hyundai has recently poured a bunch of fantastic changes into this all new 2016 – including:
Extra safety features (more on this below…)
Impressive technology (including Blue Link, with remote start and cabin temperature control capabilities),
Improved body strength (use of 51% high strength steel vs previously 18%)
More cargo space (+ 5.3 cubic feet)
Increased gas mileage (an extra 5 mpg, bringing it up to 26 city/33 highway mpg!)
Luxury touches not found in any other vehicle in this same class (such as ventilated seats).
That's what I'm talking about!
The Tucson definitely turned my head.  Here's a few of the reasons why.
Hyundai Tucson ~ The Exterior
In the past, honestly when I've seen competitor vehicles in this class – the CRV,  Escape, and Rav4 – I was underwhelmed, found them a bit cheesy, and felt they were not my style.  That's definitely not the case with the new 2016 Hyundai Tucson.  I adore the exterior look of the Tucson, with lines that suggest wings taking flight, a classy design inspired by the JFK Airport Terminal 5.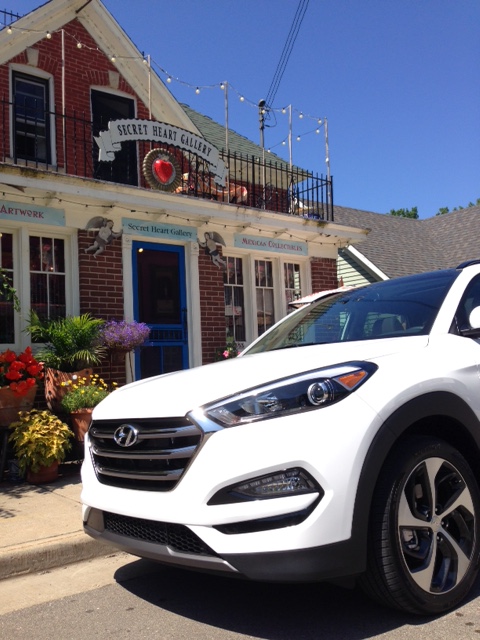 A Hyundai first, the 2016 Tucson now sports LED headlights and taillights.  Door handle approach LEDs will guide your way when approaching your vehicle at night, and a hands free smart liftgate will get that hatch opened for you automatically as you approach the rear of the vehicle with the key fob.
It's about time someone got that door for you, Mom the Packhorse.  Am I right?
But wait… there's more.  Let's take a peek at the interior of a Tucson Limited.
Hyundai Tucson ~ The Interior
We kicked off the day with some of the product managers and design gurus from Hyundai telling us a little about the 2016 Tucson.  Then we stepped outside The Commons Hotel on the University of Minnesota campus to find our fleet ready and waiting.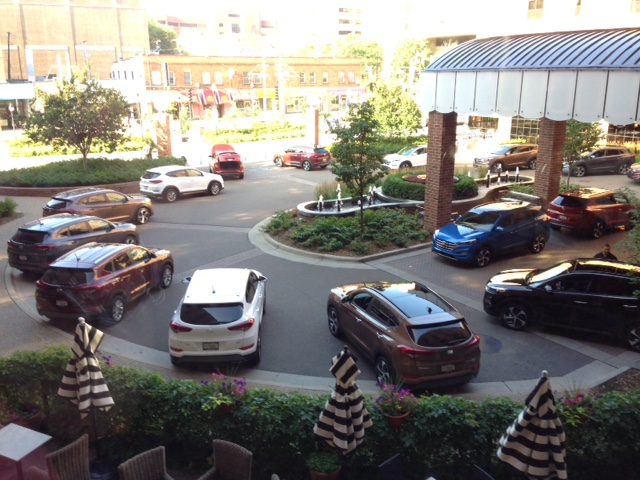 Media attendees then paired up for our urban adventure road trip, which would take us on a 180 mile route, winding along Wisconsin's lovely wooded highways with repeated views of the 22 foot long Lake Pepin.
I totally scored in driving buddies for the day, getting to ride with the awesome Scotty Reiss of SheBuysCars.com.  Scotty knows her stuff when it comes to car evaluations, and was an invaluable guide to me throughout the day.  Her first tip:  Always take the white car, it makes you look younger.  (Feel free to use that.)
In the morning, we drove a Tucson Limited – the top of the line trim package available.  This got me immediately hooked on one of my favorite features:  the panoramic sunroof, which even opens up over the second row seating, too.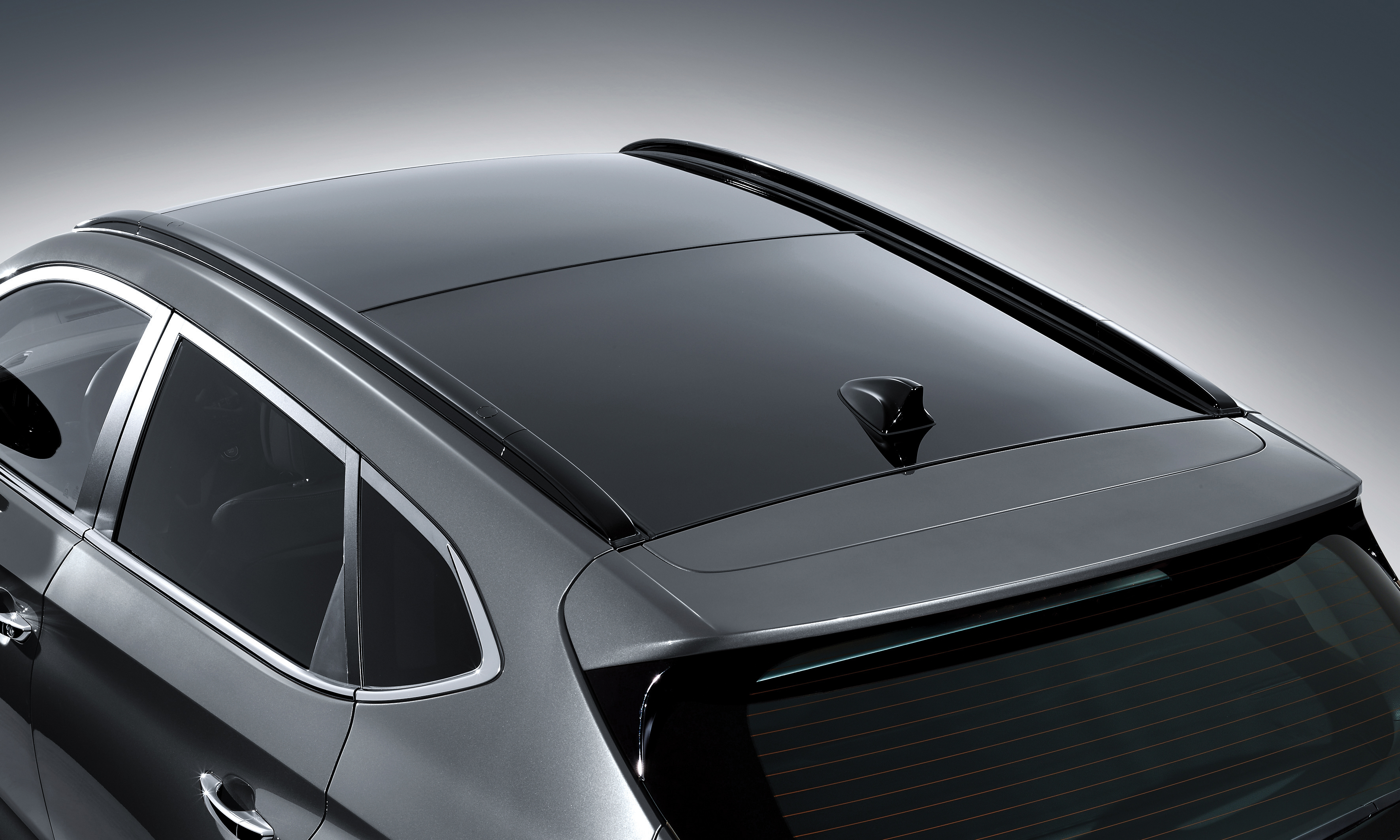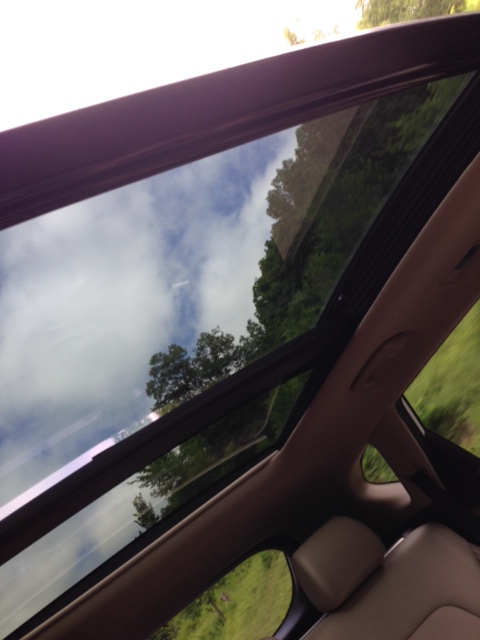 I need this in my life.
Our Tucson Limited also had leather interior, so came with ventilated front seats (surprisingly delightful), and heated seats in both the front and the back seats.
Numerous premium touches instantly give you the feel you are in a high end vehicle.   A leather dashboard with full ingrained stitching, premium leather wrapped steering wheel, and chrome accents on the vents all warmly welcome you to the Cool Kids Club.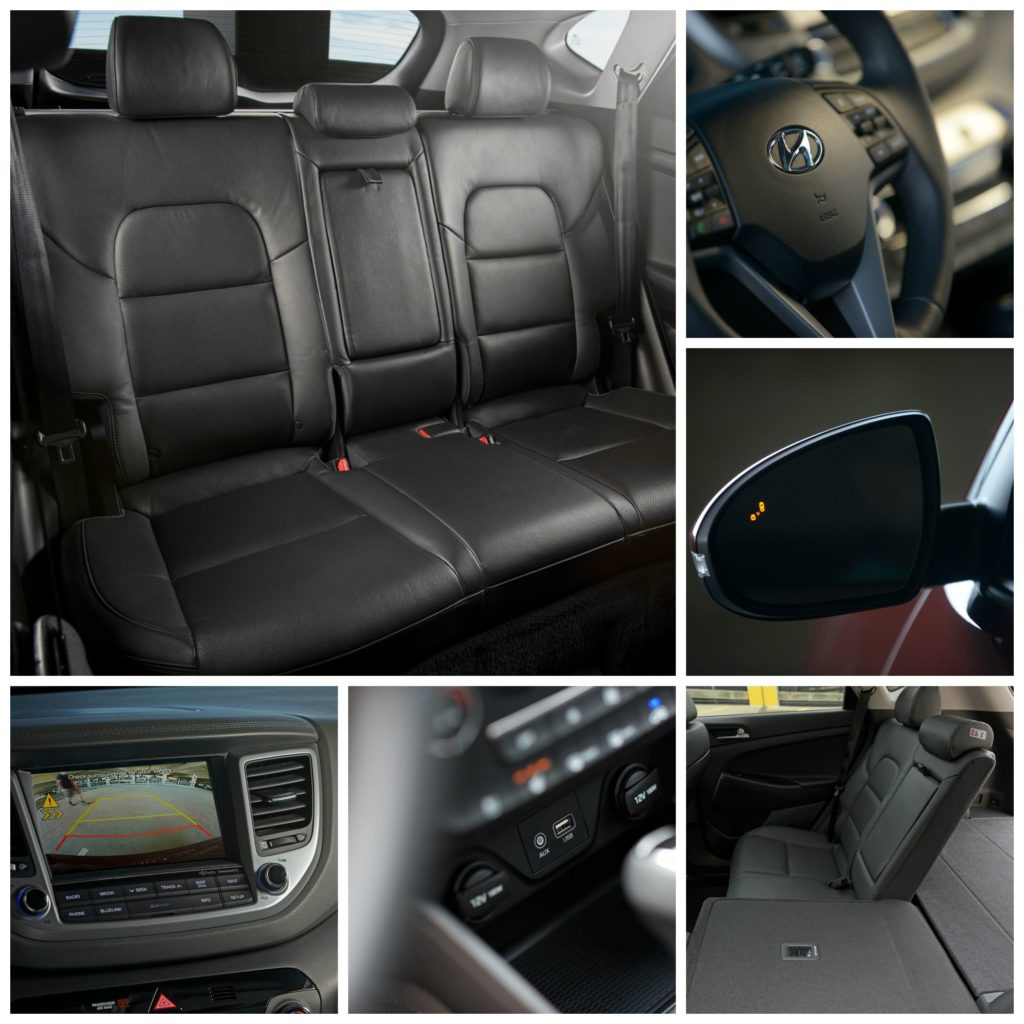 An 8 inch touchscreen with navigation is now even more enhanced with app and Siri integration. Rear cameras guide you safely into your parking spot.  Once we were out on the road, I loved that this even displays the speed limit on your current stretch of road.
If you select a Tucson with cloth interior, I recommend the YES Essentials which comes with the Tucson SE beige level interior.  This utilizes impressive fabric treatment technology with an antibacterial feature, that will protect against interior stains and odors.
Spilled sippy cup of milk in the back seat, that you don't discover until 2 days later?  (Say it with me, "Eeewwwww!")  No worries, and no stink… thanks to the YES Essentials interior.
Hyundai Tucson ~ Safety Features & Drive Impression
As a mom for whom a vehicle is a tool, not really a toy – the categories of "safety features" and "drive impression" go firmly hand in hand.  Feeling safe in my vehicle is of top importance to me, and the 2016 Hyundai Tucson receives top marks from me in this regard.
First, brake responsiveness.  My personal vehicle is 10 years old, and it took me awhile to get used to how responsive the Tucson brakes are.  (The poor Hyundai guy riding along with us in the back practically got whiplash, during my first learning-curve 10 minutes.)  This is a good thing though, definitely safer, and did not take long to acclimate to.
Next toss the "auto emergency braking" feature into the safety mix – an additional safeguard against any front end collisions.  What does that do for you?  A front view camera with a radar sensor will alert you to any obstacles (think unseen pedestrian) in your path.  If the driver does not make a movement to correct, the system applies the brakes for you!  Another awesome Hyundai first, coming to you with the 2016 Tucson.
And I saved the best for last.  In talking to other moms about my Tucson driving experience, they all agreed with me that this was something they'd LOVE to have on their vehicle:  lane change assist, and blind spot detection.  A little orange light appears in your side mirrors if a car is in your blind spot (shown in photo collage above), alerting you it's not safe to change lanes.  I was floored by the usefulness of this, when driving on the 6 lane, busy Minneapolis highways.  Talk about easing your mind in city traffic!  Love, love, love.
Three drive modes are offered, which alter and control the steering, engine, and transmission capabilities.  Changing between them is seamlessly done with the touch of a button.  Normal is the default, Eco will improve your fuel efficiency, and Sport was my choice when pulling out into traffic, for a little more "ooomph" in acceleration.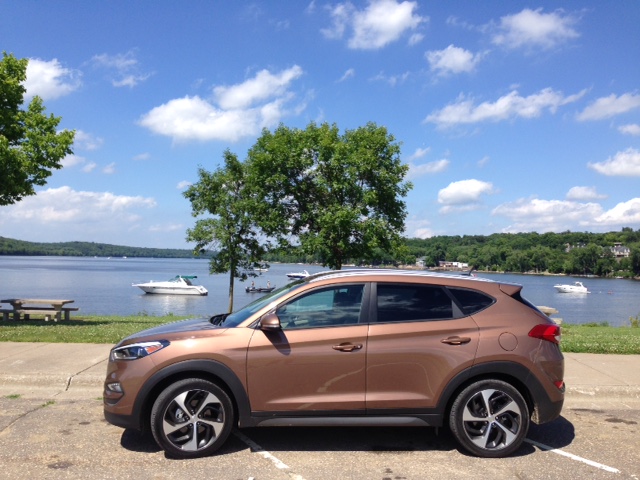 I found the 2016 Hyundai Tucson driving experience highly enjoyable.  It handled well, accelerated nicely when in "Sport" mode, and the lane change assist and touch screen navigation made me feel comfortably safe and in control the entire time… even when road tripping in unfamiliar territory.

The New 2016 Hyundai Tucson
The new 2016 Hyundai Tucson will be offered later this summer in 6 new colors, and comes with your choice of four available trim packages:  Eco, Sport, SE, and Limited.  Price ranges from $22,700-$32,000.
*o*      *o*      *o*
Images provided by both Hyundai and Colorado Mountain Mom. I was a guest during the Hyundai Tucson Media Launch event in Minneapolis, and my travel and accommodations were compensated. All opinions are my own.