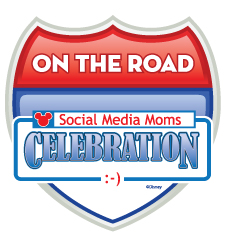 Any talk of "Disney Social Media Moms" has become the peak of blogging buzz excitement.  This highly coveted event has been held annually at Walt Disney World since 2010 (although they switched venues to Disneyland in 2014!).  It boasts a minimal registration fee, families are welcome to tag along, and attendance is by invitation only.
While I dream of being including someday, for now I was happy to get a chance to participate in something new they are trying out this year:  Disney Social Media Moms "On-the-Road" Celebrations, held in three cities in 2012:  Houston, TX; Charlotte, NC; and Long Island, NY.
This was a free, half day conference that included a great line up of speakers, free breakfast, some fun Disney Social Media Mom swag, and a great chance to meet some fellow (very likely Disney loving) bloggers.
Disney On the Road 2013 Locations & Invitations
UPDATE:  This event is still going strong as an annual tradition.  Locations for 2013 were San Francisco, Seattle, Washington DC, and New York.  Locations in 2014 are Philadelphia, Chicago, and Phoenix – and email invitations were extended on May 5.
For more information on attending Disney Social Media Moms "On the Road" event in the future, see the Disney Social Media Moms website.  There you can submit your email address.  Invitations are sent once the date is closer, the speaker lineup has been arranged, and typically after the Disney Social Media Moms Spring conference has been held.
For those first On the Road shows held in 2012, to my knowledge most (if not all) who expressed an interest in attending did receive an invitation.  I was even told I could invite a media-active friend.   I'm not sure if they cast the net quite that wide for subsequent years.    As we saw with with the growing awareness and popularity of the Disney Social Media Moms conference, sometimes the invitation process evolves with time.   But the odds are still pretty good, so be sure and throw your name in the hat, if you are interested!
Disney Social Media Moms On the Road Celebration – Houston Event, in 2012
I had the chance to attend in Houston – my first blogging event.  While I found the traffic and navigation of finding my way to the downtown area during morning rush hour traffic harrowing … I'm still very glad I attended.  (I'm also just thankful I survived that part, but I won't go into detail here.)
Houston's On-The-Road event was held at the Galleria's Westin, home to a lovely conference facility.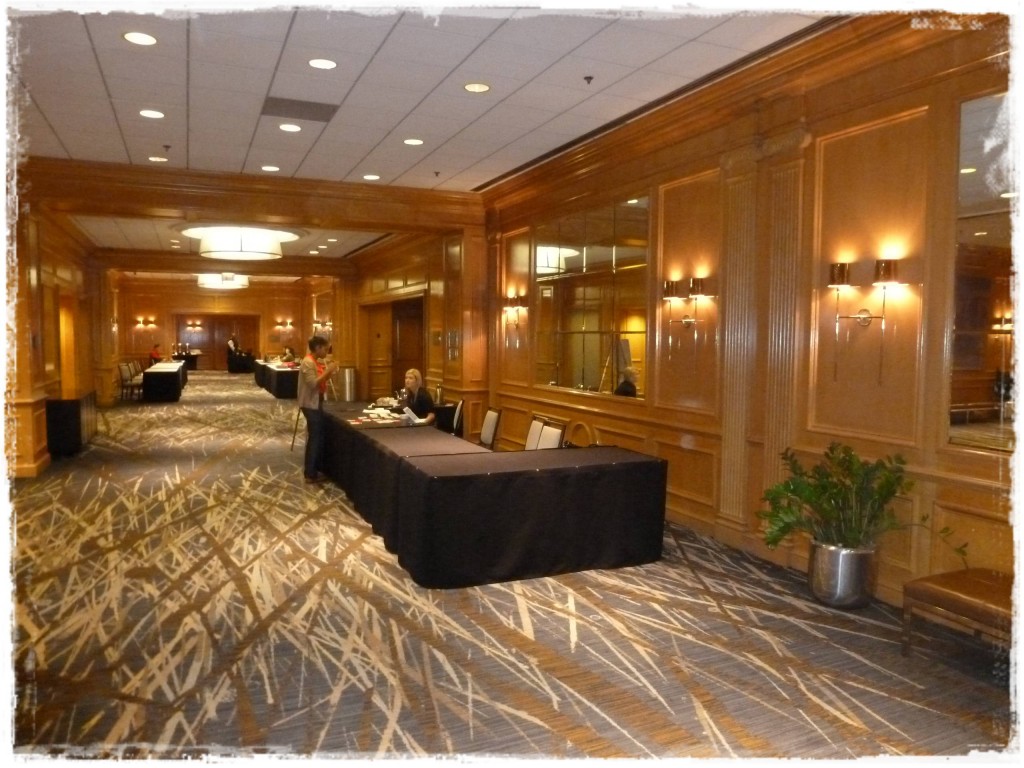 Almost an hour late, I was happy to see the registration desk still open and waiting for me.  And I nearly cried with relief when I found my Disney Blogging friend Mary (of Capturing Magical Memories) had both saved me a seat and made sure they served my place a breakfast plate.  So wonderful to be instantly greeted with a friendly, familiar-via-Facebook face!
Each table had a stuffed Disney character in the center.  Mary had chosen the "Nemo" table for us.  A lovely choice.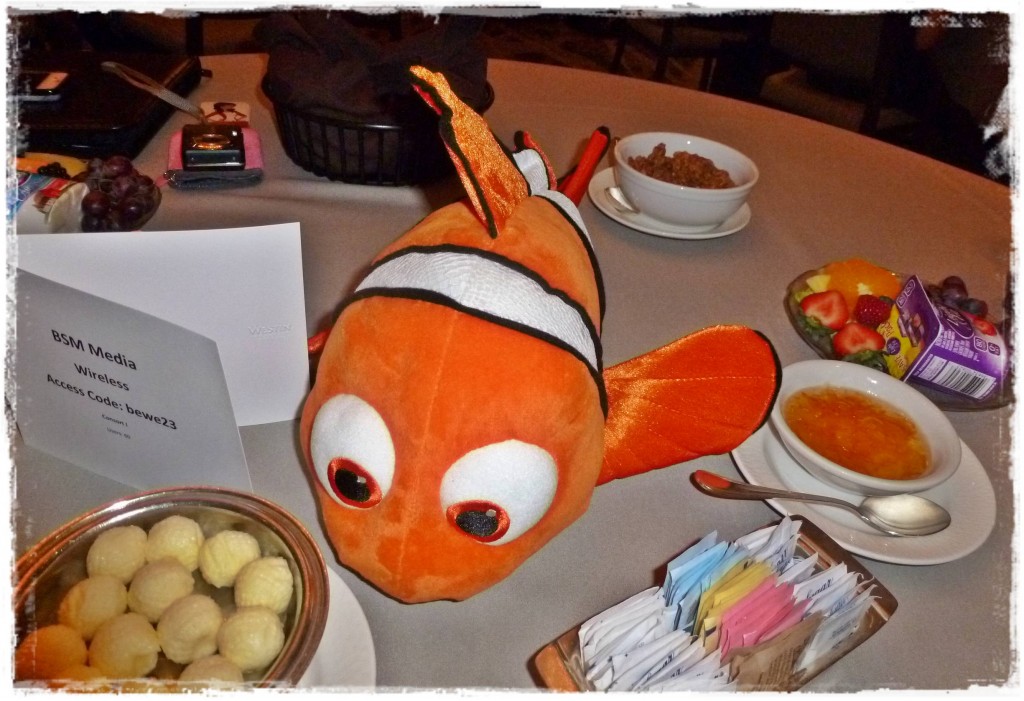 We were served a complementary breakfast, which was very good.  Thanks, Disney.  And thanks Mary, for making sure I didn't miss out.  (Whew!  Low blood sugar makes me cranky.  Quickly.)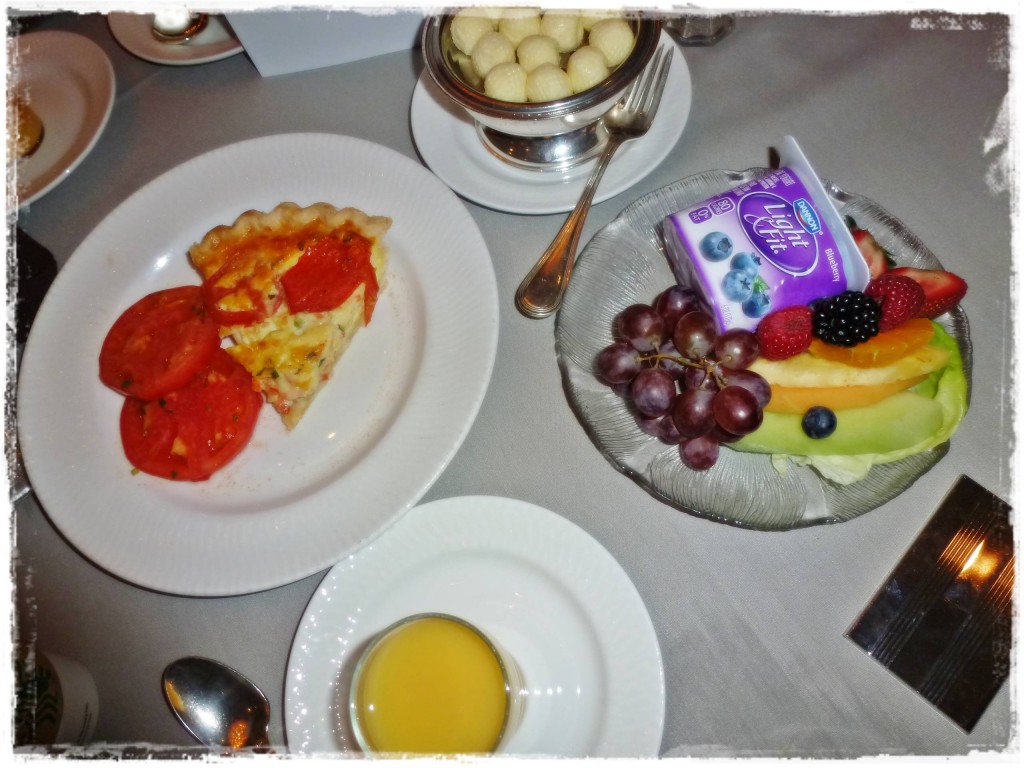 I had no idea what to expect for the crowd size.  It was surprisingly intimate, which made for a really pleasant, un-intimidating and low key atmosphere.  I'd guess there were less than 60 in attendance.
We were aware of the speaker lineup from the agenda which had been emailed ahead of time, but I was curious to hear the subject matter.  They seemed to focus on business ownership as a woman, marketing of your entrepreneur ideas, and taking your business to the next level.
Disney Laura Spencer's Best Blogging Advice
Of Disney World Moms Panel fame, I was most excited about getting to hear from Laura Spencer!  She is bold and funny, and I thoroughly enjoyed her advice.  I'm not sure what I expected, but I was surprised and delighted at some of the mildly risque statements she threw out there.
One thing she prides herself on, and expects from others, is making yourself accessible.  If you call or email her, she will respond to you.  It's a real turnoff to her when trying to contact a blog owner if she's forced to complete a long, intricate contact form ("…next they asked for my blood type…").
Laura Spencer's Best Blogging Advice?  Make yourself accessible.  Put your email address or phone number on your blog's contact page, and respond when people reach out to you.
Other gems from this fantastic woman:
"My favorite words, and why I love Disney:  Dream, Wish, Hope, & Light"
"Don't ever think 'I'm just a girl'.  Nobody's just anything!"  During this morning's conference, the #DisneyOnTheRoad hashtag was trending at #2 on Twitter, from just our intimate little group.  That's power!
She thinks there's not enough moms supporting each other.  Accept other women in your life, and it always comes back to you (in a good way)!
If you point your oars in a direction, you'll get there.
Don't be dark.  She sees many snarky comments on Twitter and thinks we should take that time spent on negative and just put it to positive instead.
You will look back on people who criticized you… and they'll be exactly where you left them.
Disney Social Media Moms On The Road – Best Advice & Tidbits
Here are some of my favorite inspirational quotes from the morning.
"If you're just talking on Social Media, to thousands of people … you need to be selling something.  Figure out something to sell, to make you money while you sleep." – Maria Bailey, Founder of MomSelect and Host of Mom Talk Radio
"Facing my own mortality, and realizing I wasn't as invincible as I thought I was, forced me to find the silver lining.  It made me find that inner strength I didn't know I had, to fight to go on."  – Shannon Miller, Olympic Gold Medalist in gymnastics, on fighting her Ovarian Cancer
"You know a good entrepreneur idea when you hear one:  Passion, personality, focus, and drive – all those key elements are there."  – Shannon Miller, commenting on why she loves the reality TV show 'Shark Tank'
"People have to buy into your product/philosophy/program … so be ready to talk about it!" – Shannon Miller, on always being aware of networking opportunities.
"My business partnership with Walgreens came from networking.  Tell people what you want and need.  Help them understand the purpose behind your product." – Momprenuer Panelist
"Listening to this group of men in business suits discuss the profit projections for my [glam onesies] company, offering to purchase my business, I realized, 'Everyone in this room is taking this seriously… except me!'.  I finally realized this is more than just a hobby, this is my business.  At that point, I decided to own it.  Now I call myself the CEO.  It helps me to live up to it." – Momprenuer Panelist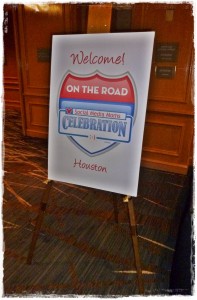 These ladies were a dynamic bunch.  I was very sad to have to leave early to catch my flight.
This was a highly enjoyable day.  Thanks for all your hard work Maria Bailey, her MomSelect crew, the fantastic speakers who shared their enthusiasm and hard earned wisdom with us that day…. and Disney, for sponsoring this fun event!