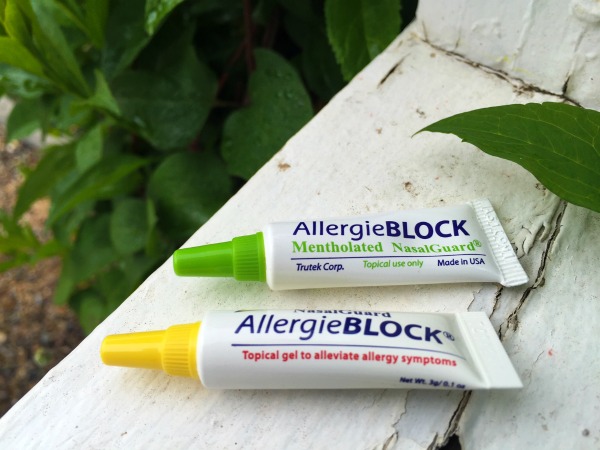 Allergies can make you feel miserable.  Living in a dry desert climate, and a valley known for fruit orchards, it's become a regular challenge for every member in my household.  Throw in itchy eyes from the cat, and we are always open to ideas for allergy relief!   I've tried all three major allergy drugs, with limited success.
So when NasalGuard introduced their allergy blocking gel product to me, I was hopeful.  The thought of a non-drug product with no side effects, that even my kids could use safely for allergy relief, was almost too good to be true.
NasalGuard AllergieBLOCK ~ Strategy & Use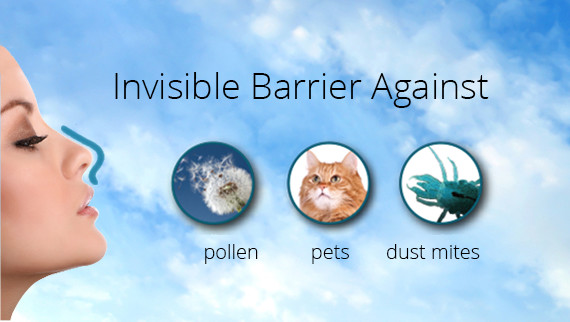 Hayfever symptoms aren't pleasant, but the sore, dry, itchy, red eyes is probably the allergy agony that I hate the most.  The strategy behind NasalGuard makes sense to me, and left me thinking it just may do the trick.
If allergens that your body is reacting to never make it into your nasal passage… your body won't react with those nasty histamines.  That's the concept being NasalGuard AllergieBlock.
This non-drug, non-drowsy gel is applied on the skin around your nostrils and upper lip, and prevents the penetration of allergens into your body.   The result is preventing symptoms for common airborne allergies such as pet dander, pollen and dust.
NasalGuard is FDA registered and 100% safe for children, seniors, and pregnant and nursing moms. It can help prevent allergy symptoms such as coughing, sneezing, itchy eyes and throat and nasal congestion.
Applying NasalGuard is easy.  You do have to apply it 2-3 times daily for consistent protection against allergens.  I had somewhat of a hard time keeping up with this, but it's not that dissimilar to other allergy medicines which last 4-6 hours. It works to apply either over or under makeup, and it dries clearly, evenly, and fairly quickly.
NasalGuard AllergieBLOCK ~ Does It Work?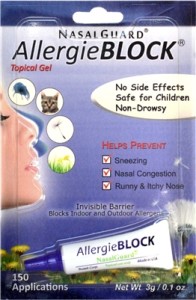 So did NasalGuard work for my family?  Yes, it definitely had a positive effect.
It does state on the package that it's most effective if taken before allergy symptoms start. This can be tricky, but it makes sense.  This is not an anti-histamine drug entering your body, fighting to reverse those nasty histamine attacks.  It's a pro-active approach, which needs to occur before that point.
That being said, my daughter and I had to use the product consistently for 2-3 days before we started to notice a difference.  While it didn't leave us 100% allergy symptom free, it did provide a good amount of relief.
As far as hayfever (sneezing and running nose)… using NasalGuard at bedtime turned my mornings into a 1-2 kleenex morning, rather than the unpleasant, typical 6-7 kleenex morning.  That's a welcome improvement!
The best result I experienced was complete relief of sore, itchy eyes when using NasalGuard.  As someone who has to stare at a computer screen most days… that is indeed, a huge relief!  I'm so grateful to have found it for that reason alone, and will continue to use it as part of my Spring allergy arsenal.
I love that this is a non-drug, non-drowsy safe alternative with zero side effects that my family can use to prevent/alleviate allergy symptoms.
 NasalGuard AllergieBLOCK ~ Where to Find It

The product is available in both full and travel size packaging. It comes in a variety of scents and retails full size for $19.95, travel size for $9.95 and is available for purchase on www.NasalGuard.com.
NasalGuard Giveaway
NasalGuard has offered to send one of my winning readers an "Intro Pack" including your choice of any two full sized Allergy Blocking Gel Tubes.
Open to US Residents, ages 18+.  Enter using form below.  Entries will be validated. Void where prohibited.
*o*     *o*     *o*
Disclosure: Consideration provided by brands mentioned in this post.