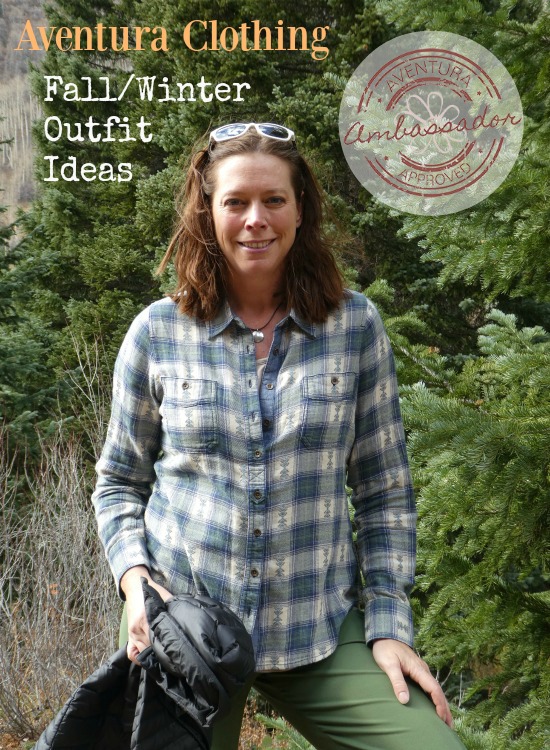 Every season a big highlight for me is seeing what Aventura Clothing has in their new women's clothing line.  As a married mom with kids who still loves fashion… discovering Aventura has changed my life.  It fits right in that sweet spot of attractive, stylish, on-trend clothing – while avoiding dressing like a teenager, or a grandma.  It boggles my mind that more clothing companies don't see that huge need, but at least Aventura does.
Add in comfort, eco-friendly fabrics, and that it's a family owned business.  You don't need to look any further.  Here are my top Ambassador outfit picks from the Aventura Clothing Fall/Winter 2016 line.  I've also got a few Ambassador Coupon Codes to share, good for 60% off your Aventura order, so leave a comment if you'd like to try one of these great pieces.
Ambassador Pick – Aventura Winter Outfits
In addition to the three outfits I receive as an Aventura Ambassador, I love their clothes so much that I end up purchasing several additional items each season.  So I've got it all scoped out for you, in other words.  What you see here is what I consider "Best in Class"… the softest, cutest, most flattering and gorgeous pieces from this season.
Outfit #1:  Cadence Skirt, Kylie Jacket, Athena Top, and Tula Scarf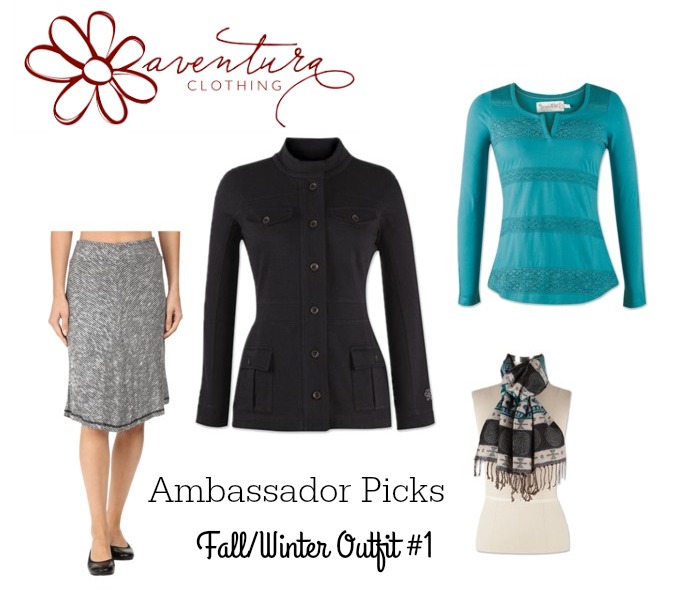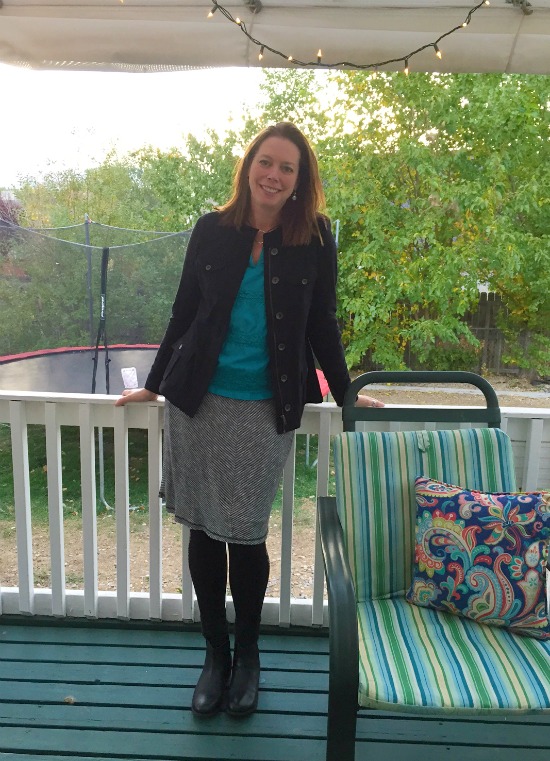 Get more bang for your buck with the reversible Cadence Skirt.  The striped layer is a slinky, super soft fabric.  Reverses to a solid colored skirt, so you get even more mileage out of this piece.
The Athena Top comes in a nice array of fun colors, and the crocheted strip details are beautiful.  Note that when you remove this from the washing machine, pull the crocheted sections gently to stretch, and then line dry, to avoid a puckered look.
Softer is always better in my book, and the Kylie Jacket gives you a comfortable yet still professional look.
Add some Southwestern punch to this outfit (and many more this winter) with the unique and lovely Tula Scarf.
Outfit #2:  Titus Pant, Alyssa Top, and Daria Vest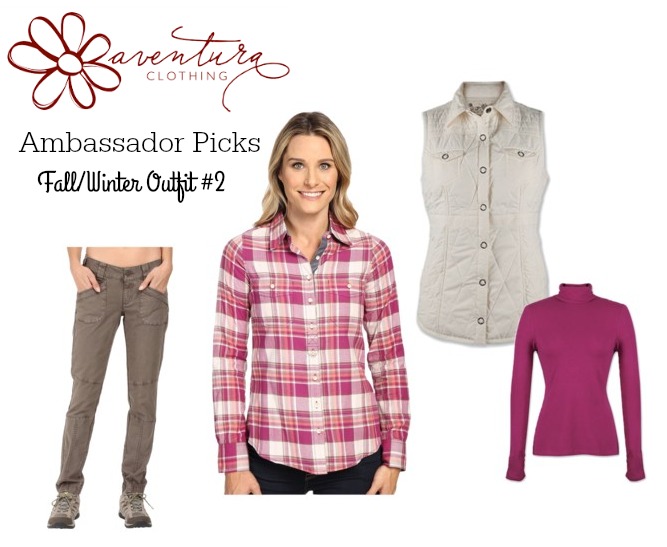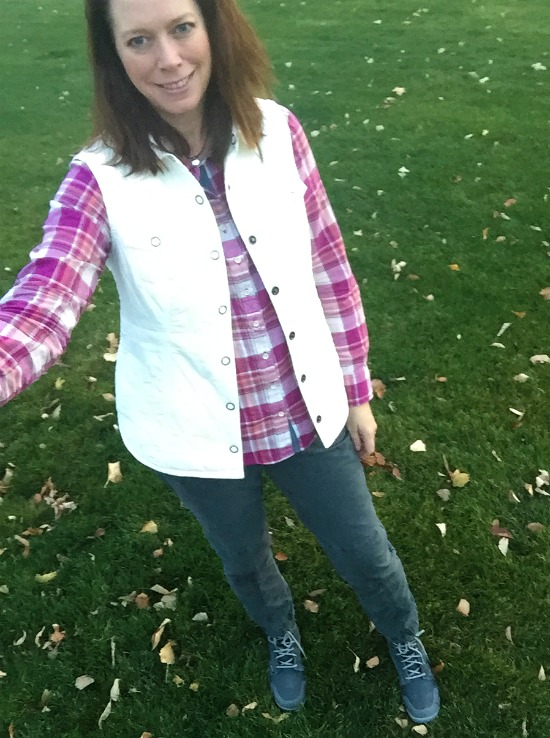 Love this rugged new addition to Aventura Clothing's pant lineup!  With stylish narrow pant legs, cool seam details, and a stonewashed look – the durable, organic cotton Titus Pant looks just as great for a night out, as they do on a hiking trail.  I found they run true to size, but are a fitted style.   Size up if you prefer a looser look (as I did in the photo above).
Plaid is huge this season, and you'll have a hard time deciding between the three great Alyssa Top color choices.  This top runs true to size with a fantastic fit, is not "fuzzy" flannel (I always wonder that when shopping for flannel shirts online), yet is very soft and comfortable.  Personally I'm allergic to ironing, and was happy to find if I take this right out the drier… it looks great all on its own.
Vests are my favorite Fall layering piece.  The quilted Daria Vest has so much style to love, and will work well with many outfits this coming cool weather season.
Outfit #3:  Cambri Skirt, Journee Sweater, Samara Top, and Sarah Scarf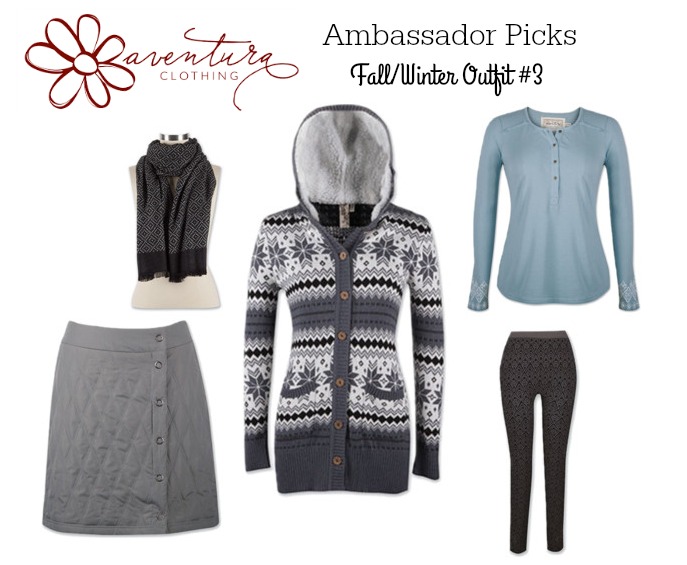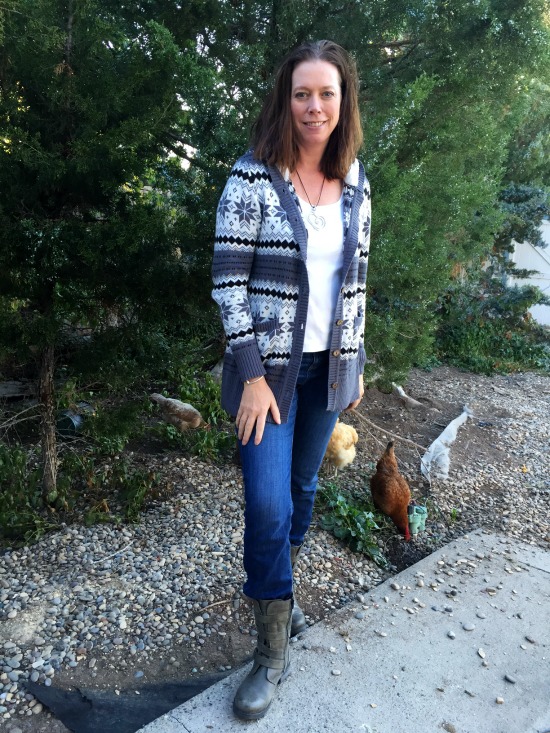 Saved my favorite for last!  Gray is a super popular nuetral color, and it's growing on me more and more as I see the mixing and matching possibilities in my closet.  So I knew I had to have the adorable quilted Cambri Skirt.  They claim it's not bulky, and the claims are true.  This is super soft and very comfortable to wear.  A strip of elastic in the back waistband provides a slim and custom fit.
It was love at first sight when I discovered the Nordic-style Journee Sweater.  The hood and neckline area are lined with an incredibly soft and cozy fleece.  Buttons have intricate detail.  This longer, fitted style looks fantastic with leggings or narrow legged pants.
Top off your look with a notoriously outdoorsy-chic Aventura henley, like the Samara Top which has a great print design on the back and sleeve cuffs.  Don't forget leggings and a scarf (I like the versatile Sarah Scarf shown above) to top it all off.
Aventura Clothing ~ Discount Codes
Each season I'm given a few Discount Codes to share with readers.  This is an fantastic opportunity to try out Aventura Clothing at an amazing discount.
Just log in with one of these codes… and all your 60% off discounted prices will display in red.  Woo hooo!  Good for one purchase, up to $250 total.  Leave a comment below if you'd like to receive an Aventura Ambassador Discount Code.
*o*     *o*     *o*
I serve as an Aventura Clothing Ambassador, and receive items for free or reduced cost.  All opinions are my own.