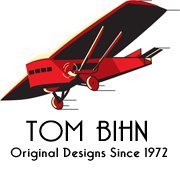 If you follow the online escapades of serious globe trotters, it won't be long before you catch wind of Tom Bihn.  Their bags and travel gear are tried and true, and carry along with them an established reputation for practical design and serious durability.
Indeed, Tom Bihn appears to have inspired a bit of a cult following from it's loyal fans.  You should be warned, once exposed to their products, you could fall victim to the diagnosable condition TBAS:  TOM BIHN Anticipation Syndrome.  (Not to fret, their are forums to support you while you battle this fate.)
Tom Bihn – A Seattle Company
Tom Bihn products are made in the US, come with a solid guarantee behind them, and are all original designs by Tom Bihn himself out of Seattle, Washington.
They're just so darn likeable, and they have impressive resolve as to what a laptop bag, travel bag, or backpack should be.  Check out their fun About Us page, and I know that you'll agree.   (Plus you'll get a look at Tom Bihn himself.)   I love purchasing from a real company, with real people.
If you were to also look  through their customer photos, you'd start to get a sense of the extensive adventures that travelers feel confident entrusting to their Tom Bihn bags.
Tom Bihn Aeronaut Travel Bag
Tom Bin offers some great carry on sized travel bag options to choose from, but when their Chief Creative Officer recommend the Aeronaut – I knew it was the bag for me.
Aeronaut – The Ultimate European Backpacker Bag
While my intent was to test out this bag on my fun trip to a blogging conference in Atlanta, when I saw that the Aeronaut also converts to being worn as a backpack… I really perked up.  I'm currently researching and planning for my first European Trip, in honor of our 10th wedding anniversary next year.   I know the Aeronaut will also prove to be the perfect bag for our trip to Europe.
Every piece of sage advice about traveling Europe says the same thing:  travel light, travel light, travel light!  While I initially thought I'd go with a rolling carry-on sized bag when we head overseas for our whirlwind tour, I've since realized that a backpack bag would be more mobile, and hence more practical.  (Think cobblestone streets, and a different hotel each night…)
Aeronaut as a Carry On
Because I often fly in and out of a smaller location, I typically end up on planes that are small, for at least some of the legs.  On smaller planes, the overhead bins are smaller, and standard rollerboard carry on bags will not fit.  Meaning you end up being forced to gate check your bag, whether you'd like to, or not.  Fear not:  the Aeronaut will fit in smaller overhead bins.
In this case, and also on a larger plane where the inside lane bins were smaller (on a plane with three rows of seats) – the Aeronaut was soft and narrow enough to fit.
Let's talk about the Aeronaut bag layout.  There is one main compartment, with a clam shell opening which makes it easy to view and retrieve items.  I should tell you, this main body compartment is not huge.
New to the world of traveling light, it always takes my breath away the first time I examine the inner workings of a carry on bag I plan to use.
However, their are compartments on each end that are actually quite large.  This could easily hold a pair of (large mens) shoes, and is about the size of one of their small packing cubes (more on these below).  This added real estate makes up for the conservatively sized center compartment, and actually gives you greater organizational and storage options.
And one stellar last design feature I'll mention:  fantastic grab handles at both ends of the bag.  Perfectly positioned, and extremely useful.  Makes so much sense that I really don't understand why I've never seen this feature in a travel bag before?  I guess Tom Bihn's the only one who's figured it out.  Good job, Tom.
Aeronaut – Carrying Options
You can wear the Aeronaut as a backpack, or tuck away these straps to keep them from catching, if you plan to carry it another way.  Having this as an option is part of what makes this bag so versatile and exciting.
On my return trip, my bag was much heavier (that's how it always works, right?).  So that is actually when I finally converted it to a backpack and wore it in that fashion.   Very comfortable!  Honestly, it makes the bag seem much lighter than when slung over your shoulder.
Tom Bihn also sells what is probably the most comfortable shoulder strap I've ever used:  The Absolute Comfort strap, for $30. If you're investing in a nice Tom Bihn travel bag, I'd highly recommend also picking up one of these straps.
The section of this strap which bears the weight across your shoulder is a stretchy spandex-type material, which leaves you with zero feeling of pinch or binding.  I did notice the bag bounced a little when I walked – but the shoulder comfort made this minor, odd sensation worth it.
The convertible Aeronaut comes in 15 potential color combinations (you get to select both your exterior and interior color!) , and sells for $250.
Tom Bihn Travel Accessories
Tom Bihn also graciously sent me some of the travel accessories most commonly ordered along with the Aeronaut.
This little cutie pie is lined on the inside with what feels like a waterproof (or at least resistent) ripstop nylon material that you could easily wipe clean.  "What's it for?"  I pondered, upon first sight.  "What's it NOT for?!", I soon discovered was the more appropriate question.
Drop in all those small-but-value things you don't want to misplace in your hotel room (or tent, or wherever you end up sleeping on your adventure).  With a drawstring top, I found it surprisingly handy.   It's fabric, but somewhat stiff.  So it can either hold its shape as a tray, or be pliable as you shove it into that last, small opening in your Aeronaut bag.
I used it to throw my hotel room key in, phone, jewelry, and Blistex.  All those essentials you hating hunting around for, once you've settled into your temporary digs.  Tom Bihn Travel Trays come in four colors and sell for $22.
Tom Bihn packing cubes come in various sizes, customized to fit your particular choice of Tom Bihn bag perfectly.  I liked that they were part fabric (for easier gliding in and out of your bag) and part mesh (for viewing the contents).  And the grab handle is a nice touch.
There are numerous configurations that work to stack these in your travel bag.  Their site does a great job of illustrating your options.  I will say that I didn't end up using the "large" size, because when I placed in the Aeronaut's center compartment, it covered the entire bottom area (of that compartment).  That didn't work for the other items I needed to pack.  But I did use two of the smaller sizes stacked, and really liked that combination.
You can purchase these packing cubes to match the interior color and size of your Tom Bihn bag (you have to admit that's tempting and cool).  They range in price from $17 – 20.
Packing Cube Shoulder Bag
Ok, I saved my favorite Tom Bihn accessory for last.  If you are debating about trying a packing cube, but just aren't convinced… try this one on for size.
It can be used as a packing cube.  But with it's additional features of an outer zip pocket and end attachments for a shoulder strap to be added – you've also got a shoulder bag to use at your destination!
I used it for this very purpose, and I absolutely love it.  Dual purpose gear is always a winner, in my book.
You can purchase the packing cube shoulder bag for $27, and it comes in two colors.
Tom Bihn – Where to Find Them
Tom Bihn Travel Bags, Laptop Bags, and Backpacks offer:
Use of the best materials (from zippers to high tenacity fabrics)
Well thought out designs
Excellent reputation for service
So if you're in the market for a good travel bag (either now, or in the future), definitely consider Tom Bihn – and check out their website to see what they have to offer.  Their site is extremely informative, easy to use, and has excellent product pictures to help you see exactly what you're getting.
I highly recommend them, and feel that Tom Bihn gear is definitely a worthy travel investment.  You're gonna like them.  And their products.  Alot.
Find Tom Bihn on Facebook
Follow Tom Bihn on Twitter
I received the Tom Bihn products described in this post at no cost, for the purposes of this review.  All opinions are my own.
*o*     *o*     *o*
I do have another new post today, featuring a travel gear giveaway – please click here for that.
eek Extravaganza. There will be great travel related articles and other travel gear reviews and giveaways all week… so be sure to check out the fun!